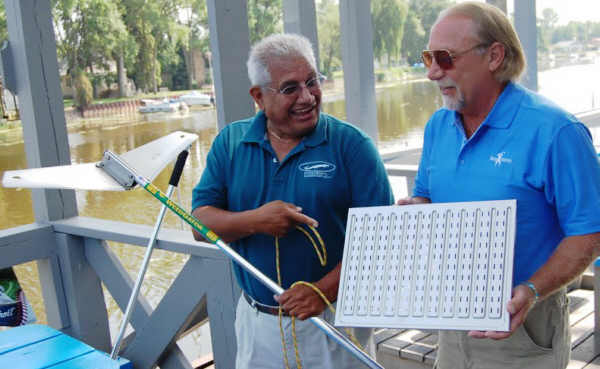 Justo Zarazua, left, with his WeedGator, and Tom Simon with his Grill N Pal on the dock at Castaways.
---
Inventor Buddies Hope to Grab Market With Innovative Products
Grill N Pal, WeedGator Products Are Hitting the Market with a Bang
July 14, 2010 1 Comments
By: Dave Rogers
Proof that American ingenuity is on the upswing is found right here in Bay City.
Two old pals, Tom Simon and Justo Zarazua, have teamed up to help each other market their inventions.
Tom, 60, will be remembered from the launch of his "Poultry Pal" a spin-off of the "beer can chicken" cooker few years ago. Now he's out with "Grill N Pal," a boon to backyard grillmeisters always fighting grease fires and messes in their outdoor grills.
Justo, 64, a retired industrial designer from Delphi Corp., is out with WeedGator, an alternative to chemicals for aquatic weed removal.
The pair were interacting the other day at Castaways, showing off their products and entertaining the crowd eavesdropping on the conversation with a MyBayCity.com reporter.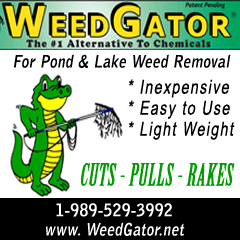 Justo was throwing the amazing WeedGator device into the Kawkawlin River, reeling in the 25-foot rope to show how it snags underwater weeds, roots and all. It slides neatly under boats and docks and amazingly removes the unwanted vegetation.
"The cost of doing this with chemicals is very high, so not only do you get the weeds, roots and all, you save money," said Justo.
Many former co-workers have helped Justo develop his product and the people he has met during the process have given him encouragement. But the greatest lift has come from the fact that it is selling, both on the Internet (
www.WeedGator.net
) and from direct sales.
Meanwhile, Tom was on the picnic table showing off his latest invention -- "Grill N Pal," which has to be seen to be believed. It is stainless steel, costs only about $20, and makes your cooking time on the grill much easier because it distributes heat evenly and prevents grease flare-ups, improving the quality of your meats, fish, bacon, etc.
"I even did bacon cheeseburgers the other day at home," he said.
"We used to run around together when we were young and single," said Tom, referencing his pal, Justo. "Recently we got back together and started working together on these projects; he helped me with the design and just seeing them come about has been great, and fun."
Tom is retired from S.C. Johnson after 26 years as a senior control technician and formerly was in real estate sales, was a building contractor and has wide experience in the business field.
"I call Grill N Pal a George Foreman for your grill, since it drains off the grease and helps cook your meat quicker and neater," he said.
So far the item has been flying off the shelves at nearby sports stores and will soon be in the Sportsman's Guide catalog.
Mr. Simon sees the price settling into the $21.95 to $24.95 range as it picks up steam.
One testimonial comes from Bradley P. Walraven: "I wanted to tell you how much I have enjoyed the use of the Grill N Pal that I have purchased from you. I have used this product to grill meat, chicken, and fish without the flames shooting up because of the grease that might drip down in the bricks. Instead the grease drips out and down to a catch basin. Grilling is made easier with your product because the heat is spread evenly under the Grill N Pal."
The cleanup afterwards is very easy and done quickly which is another good quality. You have a good product. I have given a sample Grill N Pal to my parents and have heard all good comments how much better grilling is."
Thanks for the great product. This is a great item that can be purchased for a gift."
What is the market for the Grill N Pal? "Consider that 80 percent of American households have grills and 60 percent of them are run by propane," said Mr. Simon. "But this product works even with charcoal grills. Many hard core outdoor cookers have more than one grill.
Contact Mr. Simon at www.grillnpal.com or 989-737-5483.
Meanwhile, waterfront and pond dwellers are discovering the WeedGator, that sells for $129.95. The device is produced for the most part at Pinconning Metal Stamping, while the Grill N Pal is currently out-sourced overseas.
"The American industrial infrastructure is making a comeback and I'm sure it won't be long before we can source this product in this country," said Mr. Simon.
Five years ago Justo suffered a heart attack at his 32 acre farm on Seven Mile Road. His life was saved after he was picked up by the Northern Bay Ambulance Service. "I decided right then it was time to go for it, so here I am with this great product. The fact that people are buying it is the greatest thing in my life." ###
---
"The BUZZ" - Read Feedback From Readers!
Green_Dog says: On July 18, 2010 at 12:33 AM

I own a Grilling Pal and a Beer Can Chicken cooker.

Tom Simon is a good guy and puts out a damn good product.

I recommend both of Simon's cookers.

Green Dog
---

Dave Rogers




Dave Rogers is a former editorial writer for the Bay City Times and a widely read,
respected journalist/writer in and around Bay City.
(Contact Dave Via Email at carraroe@aol.com)

More from Dave Rogers
---
Send This Story to a Friend!
Letter to the editor
Link to this Story
Printer-Friendly Story View
---
--- Advertisments ---