California Oil & Gas Producer Exploring Bay County Depths
Tall Drilling Rig Along I-75 Signals Energy Boom Now Involving This Area
August 8, 2010 1 Comments
By: Dave Rogers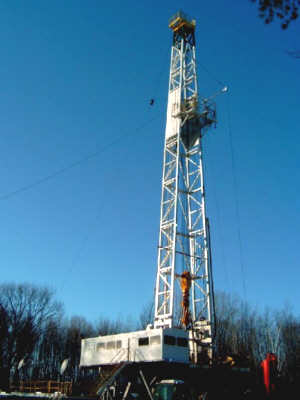 The 131-foot tall Rig No. 2 of the Pollister Drilling Corp., West Branch, is an economic beacon for travelers on I-75 through Fraser Township.
A 131 foot high gas drilling rig has gone up in Bay County's Fraser Township, alerting passersby to fact the local area has joined Michigan's latest energy boom.
Pollister Drilling Corp. of West Branch has erected its massive Rig No. 2 on Erickson Road near the I-75 expressway.
State DNRE permit records show BreitBurn Energy Partners, L.P., of Los Angeles, California, is contracting with Pollister for drilling in Section 8 of Fraser, aiming for 12,000 foot depth in the Prairie Du Chien formation seeking natural gas.
BreitBurn also has a second permit to drill on a 640 acre unit in Section 12 of Fraser Township.
County Executive Thomas L. Hickner, noting the rig's looming presence, said "Apparently Bay County has the potential to become a greater part of the energy boom, a development that promises to bring much-needed employment and investment dollars here."
The drilling action follows renewed interest in gas exploration in Michigan sparked by a leasing bonanza encompassing 20 counties that brought $178 million into state coffers in a one day record set May 4.
Most of the leasing action in May was at the shallow Antrim shale depth of about 1,200 feet, while the latest play is in the Collingwood Shale depth of 10,000 or more feet.
Bay was part of the leasing frenzy, with the top bidder O.I.L. Niagaran, L.L.C., Traverse City, leasing 290 acres for $23,800. Savoy Energy, also of Traverse City, grabbing 160 acres at a startling $46,600, or $291 per acre, and BreitBurn with a 40 acre lease at $2,400.
Nationally-known energy analyst and author Dr. Michael Economides, speaking at the Michigan Oil and Gas Association meeting May 20 in Traverse City, predicted that within two decades natural gas will replace oil as the principal fuel of the world.
Michigan Oil & Gas News reported on one startling pronouncement by Dr. Economides: "It is thermodynamically impossible for solar and wind to account for more than one percent of the world's energy demand. Get it out of your mind, forget it, it doesn't matter how politically correct it becomes. It's not just the cost, it is the energy density."
Michigan oil and gas producers have been electrified by a single well drilled in 2009 in Missaukee County's Pioneer Township by Petoskey Exploration into the Collingwood Shale formation.
The well flowed 2.5 million cubic feet per day during a 30-day production test. Steve Kellman, writer for Circle of Blue, noted that volume is $12,500 in gas daily and $375,000 monthly.
The well is owned by Encana Corp., Canada's largest natural gas producer. According to Kellman, Encana has leased mineral rights to 250,000 acres in Michigan. Observers are anticipating an even more dramatic economic boost to Michigan at October's state mineral lease auction.
The U.S. Environmental Protection Agency (EPA) estimates that in 10 years shale formations will produce more than 20 percent of the nation's natural gas. It now appears that Michigan will be a big part of that production.
L.A.-based BreitBurn Energy Partners L.P., is an independent oil and gas partnership focused on the acquisition, exploitation and development of oil and gas properties in the U.S.
Hal Washburn, CEO, states: "Our assets consist primarily of producing and non-producing crude oil and natural gas reserves located in the Antrim Shale in Michigan, the Los Angeles Basin in California, the Wind River and Big Horn Basins in central Wyoming, the Sunniland Trend in Florida, and the New Albany Shale in Indiana and Kentucky.
"Our assets are characterized by stable, long-lived production and reserve life indexes averaging greater than 16 years. Our fields generally have long production histories, with some fields producing for over 100 years. We have high net revenue interests in our properties."
The company reported second quarter revenues of $56.7 million, Mr. Washburn commenting: "The Partnership has completed a review of its ownership rights in the Collingwood-Utica play in Michigan and has now confirmed more than 120,000 net acres in the prospective area."
The partnership in 2007 acquired the Lazy JL Field in Texas, five fields in Florida's Sunniland Trend, a limited partnership interest in a partnership that owns the East Coyote and Sawtelle fields in the Los Angeles Basin in California, and natural gas, oil and midstream assets in Michigan, Indiana and Kentucky, including fields in the Antrim Shale in Michigan and New Albany Shale in Indiana and Kentucky, transmission and gathering pipelines, three gas processing plants and four NGL recovery plants.
As of December 31, 2009, the firm's total estimated proven reserves were approximately 65 percent natural gas and 35 percent crude oil. Of our total estimated proved reserves as of December 31, 2009, 68 percent were located in Michigan, 14 percent in California, ten percent in Wyoming and seven percent in Florida with the remaining one percent in Indiana and Kentucky.
Pollister, also listing an address Marion, near Harrison, Michigan, specializes in drilling 10,000 to 14,000 feet depths.
###
---
"The BUZZ" - Read Feedback From Readers!
jhollerbach07 Says: On August 16, 2010 at 11:21 AM

For several generations we have just been scratching the surface in gas and oil explorations and production. With the deep drilling methods Michigan is becoming an importance source of energy and minerals on a world scale.
Jim Hollerbach
---

Dave Rogers




Dave Rogers is a former editorial writer for the Bay City Times and a widely read,
respected journalist/writer in and around Bay City.
(Contact Dave Via Email at carraroe@aol.com)

More from Dave Rogers
---
Send This Story to a Friend!
Letter to the editor
Link to this Story
Printer-Friendly Story View
---
--- Advertisments ---