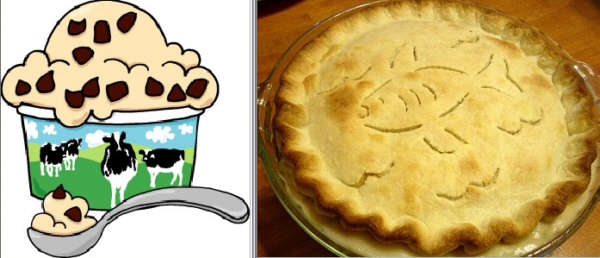 First it was Tuna Pot Pies . . . Now it's Chocolate Chip Ice Cream . . .
Anybody seen a Clark Candy Bar lately?
---
It's a Damn Conspiracy . . . I Know It Is . . .
October 24, 2010 3 Comments
By: O. J. Cunningham
It was about six months ago that I first noticed.
It didn't really make a lasting impression. But I did have an inkling that something was very, very wrong.
In the middle of a Meijer's shopping trip . . . I realized . . . They're not making Chocolate Chip Ice Cream anymore. Raise your hand if you've noticed this too.
Oh sure . . . there's
Mint
Chocolate Chip . . . and the teaser ice cream named Chocolate Chip
Cookie Dough
.
Chocolate chips can still be found in cookies, pancakes, waffles, cakes, pudding, muffins, crêpes, pies, hot chocolate, and various types of pastry. They are also found in many other retail food products such as granola bars and even trail mix.
But I dare you to go out and find some old-fashioned Chocolate Chip Ice Cream. Dean's brand was always my favorite.
I've never been a conspiracy theory kind of guy. Although I do believe that some underworld, mafia-like, anarchist group took out the Kennedys back in the 1960s.
I guess my position is: "When it just makes no sense on the surface . . . Look under thee covers."
Which reminds me . . . This exact kind of disappearing food thing happened to me once before.
Does anyone remember Tuna Pot Pies?
I was raised Catholic. You Know . . . In the 1960s, it was always "No Meat on Fridays."
I ate Tuna Pot Pies
every Friday
for like 15 years. The only other option was "Mac & Cheese." And there was no microwave . . . so we had to bake them in an oven for an hour before they were ready to eat. So don't try to tell me there's never been such a thing as a Tuna Pot Pie.
Next time you're in the freezer section looking for Chocolate Chip Ice Cream (And you know you will be) . . . swing across the aisle and take a quick search for Tuna Pot Pies. They should be easy to find -- right there . . . next to the Chicken Pot Pies.
But they're not.
You might find Beef Pot Pies and Turkey Pot Pies and Vegetarian Pot Pies . . . But you won't find TUNA. I guarantee it. I look every week at Meijers or Kroger or Jack's or Beson's. No Tuna!
Go ahead and Google for Tuna Pot Pies . . .
Click Here For Google Info.
All you find are recipes. It's just as if Tuna Pot Pies never actually existed.
But they did . . . I know they did . . . Didn't they?
And now it's happening again. Just like with the Tuna Pot Pies -- Chocolate Chip Ice Cream is disappearing.
It's as if someone went back in time 2,000 years (Reference: Butterfly Effect) and stepped on a fire ant (or something) and now there's no Chocolate Chip Ice Cream.
What the heck?
My beautiful wife, Donna, just rolls her eyes every time I mention either the missing Chocolate Chip Ice Cream or disappearing Tuna Pot Pies any more. Makes me think (sometimes) that she may be in on it -- the Conspiracy, that is. Maybe she actually "KNOWS" where all the Chocolate Chip Ice Cream is and where all those Tuna Pot Pies are buried.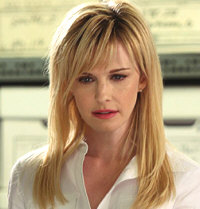 I think I may get in touch with Lily Rush (Pictured at Right) and see if she and her partner, Scotty, might be interested in helping me track down what really happened back in the day. This might truly be worthy of their "Cold Case" expertise . . . After all . . . It's not like they're that busy anymore. (Their show's been canceled.)
So . . . here's the deal . . . If you can find a 1/2 Gallon of Chocolate Chip Ice Cream or a pre-packaged Tuna Pot Pie, call the office at (989) 892-8501. Bring it over and we'll take your picture with the "goods" and run it in our next issue . . . as long as you tell us where you bought it. (Smile.)
One more thing . . . I've been looking for Clark Candy Bars to give away at Halloween. Can't seem to find any . . . ANYWHERE!!
Do you see a trend here . . . Like I do? Maybe I'll ask my wife to look for Clark Candy Bars next time she's in Meijer's.
But I know she won't find any.
---
"The BUZZ" - Read Feedback From Readers!
jjmccool says: On October 21, 2010 at 12:36 PM

thats probably a good thing.... stay out of the ice cream isle anyway... :)
Julie says: On October 21, 2010 at 01:58 PM

do I get a prize if I find choc chip ice cream somewhere ????
Green_Dog says: On October 26, 2010 at 10:51 PM

OJ - You're a Freak - Leave the Sugar Alone
---

O. J. Cunningham




O. J. Cunningham is the Publisher of MyBayCity.com. Cunningham previously published Sports Page & Bay City Enterprise. He is the President/CEO of OJ Advertising, Inc.

More from O. J. Cunningham
---
Send This Story to a Friend!
Letter to the editor
Link to this Story
Printer-Friendly Story View
---
--- Advertisments ---