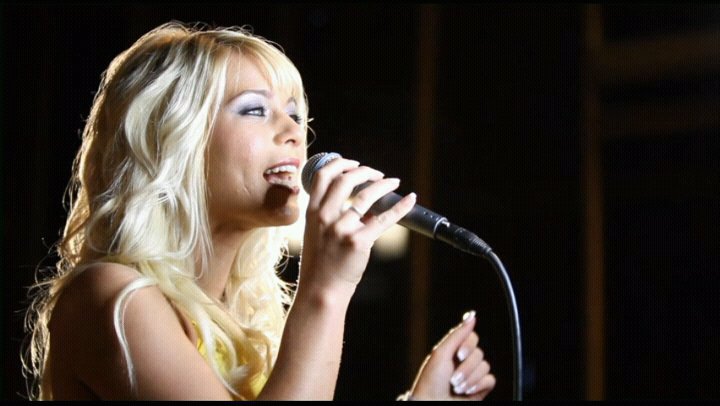 Dani Vitany Hits It Big With 'Upsy Daisy' Music Video
Michigan Idol Winner's Musical Career Takes Off
December 19, 2010 1 Comments
By: Julie McCallum, Entertainment Editor
You may know her as Taylor Vitany . . . but the small town girl . . . is on the move up.
Born Taylor Danielle Vitany on August 26, 1992, Vitany is now billing herself as 'Dani Vitany' - a catchy name to introduce her into the national country music recording scene.
The young singer was a 2009 winner of the Michigan Idol competition held at Stables Martini & Cigar Bar in Bay City, Michigan hosted by Doug Dore. Vitany then joined the band Vengeance as lead singer for the last year and a half.
The Band, 'Dani Vitany & Vengeance', performs Classic Rock music as well as a few country tunes. Although her new venture is leaning toward country music, Vitany says she still enjoys singing other styles of music. The band is still currently booking shows.
Vitany graduated from Birch Run High School in June of 2010.
During an exclusive interview, MyBayCity asked Dani, What 'Taylor' does when she is not being 'Dani'? . . .
Vitany said, "Taylor is just a normal small town girl. Working at the Exit Restaurant. Living at home. Vitany laughed, "But the Dani in her comes out a lot even when she's not really trying."
It was New Year's eve of 2009 when Vitany was discovered by Stardom Image Maker, her current management company. Stardom was notified that Vitany was performing at the Backwoods Bar in Birch Run. And after that night, Stardom began making plans for Vitany's future.
Stardom contacted Randy Barlow, a producer out of Nashville. Barlow traveled to Michigan and began working with Vitany and co-writing her first song and video release "Upsy Daisy".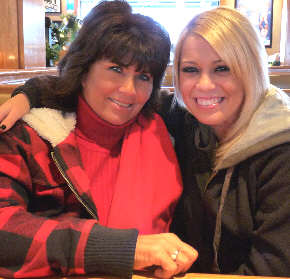 Dani with her Mom Deb Vitany
(MyBayCity Photo by Julie McCallum)
-- The Music Video for "Upsy Daisy" was produced through Monarch Video Productions, and was filmed in several locations throughout Michigan.
Vitany's Mom, Deb, has been very supportive and by Dani's side every step of the way. "Her whole life has changed especially in the last few months," Deb said. "It's moving faster then I had expected!"
Dani says that Carrie Underwood is her favorite artist along with Miranda Lambert and Kid Rock. Dani continued, "I hope to move to Nashville someday. The opportunities seem endless there. I love singing and performing and just want to keep doing what I love to do as much as I can."
Dani said one person she would love to meet is Zac Efron actor, singer, and dancer.
According to Dani, there will be a CD out soon, which was recorded in Stillwater Studios in Swartz Creek, and is currently being pressed and will be out soon to the public and available on her website. (Below)
Since the release of the "Upsy Daisy" Video, Dani said her managers have been getting many calls, including companies that are interested in her for some acting work. Dani said she has performed in many of her high school plays and enjoyed that as well.
Coming up In January, Dani Vitany will perform at the Michigan Association of Fairs & Exhibitions at The Amway Hotel in Grand Rapids scheduled for January 12-15, 2011.
Vitany has performed regularly in Bay City, including The State Theater in a benefit for the Troops and has also performed in a Parody Theme singing event at the Labadie Pig Gig in Bay City's Veterans Park. Vitany also sang the National Anthem at the Toughman's Cage fighting event held at the Prime Event Center in Bay City. Vitany made her first on-air radio interview recently on LastChoiceCountry.com
In 2009 Vitany won the Michigan Idol Contest featured by MyBayCity.com held at the Stables Martini & Cigar Bar in Bay City, Michigan.
Below
is a winning performance by Vitany that blew up the MyBayCity YouTube Video as the
most viewed video to date
with over 6,000 views.
Above Video by MyBayCity Entertainment Editor Julie Munger-McCallum
at the Stables Michigan Idol Show
(Above) Vitany's First Music Video Release -
Dani Vitany- "Upsy Daisy" BY Monarch Video Productions
---
---
---
Send This Story to a Friend!
Letter to the editor
Link to this Story
Printer-Friendly Story View
---
--- Advertisments ---