Return to Glory Days of Bay City Football Recall Legendary Engel Era
Central, Western Gridders Dominating Saginaw Valley Like Teams of Yore
September 18, 2004 1 Comments
By: Dave Rogers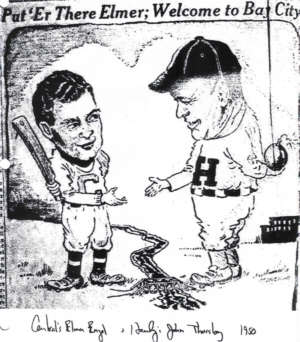 Andy Munch Cartoon depicts fictional greeting of new Central Coach Elmer Engel by Handy's John Thursby in 1950.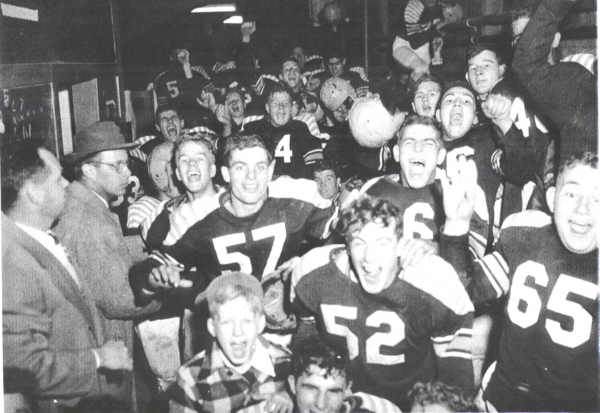 Coaches Engel and Estel "Zit" Tessmer, (with hat,) are at left as cheering Central team celebrates 40-6 Handy victory in 1952.
      Fifty four seasons ago a tough ex-Marine officer from Illinois was hired as a high school football coach in Bay City, Michigan.
      The coach's name was Elmer Engel and he was soon to put the Central High Wolves on the gridiron map of Michigan.
      Now, after a relative hiatus of 30 years, except for a Wolfpack state playoff finals finish in 1994, Central and Handy's successor, Western High, are reviving the glory days of Bay City football. Both Central, under Coach Morley Fraser, and Western, with Jim Eurick at the helm, are undefeated midway through the season. They are likely headed for a monumental showdown in the last game of the year.
      In 1950 Engel installed a T-formation offense he had learned as an end under Coach Ray Eliot at the University of Illinois. And, with a few other changes, the Wolves began to win, and win.
      It was heady stuff for Bay City boosters who had suffered through 20 straight losses and had futilely run through three coaches in four years.
      Some folks in town said Central couldn't compete with Flint and Saginaw teams and should get out of the Saginaw Valley, recalls local sports historian Harold Dean, who is writing a book about Engel and the Wolfpackgridiron saga.
      But under Engel the Wolves kept winning for more than two decades and the town turned out to jam the stadium for games like they were watching the pros. Just about everybody in town had season tickets and the society pages of the newspaper were filled with shots of fans at Central stadium.
      The combination of a winning team and post-war enthusiasm for community building produced amazing results. Big games drew 8,000 or more to the stadium and more than 800 boosters jammed the Consistory for annual sports banquets. The Wolves were consistently ranked in the top 10 high school grid teams in statewide wire service polls. Remember, these were pre-playoff days when sportswriters set rankings and chose the state champions.
           Midway through Engel's 22 year coaching career at Central, cross-town rival Handy High rose up under coach Hi Becker to win the state title in 1961. The Bay City teams, primarily Engel's Wolfpack, dominated the Saginaw Valley for a quarter century.
            Jerry Cole, Bay City stockbroker and early Engel halfback, recalls starting under the Engel "system" as a freshman in 1950. "We learned only three basic running plays, and we practiced them over and over until wecould execute almost to perfection every time," says Mr. Cole. Backs knew exactly where the "hole" in the line would be, linemen knew what shoulder to use and what foot to lead with, and team timing was honed. Mr. Cole added: "The next year, as sophomores, we learned a few more running plays and one pass play. By the time were were seniors we had a full repertoire and we knew all the plays extremely well." Mr. Cole won a scholarship to the U.S. Merchant Marine Academy where he played running back and returned punts.
      Mr. Engel, who still lives in Bay City and winters in Florida, told Mr. Dean his philosophy: "Don't teach them more than they can learn," advice he had gotten from an assistant coach at U-I.
      He also commented about conditions at the school when he started. "When I came to Bay City they told me there was no talent. But there was talent, except nobody cared about football. Uniforms were in bad shape. Practice field was in bad shape. Morale was extremely low. No student fan support. No one cared. We didn't even have a blocking shed."
      Coach Engel soon convinced Principal Paul Briggs to buy all new equipment, replacing the decrepit 1929 Red Grange era gear the team had been using since the days of famedCoach Garland "Chief" Nevitt, a Native American, in the 1920s. Clean socks and other equipment were provided by the school, an unusual step for a high school program. But it all made a positive difference.
      The first Central game coached byMr. Engel was against Midland in 1950. Midland had sent scouts to Central practices, but the coach ordered subs to line up to block their view, Engel recalled. Meanwhile, he meticulously studied films of the previous year's game with Midland and wrote a game plan.
      The rest of the story as told by author Dean is that Central surprised Midland both with their precision offense and a unique "stunting" defense which called for linemen to move in different directions on each play. With quarterback Elmer Cabage at the helm, Central won 12-6, equalling the total number of wins in the previous three years combined.
      Engel's teams went on to win 165 games while losing 34 and tying 8, racking up 10 Valley and 5 state championships in 23 years. Many games were shutouts like 34-0 against Flint Northern in 1950, 46-0 against Mt. Pleasant in 1951, 12-0 against Flint Central in 1952.
      Longtime Engel assistant coach Art Nixon, who coached an undefeated Bay City St. Joseph in 1956, credits Central's advanced offense against out-dated defenses used by opponents. "Once the back shot through the line and the linebackers he often only had one man to beat to score," Mr. Nixon recalled. "And our stunting defense was difficult for highschool kids to master."
      Coach Engel reveled in repeated showings of "the perfect play," a 75-yard touchdown run by halfback Rollie Auman in the 1965 state championship game against Midland, won 6-0 by Central. With Central Stadium packed by 9,000 screaming fans, Auman slashed off tackle and found himself alone, with no tackler to challenge him. It seems every Central player had blocked so well, one even downing two defenders, that Auman could almost have walked to the end zone.
      Like Rocky Marciano, Mr. Engel retired at the top, going out after a 9-0 record and Valley and State championships in 1972.
      Bay City football was important to to building spirit and a sense of teamwork to the town. It convinced everyonethat its youngsters could succeed against heavy odds. Dozens of athletes earned scholarships and went on to success and students and graduates gained a sense that they had been part of something good, that their school had a first class quality.
      Names echo through the years of glory: Smiley, Greenwood, Wilson, Carras, Cormier, Stevenson, Husband, two Asels, the Schillers, Drzyzga, the Smiths, Johnson, Gross, Syring, Halstead, Klawinski, Techlin, Frieders, the Engel brothers, Piotrowski, Young, Kanickis, Nixon, the Wirgowskis, Kennell, and the coaches, Engel, Tessmer, Loop, Duch, Nixon, Fitzgerald, and on and on.
      Mr. Dean's book will give great detail about those names and others and those glory years of Bay City Central football. And in the meantime townsfolk can revel in the current return to excellence on the field by two Bay City teams, Central and Western, that translates to the soaring spirit of success in education and other endeavors for all who adopt and embrace them as their own favorites.
      (EDITOR'S NOTES: The longterm validity of the Engel coaching "system" was confirmed in 2000 when John Loop, son of Engel line coach Kenneth Loop, was named Michigan High School Coach of the Year. With his 166th win, against 48 losses, at Bangor John Glenn, Loop exceeded Engel's 165 wins. Loop, an Engel protege who played guard at Central Michigan University, used the same offense and defensive schemes that brought so much success to Central in the Engel years.
Engel era game films, sold to boosters through the years, are sought for a Bay County Historical Society film project. Anyone having Central game films taken from 1950-72 may contact Dave Rogers, 686-5544 or Eric Jylha at themuseum, 893-5733. Films will be copied on VHS format and returned.)###      
---
---

Dave Rogers




Dave Rogers is a former editorial writer for the Bay City Times and a widely read,
respected journalist/writer in and around Bay City.
(Contact Dave Via Email at carraroe@aol.com)

More from Dave Rogers
---
Send This Story to a Friend!
Letter to the editor
Link to this Story
Printer-Friendly Story View
---
--- Advertisments ---