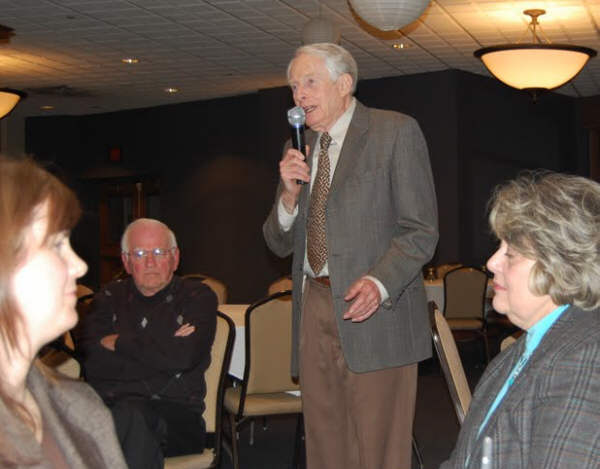 Cliff Van Dyke, president of the Bay County Growth Alliance, discusses the history of Industrial/Commercial Development at a recent Elk's Speaker's Night
---
What is the Value of One Vote or One Phone Call? Cliff Van Dyke Explains
Thirty Year Saga of Bay County Industrial/Commercial Development Recalled
February 20, 2011 1 Comments
By: Dave Rogers
Without one vote on the Monitor Township board in 1979, Bay County wouldn't have Valley Center Technology Park and its 1,300 jobs.
One phone call made the DoubleTree Hotel project in downtown Bay City happen.
And one vote cleared the way for the Fabiano Brothers building and development on US-10 and Mackinaw Road.
Cliff Van Dyke, former bank president turned economic developer, told members and guests of the Bay City Elks Lodge last week how close the community came to having just a cornfield, an empty lot downtown and a vast space where a 192,000 square foot building now employs hundreds.
Mr. Van Dyke was the second in the Elks new speakers' night series. Next month's speaker is Richard Janke, describing the status of the project to bring the destroyer USS Edson here.
Now president of the Bay County Growth Alliance, Mr. Van Dyke tracked the important milestones in economic development in Bay County over the past 35 years.
On hand for his talk were two former members of the Monitor Township Board who made the technology park happen: Warren Sinke and William Kramer. They were two of the votes necessary to move the park idea forward on a 4-3 vote. The others were Supervisor Willis Willy and Trustee Herb Steih.
Forward Bay County, Inc., forerunner of the BCGA had been granted $1,643,000 by the federal Economic Development Agency (EDA) in 1975. That money went unused until the board decided an industrial park was needed. Edmands Engineering surveyed all possible sites and picked the area at Mackinaw and US-10 and the most likely.
The question "can we establish a downtown development tax increment financing district in a community without a downtown?" was one that baffled everybody and raised opposition in the rural community, Mr. Van Dyke recalled.
Detroit area consultant Lou Beer said "yes," and in 1981 the Monitor Township Downtown Development Authority (DDA), financed by the Bay County Growth Alliance (BCGA) bought most of the southwest quadrant of a parcel of farmland at Mackinaw Road and US-10.
Eight industrial lots were platted and South Valley Center Road was laid out and developed. Industries began to build and move in and Bay County was off and running with a first-class industrial park.
"It is a beautiful business park, unmatched anywhere," said Mr. Van Dyke. "Today there are 26 industries and businesses in the park and about 1,300 jobs have been created. The SEV tax base is about $30 million. And it all happened because of one vote on the township board."
Even as the park attracted more tenants and more lots were platted, the Growth Alliance was "orphaned" when business and government argued over control. A private corporation operated for seven years while the BCGA survived by finding jobs for people on public assistance through Michigan Works.
When the Thumb community of Millington got a grant for an industrial park, former BCGA official, the late Ronald K. McGillivray, wrote grants and obtained nearly $2 million from the Michigan Department of Commerce to give the organization new life.
Despite opposition from rural elements who wanted the area to remain farmland and from contrarians in county government whose motives are unclear to this day, the park expanded.
The huge $18 million Fabiano warehouse-office project survived another 4-3 vote and Valley Publishing's 75-foot high $20 million newspaper press building won a 60-40 ratio in a public referendum. Opponents sought to block the building, or force it to be built partially underground, charging the height of the structure was incompatible with the community. Advocates pointed out that many church steeples were of that height or taller.
The hotel conference center project, that had become a political football for years, finally was able to use an $11 million federal grant obtained by former Member of Congress J. Bob Traxler.
The City of Bay City was tossed the football after the county had spent about $1 million in planning. Eventually appraiser Tom Williams was induced to help and he made a call to a former Annapolis classmate, Ray Garfield. That contact resulted in Garfield putting together a deal with the Hilton Hotel chain and a $35 million bond issue through Piper Jaffray.
Now, the Bay City DoubleTree stands sixth in the rankings of customer satisfaction among 230 DoubleTree hotels worldwide and boasts a 62 percent occupancy rate, according to Mr. Van Dyke.
The hotel's huge debt will eventually have to be restructured, predicted Mr. Van Dyke, commenting "but we have this marvelous center of our community that only happened because of one phone call."
There are other examples, he said, including Dr. Steve Ingersoll's Madison Arts Building that has received backup financing through the U.S. Department of Agriculture's Rural Development Program through a phone call from a Michigan Certified Development Corporation official.
"Here, again, one phone call was the key to getting things moving," concluded Mr. Van Dyke.
BCGA remains "totally self sufficient," he said, acting as a loan fund helping new enterprises get started.
### ###
---
"The BUZZ" - Read Feedback From Readers!
mosher Says: On February 21, 2011 at 07:22 AM

Thanks for posting this. Good to hear how government and business partnerships work.

Our Wisconsin cousins book the Doubletree for the fireworks each year. Maybe the Arlington could become a similar development magnet on the West Side.
---

Dave Rogers




Dave Rogers is a former editorial writer for the Bay City Times and a widely read,
respected journalist/writer in and around Bay City.
(Contact Dave Via Email at carraroe@aol.com)

More from Dave Rogers
---
Send This Story to a Friend!
Letter to the editor
Link to this Story
Printer-Friendly Story View
---
--- Advertisments ---