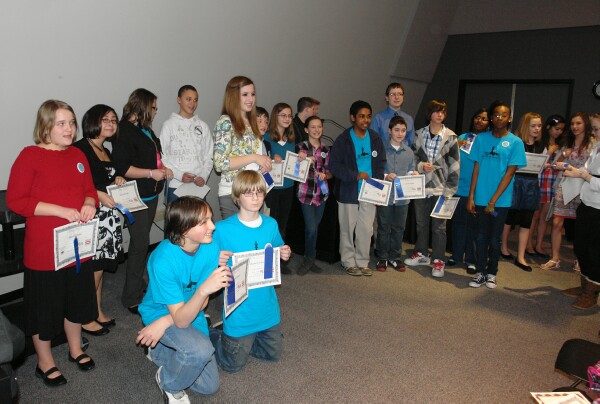 Bay County Historical Society Hosts Michigan History Day
March 20, 2011 2 Comments
By: Stephen Kent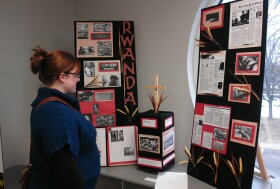 Rwanda Genocide
by Catlina Luna
For the last six years the Bay County Historical Society has hosted the ten county Region 5 Michigan History Day 2010 Competition. 100 students participated this year. 24 projects, representing 37 students, won the right to advance to the state competition later this year.
Last year two Region 5 students that went to State advanced to the National competition in Maryland. One of those students was ranked 14th in the nation at that level.
The 2011 theme was "Debate and Diplomacy in History: Successes, Failures, Consequences". Students presented papers, displays, web sites, performances and documentaries on topics as varied as The Toledo War between Michigan and Ohio, China under Mao, Censorship in Music, and the Cuban Missile Crisis.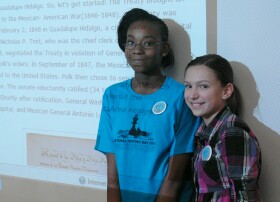 Treaty of Guadalupe Hidalgo (website)
By Tamia Jones and Eleanor Hirschman
History Day competitions are much like a science fair, but for history projects", said Ron Bloomfield, Director of Operations and Chief Historian.
Students must do their own research on a topic they choose. They present the results through art, literature, visual communications and writing. Winners at each level refine their presentation based on judges comments then move to the next level.
Saturday's event was held at the Delta College Planetarium. Four shows were presented free to the public during the History Day activities.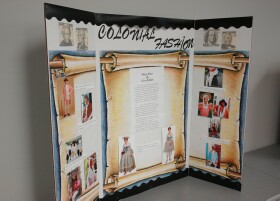 Colonial Fashion Exhibit by Dani McFadden
For more information about History Day, the Historical Society, or the Bay County Museum, contact Corrine Bloomfield, Curator of Exhibits and Education, and Michigan History Day District 5 Coordinator.
Bay County Historical Society
321 Washington Avenue
Bay City, MI 48708
(989) 893-5733
Be sure to visit the newly redesigned Museum web site at
www.bchsMuseum.org
Michigan History Day is sponsored by
The Historical Society of Michigan
.
More information on History Day is available on the HSM
History Day
page.
Winners of Saturday's competition at
the Delta College Planetarium

Websites

Senior - Group
China?s Demise: What Really Happened?
Shamiah Bell
Senior - Individual
Censorship in Music
Benjamin Collison, Dustin Sepulveda, Nicholas Trigg
Junior - Individual
The American Civil War
Aaliyah Pruitt

Songhi: Rise/Fall and Aftermath
Christopher vonClaparede

Six-Days War
Alex Czarnecki
Junior - Group
Cuban Missile Crisis
Carolea Greanias, Sierra Kielpinski

Treaty of Guaalupe Hidalago
Eleanor Hirschman, Tamia Jones

Iran Hostage Crisis
Brenden Calahan, Scott Lehmann

Documentaries

Junior - Individual
Red Guards of the Cultural Revolution
Sophia Huegel
Senior - Individual
The Toledo War
John Bihn

Exhibits

Youth - Individual
The 13 Colonies
Abigale Lewis
Junior - Individual
Space Race
Seth Rozin

Lost, Forgotten, and Left in the Dark
Catlina Luna

The Iran Hostage Crisis
Ali Johnson
Junior - Group
The Ping Hear Around the World
Shannon Conachan, Isabel Daquial, Skyllar Urban

April 6, 1994: The Nightmare Begins
Madeline Haynes, Emma Schmidt

Stars & Stripes or Hammer & Sickle
Madeline Haynes, Emma Schmidt
Senior - Individual
Prohibition
Aaron Rozin
Senior - Group
The Alaska Purchase
Chris Barger, Emily Farrar, Justin Schram

Free at Last, 1964
Yasmeen Keil, Jesica Shaurnoch

The Watergate Scandal
Kayla Eisenlord, Ashley Smith

Papers

Junior
Kill the Indian, Save the Man: The Indian Boarding School Debate
Charles Morris

Geneva Convention
Jenna Johnroe

Satyagraha: Gandhi?s Peaceful Resistance Movement
Kellie Rankey
..
---
---

Stephen Kent




Steve Kent and his family have lived in Bay City for 40 years. He is VP of Technical Services at MMCC which produces MyBayCity.Com. Kent is active in many Bay City civic organizations.

More from Stephen Kent
---
Send This Story to a Friend!
Letter to the editor
Link to this Story
Printer-Friendly Story View
---
--- Advertisments ---