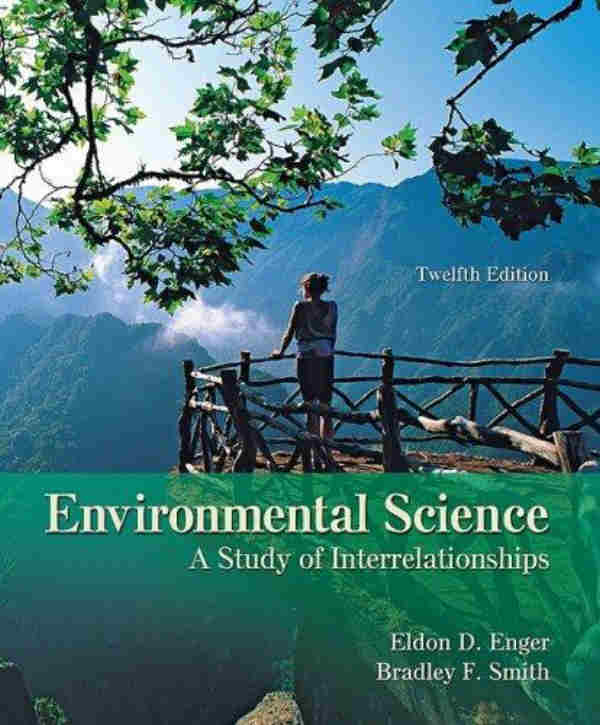 Former Delta College professors Bradley F. Smith and Eldon Enger have helped to pioneer a new field of study: Environmental Science.
---
Former Delta College Professors Smith, Enger Pioneer Environmental Science
One Million Students Have Used Textbook as New Field Emerges
April 24, 2011 1 Comments
By: Dave Rogers
Former Delta College professors Bradley F. Smith and Eldon Enger have helped to pioneer a new field of study: Environmental Science.
The twelfth edition of their jointly-authored text on the subject has recently been issued. The book has popularized concepts like biodiversity and sustainability now in widespread use.
The authors state:
"Since 'Environmental Science: A Study of Interrelationships' was first published in 1983, it has been translated into Chinese and Korean, and we estimate that nearly a million students have used the text. Over the ten editions, we have seen the field of environmental science change significantly."
Twenty years ago industries were the major polluters of air and water. Many of the corporate sources of pollution have been cleaned up and, today, the authors maintain, the main sources of air and water pollution are individual citizens.
They explain: "The actions of individual citizens now have become major sources of pollution. Automobile use is responsible for much of the air pollution that affects cities and runoff from lawns, city streets, and farms is an important source of water pollution."
About this new academic field, the authors comment: "Initially, most of the courses were designed to raise awareness about environmental issues. Today, the field of environmental science has become a major discipline at many colleges and universities. Students who enroll in an introductory environmental science course may move in several directions that were not present over 25 years ago.
"Fields such as environmental law and environmental engineering are new disciplines. In addition, other traditional disciplines such as landscape planning, urban planning, agriculture, and industrial engineering now pay significant attention to environmental concerns.
"Many new environmental problems have also arisen. Climate change, the AIDS pandemic, genetically modified crops, and concerns about the loss of biodiversity have become core issues. Over time, as these issues have assumed greater importance they have been incorporated into the text."
Eldon D. Enger is an emeritus professor of biology at Delta College. He received his B.A. and M.S. degrees from the University of Michigan. Professor Enger has over 30 years of teaching experience, during which he has taught biology, zoology, environmental science, and several other courses.
He has been very active development of an environmental technician curriculum and the courses that support it. He was also involved in the development of learning community courses in stream ecology, winter ecology, and plant identification. Each of these courses involved students in weekend-long experiences in the outdoors that paired environmental education with physical activity -- stream ecology and canoing, winter ecology and cross-country skiing, and plant identification with backpacking.
Professor Enger received the Bergstein Award for Teaching Excellence and the Scholarly Achievement Award from Delta College and was selected as a Fulbright Exchange Teacher twice--to Australia and Scotland. He has participated as a volunteer in several Earthwatch Research Programs. These include: studying the behavior of a bird known as the long-tailed manakin in Costa Rica, participating in a study to reintroduce endangered marsupials from islands to mainland Australia, and efforts to protect the leatherback turtle in Costa Rica.
He also served as a participant in a People to People program which allowed for an exchange of ideas between U.S. and South African environmental professionals While traveling he has spent considerable time visiting coral reefs, ocean coasts, mangrove swamps, alpine tundra, prairies, tropical rainforests, cloud forests, deserts, temperate rainforests, coniferous forests, deciduous forests, and many other special ecosystems. This extensive experience provides the background to look at environmental issues from a broad perspective.
Bradley F. Smith was named Dean of Huxley College of the Environment at Western Washington University in September of 1994. Prior to his appointment, Dr. Smith had served as the first Director of the Office of Environmental Education for the U.S. Environmental Protection Agency. He also served as a Special Assistant to the administrator of the EPA and as Acting Associate Administrator for the EPA. Dr. Smith was appointed to the U.S. Senior Executive Service in 1992. He received his Ph.D. from the University of Michigan School of Natural Resources and the Environment. His BA and MA are in economics and political science.
From 1975 to 1990, Dr. Smith was a professor of political science and biology at Delta College, and concurrently was executive director of Michigan's Tobico Marsh National Refuge from 1982 to 1990. During this time, he also served as adjunct faculty at the Air Force Institute of Technology and the University of Michigan's School of Natural Resources and Environment.
He co-edited a book, "Tobico Marsh: A Story of the Land and the People," (1987) with Delta College History Professor Jeremy Kilar.
Dr. Smith has been a Fulbright Scholar to England a NATO Fellow and is a Fellow of the Royal Institute of Environmental Science in the UK. He holds adjunct faculty positions in Russia, China, Holland, England and Japan.
In 2007 he was appointed by the EPA Administrator to the National Advisory Council for Environmental Policy and Technology (NACEPT) which advises the USEPA on domestic and international environmental policy issues. In 2009 he was appointed by the Governor to the Washington State Fish and Wildlife Commission.
Currently he serves on the steering committee of the Commission on Education and Communication for the IUCN and as a Trustee of the National Environmental Education and Training Foundation. He is the past President of the U.S. Council of Environmental Deans and Directors and the past chair of the Washington State Sustainability Commission. He has served as an environmental advisor to many corporations and as an external evaluator for the U.S. Department of Energy.
Formerly Dr. Smith served as an appointed member of President Clinton's Council for Sustainable Development (Education Task Force). His most recent publications include co-author of Environmental Science: A Study of Interrelationships, 12th edition 2009, and Environmental Science Field Guide and Laboratory Manual, 12th edition 2009. McGraw-Hill. ###
---
---

Dave Rogers




Dave Rogers is a former editorial writer for the Bay City Times and a widely read,
respected journalist/writer in and around Bay City.
(Contact Dave Via Email at carraroe@aol.com)

More from Dave Rogers
---
Send This Story to a Friend!
Letter to the editor
Link to this Story
Printer-Friendly Story View
---
--- Advertisments ---