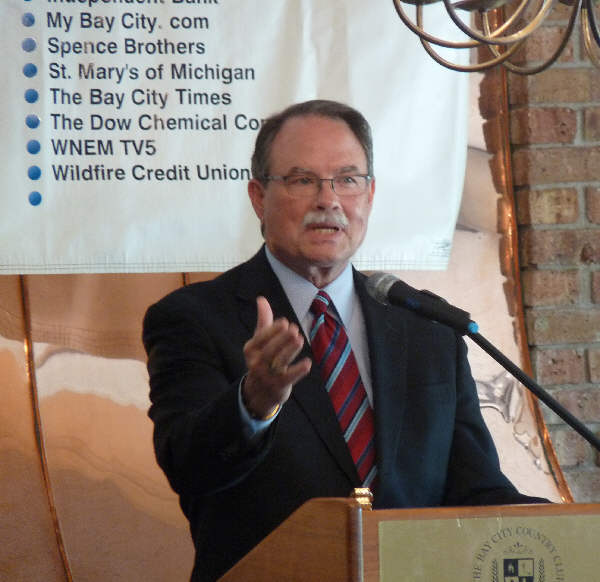 Richard K. Studley, President & CEO of the Michigan Chamber of Commerce
---
Michigan's Legislative & Economic Outlook
July 3, 2011 1 Comments
By: Julie McCallum,
Senior Staff
(MyBayCity's Dave Rogers contributed to this article.)
Recently a special luncheon featuring Richard K. Studley, President & CEO of the
Michigan Chamber of Commerce
was held at the Bay City Country Club.
Studley led an informative presentation on the economic outlook of Michigan in the business community. Studley said, "Staying positive is not a problem with the three extraordinary area Chambers,(Bay, Saginaw, Midland) who work together and collaborate on moving forward and set a great examples in leadership here in Michigan."
Businesses large and small have many questions regarding the 2,800-page federal health care legislation. This complex legislation, which was signed into law in March of 2010, has made sweeping changes to our country's health care system and will impose many new requirements and mandates for employer-sponsored health care coverage. The Michigan Chamber is committed to providing resources for our members on how to navigate and comply with the new law and implementing regulations, including information on the new employer mandates and the small employer tax credits.
In February 2011, Governor Rick Snyder unveiled a comprehensive reform proposal to rein in government spending, improve Michigan's structural deficit, and overhaul Michigan's tax system. By mid-May, the repeal of the job-killing MBT was signed into law and a new competitive business tax was put into place to be effective on January 1, 2012. In addition, for the first time in years, a state budget has been completed early!
The Michigan Chamber supported the Governor's overall approach to taxes and spending and was specifically focused on gaining support for the Governor's effort to repeal the job-killing Michigan Business Tax and replace it with a 6 percent Corporate Income Tax. The Governor's original proposal for a 6 percent Corporate Income Tax was successfully signed into law exactly as originally proposed.
According to Mr. Studley, the state Chamber's 2011-2012 legislative priorities address eight issue areas:
Strengthening Agriculture

Improving Michigan's Regulatory Climate

Protecting the Great Lakes and Private Property Rights

Promoting Affordable Health Care

Safeguarding Employer Rights in the Workplace

Fighting Lawsuit Abuse

Reforming Michigan's Tax System

Encouraging Transportation Investment

Unemployment insurance (UI) reform is a top legislative priority for the Michigan Chamber during the 2011-12 legislative session. UI reform is desperately needed because Michigan's UI Trust Fund has borrowed more than $3.9 billion from the federal government to continue paying benefits.

Left unchecked, Michigan businesses' total additional tax burden will automatically increase by as much as $240 million in 2011 and increase progressively over the next decade to repay the federal debt plus interest.

The amendment to HB 4408 represents an opportunity to work proactively to reform the UI system, which will ultimately allow job providers to redirect their financial resources to rehire those currently receiving assistance and create more jobs statewide.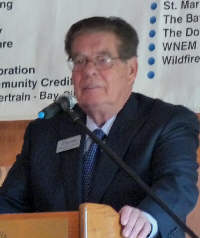 (Right) Michael Seward, President & CEO, Bay Area Chamber of Commerce. Also in attendence were Sid Allen, President at Midland Area Chamber of Commerce and Bob Van Deventer, President of Saginaw County Chamber of Commerce.

Several other topics were covered my Studley, including the following economic forecasts:
The U. S. economy, as measured by inflation-adjusted gross domestic product, is predicted to expand 2.4 percent in 2011, before growing another 2.8 percent in 2012 and 3.1 percent in 2013.

Light vehicle sales are forecasted to rise from 11.6 million units in 2010 to 12.8 million units in 2011, 14.4 million units in 2012 and 15.0 million units in 2013.

Inflation-adjusted personal income is estimated to grow 1.7 percent in 2011, 0.2 percent in 2012 and 2.5 percent in 2013.

After declining 0.3 percent in 2010, wages and salaries are predicted to increase 1.2 percent during 2011, 0.2 percent in 2012 and 0.9 percent in 2013, the first increases in wage and salary employment since 2000.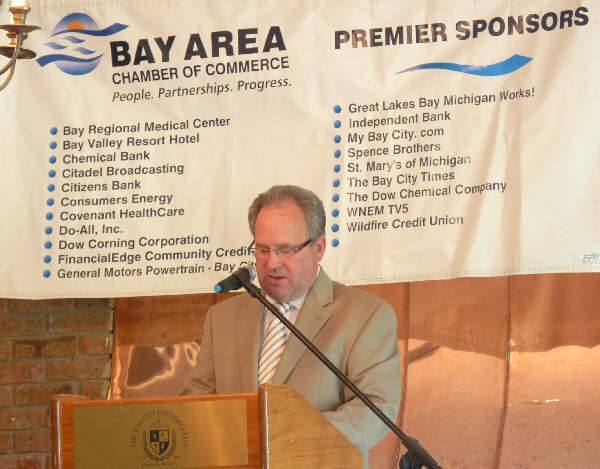 (Above) Chair-Elect of Bay Area Chamber, David Green, Community Bank President and Senior Banker at Citizens Bank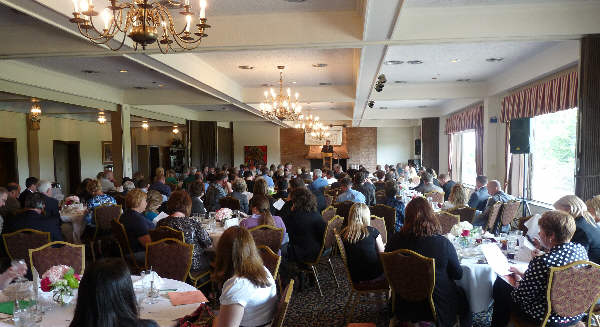 Legislative Luncheon was held at the Bay City Country Club on Tuesday, June 28, 2011
---
---
---
Send This Story to a Friend!
Letter to the editor
Link to this Story
Printer-Friendly Story View
---
--- Advertisments ---