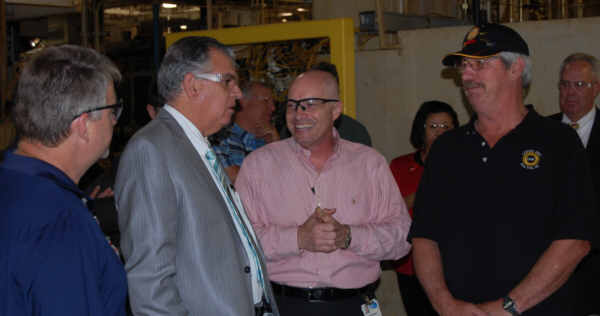 U.S. Transportation Secretary Ray LaHood (grey suit) talks to Bill Berry, left, Plant Manager Joe Mazzeo and UAW Acting Chair Scott Brink, right. (MyBayCity Photo by Dave Rogers)
---
"Keep It Moving!" Federal Auto Chief Calls Bay City GM Plant "Impressive"
Transportation Secretary LaHood Tours PowerTrain, Cites "Big Vision"
July 3, 2011 2 Comments
By: Dave Rogers
What's the key to continued manufacturing growth in the United States?
"Union-management cooperation," says Ray LaHood, U.S. Transportation Secretary who visited here Wednesday and went on a whirlwind plant tour.
"Very impressive, very impressive! Keep it moving!" exclaimed Mr. LaHood to a room full of enthusiastic GM employees, local and federal politicians and news media members.
The Secretary made a point of shaking hands with every worker he could, including Scott Brink, acting UAW Local 362 chairman, Dennis Schoberth, a machine setup worker who had bicycled to work, and Kim Rouech, electrician on the new FAMO line producing camshafts for the Volt and Cruze.
Others he greeted in the plant included Jeff Yoder, a foreman, and production workers Josh Werner and Deanna McKay.
All observers agreed Bay City has made the right moves to save one of its most vital employers, the General Motors PowerTrain plant on Woodside Avenue.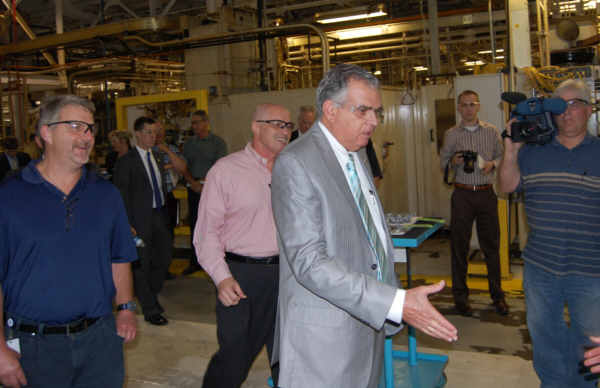 Sec. LaHood was a hail fellow well met shaking hands around the plant production floor.
(MyBayCity Photo by Dave Rogers)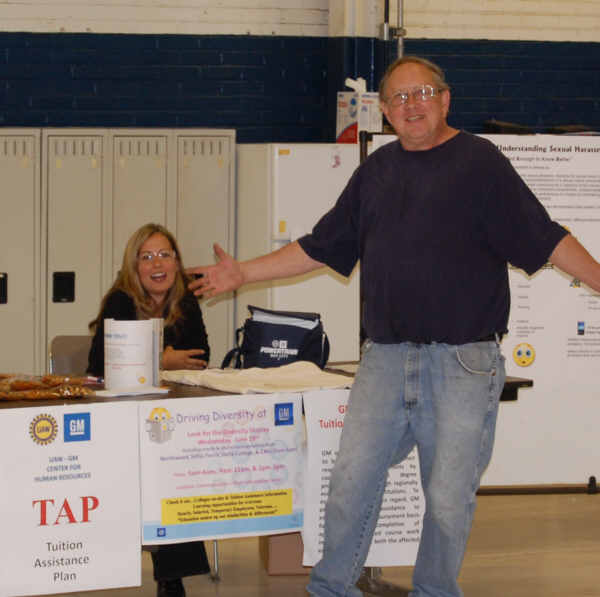 Fred Nowak, 46-year employee, welcomes visitors to the Tuition Assistance Program information area.
(MyBayCity Photo by Dave Rogers)
Mayor Chris Shannon recalled how the local plant, considered on the verge of closure a few years ago, was saved:
1-Union and management partners at the plant expanded a 25-year tradition of the United Auto Workers "living agreement" that has won praise in national news.
2-A GM Retention Committee was formed in cooperation with the Bay Area Chamber of Commerce and made flying trips to Washington to support the auto industry; and
3-The city commission granted a 100 percent tax abatement for 50 years for any corporate investment in the local plant.
The result? GM plowed more than $150 million into the local plant, added dozens of employees to boost the workforce over 400 and took on new longterm business making parts for the Chevy Volt and Cruze and trucks.
Shelley Hart, plant personnel manager, said the firm is nearing the point where all laid off workers will be placed and new hires will be needed.
Construction is underway in the center of the plant for new equipment that will help solidify the local firm's future. About half the plant's one million square feet is available for expansion.
"With hard work you have plant metrics second to none," asserted Mayor Shannon. "These kind of results support the Obama Administration's thrust in advanced manufacturing."
Sec. LaHood hears Mr. Mazzeo describe production methods of high tolerance camshafts as officials and a TV camera look on.
(MyBayCity Photo by Dave Rogers)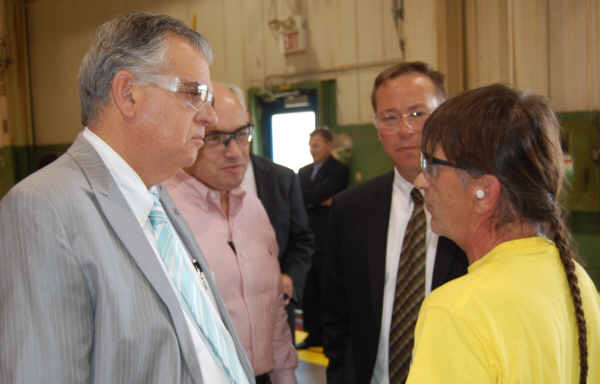 Bob Lamas, 55, of Midland, tells the Secretary how high quality camshafts for the Volt and Cruze are manufactured.
(MyBayCity Photo by Dave Rogers)
Mr. LaHood, noting he had just come from visits to GM plants in Flint, said: I am struck by the high level of cooperation between management and the union; this is absolutely critical to success."
He spoke of President Obama's "big vision" that took "hard earned American tax dollars and turned them into jobs making the Volt, Cruze, trucks and other vehicles people want to buy."
The Secretary concluded: "This is a success story that needs to be told over and over."
The mayor noted that the GM plant here is one of the oldest sites of continuing manufacturing in the area, dating to the 1860s when it was used to make water pipe out of logs strapped in steel. A bicycle plant on the site was acquired by GM founder William Durant, "who saw it was making the best bicycle wheels and could make the auto parts he needed," the mayor observed.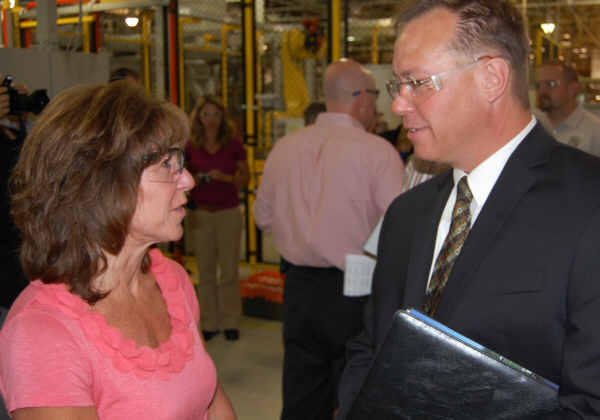 Shelley Hart, Bay City PowerTrain personnel manager, talks employment levels with Mayor Chris Shannon.
(MyBayCity Photo by Dave Rogers)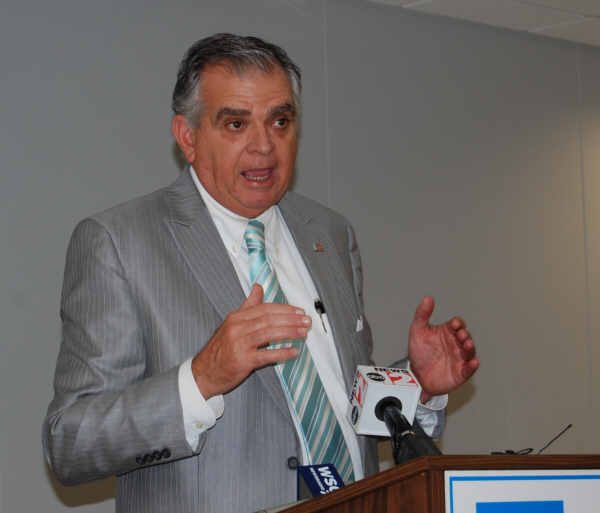 "Very impressive!" Secretary LaHood exclaims at a meeting of GM employees after the plant tour.
(MyBayCity Photo by Dave Rogers)
###
---
"The BUZZ" - Read Feedback From Readers!
fritzak Says: On July 08, 2011 at 02:30 AM

Thank you all at My Bay City for covering the recent visit of Secretary Lahood to Bay City Powertrain. It was exciting to see folks with horsepower like his and others, taking an interest in the auto industry as a whole and especially in the plant where I work. The visit brought more life to the success of Powertrain. It was a boost that will help keep the business open for many more years. A boost that will in the end, creat an oppertunity for more employment for other folkd in this area.
---

Dave Rogers




Dave Rogers is a former editorial writer for the Bay City Times and a widely read,
respected journalist/writer in and around Bay City.
(Contact Dave Via Email at carraroe@aol.com)

More from Dave Rogers
---
Send This Story to a Friend!
Letter to the editor
Link to this Story
Printer-Friendly Story View
---
--- Advertisments ---