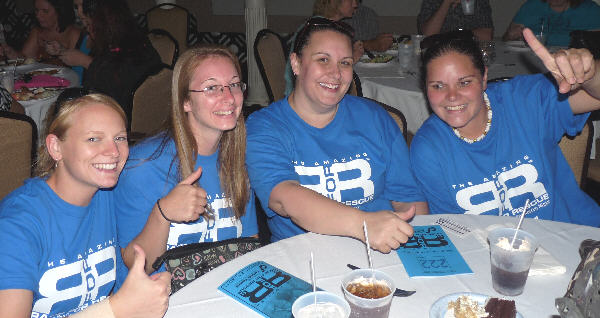 1ST PLACE $1,000 WINNERS: "CRASH COURSE" team members are Amber Haag, Ashley Teeples, Janell Fulco and Callie Bassett. The Team is giving a portion of their winnings back to the Rescue Mission. (MyBayCity Photos by Julie McCallum)
---
The Amazing Race For Rescue Held 2nd Annual Fundraiser
30 Teams Compete to win Top Prize of 1,000 and Raise Money for The GSRM
August 28, 2011 1 Comments
By: Julie McCallum,
Senior Staff
It was the 2nd Annual "The Amazing Race for Rescue" on Saturday, August 27, 2011. (Sponsored by Catholic Federal.)
30 teams of four (120 registered) made their way through Bay City deciphering clues, tackling tasks and having a blast!
The race is a fun exciting road rally similar to the "The Amazing Race" that raises awareness and funds for the Good Samaritan Rescue Mission. Teams of four experience the thrill of deciphering clues and completing tasks as they make their way through Bay City discovering what great services and products our charitable businesses offer in our community.
The event ended with the finish line festivities at the Prime Event Center in downtown Bay City. Where all involved and guests celebrated those businesses and teams who worked together to help the homeless right here in Bay County!
It included a silent auction, dinner buffet and desserts catered by the Bay City Country Club, Candyland (Candy Table) and awards presentation of the $1,000 Grand Prize!
Proceeds benefited The Good Samaritan Rescue Mission which provides emergency shelter for men, women, women with children, and intact families. People in need entering the shelter find a clean, safe place to stay, receive clothing, personal care items, and nutritious meals provided by a well-trained, caring staff.
Dan Streeter, Mission Director, said, "It was all fair play and everyone having a great time, to help raise awareness and funds for the Rescue Mission." "Stop by for a tour of the mission and we will show you the lives be changed the Mission not only provides shelter, but ministers life-changing hope through their comprehensive programs, to get homeless back on their feet.
According to Streeter, last year the mission served 748 residents and 43,000 meals. "We have an average of 50 a night but have had up to 85." "To whom much is given, much shall be required, what are we doing with with God has given us?" Said Streeter.
Streeter continued, "A lot of people are suffering out there and with a little bit of love and compassion we can make a difference ! When a lot of people do a little bit it helps change the community." (GSRM which is located at 713 9th Street in Bay City (formerly the Good Samaritan Hospital). It was evolved from the Saginaw Rescue Mission.)
Teams are already signing up for next years Race For Rescue. (To sign up email to R4R@gmail.com )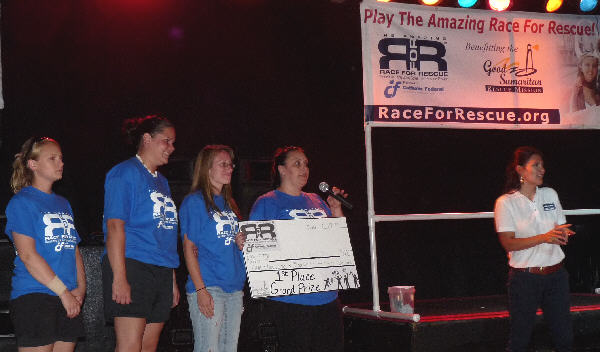 Mary Rathke (Right), Director of Race, presents the top prize of $1,000 dollars to the winning team -- "Crash Course" -- "We sold all our tickets and had a full head start and only opened one clue, which delayed us only 5 minutes," the girls said about their winning performance.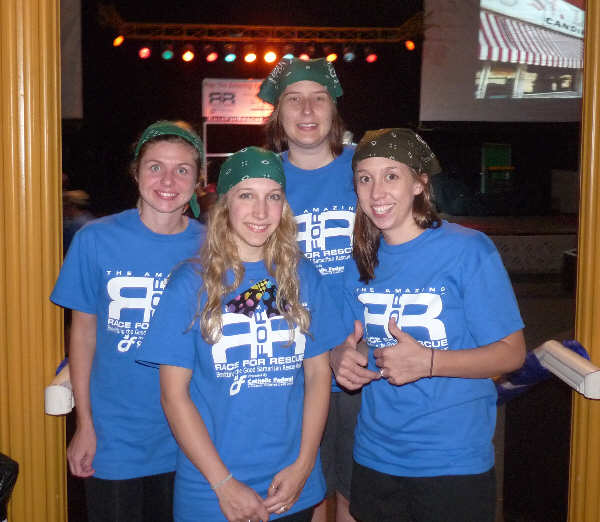 (Above Photo) Team KICKIN' GRASS - Selena Bartys, Melissa Schmidt, Kelli Ivey, Jill Boudreau-Wallaker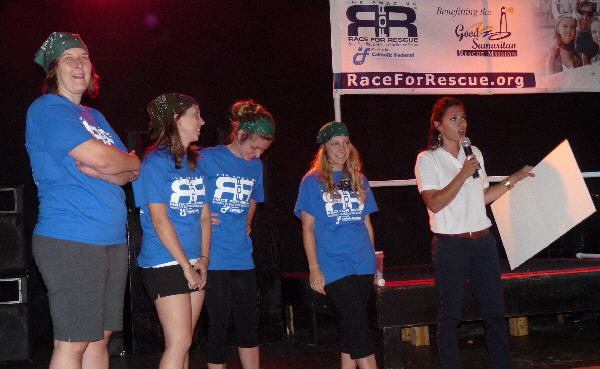 (Above Photo) Kickin' Grass Wins 2nd Place. The team participated in last years event and took 4th place. "We are moving up", The team agreed, "It seemed more physical this year, but the clues were easier, but more time consuming to complete the task, cause there was more to do!"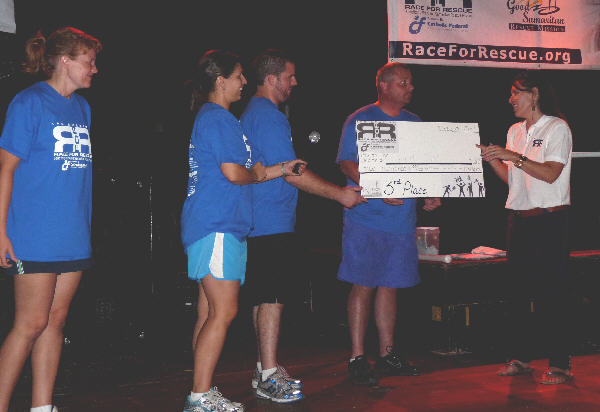 (Above) Team HALF TILT - Took 3rd Place. Team included, Cory Anderson, Andrea Carrier, John Sursely, and David Carrier. The Team donated back their winnings to the Rescue Mission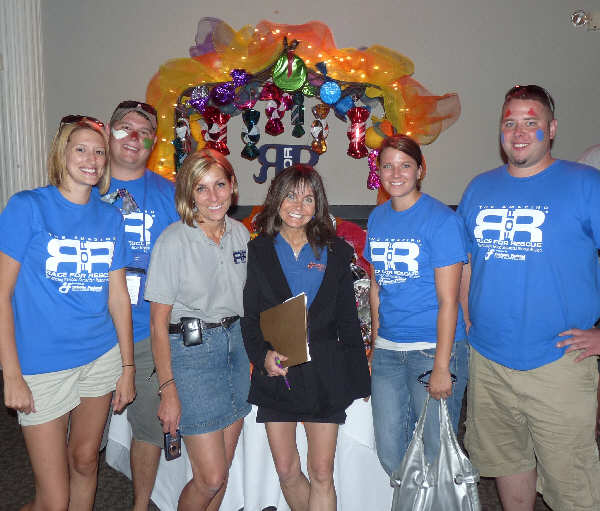 (Above) Picture in front of The Candyland sweet treat table, L/R Jen & Dave Courier, Wendy Dore, Bridget Looby, Jen Moore and Justin Larocque. Looby said, "Wendy's Candyland table is a sweet treat for after they compete!"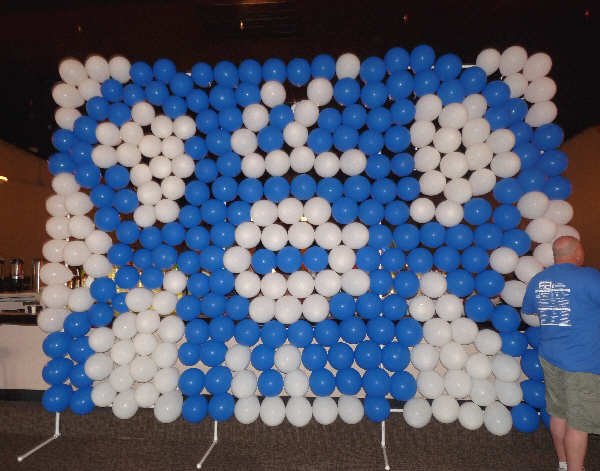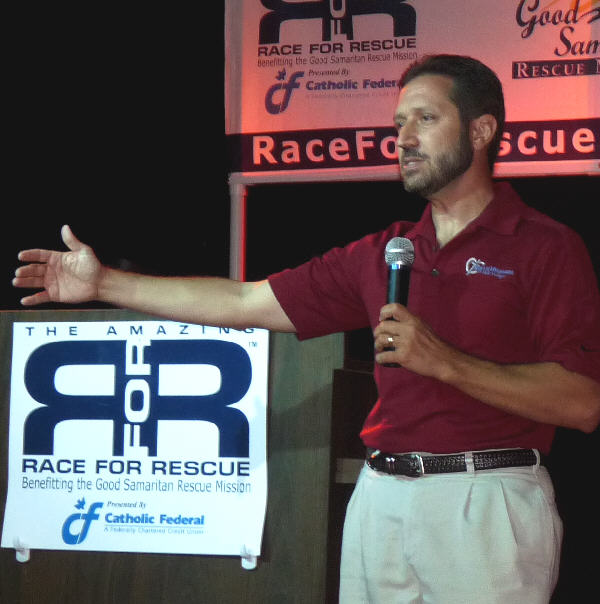 (Above) Dan Streeter, Mission Director of Good Samaritan Rescue Mission of Bay City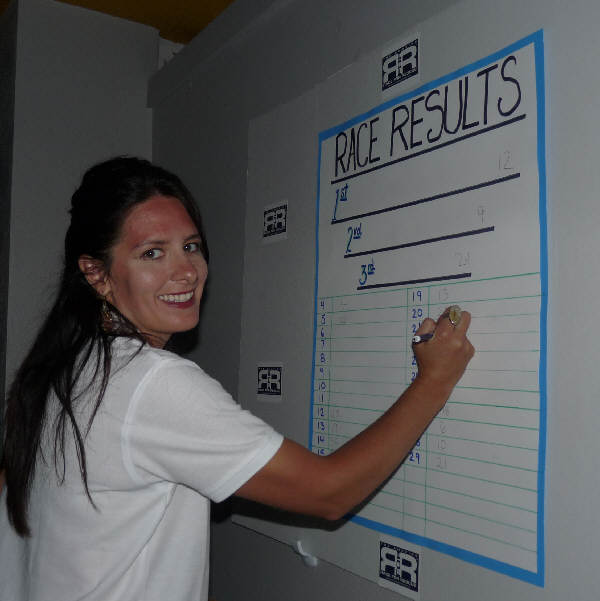 (Above) Mary Rathke, Director of Race, fills in the team placement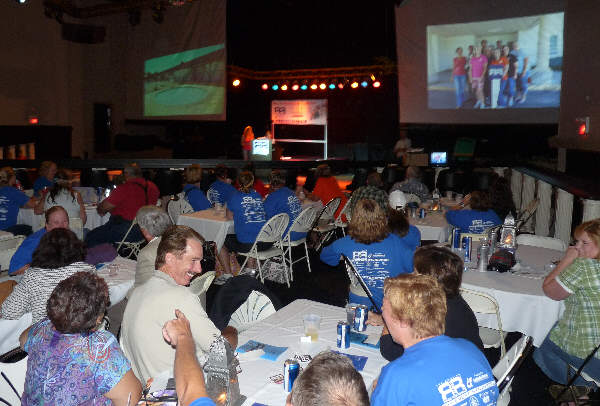 (Above) Amazing Race 4 Rescue-Finish Line Festivities were held at the Prime Event Center in Downtown Bay City.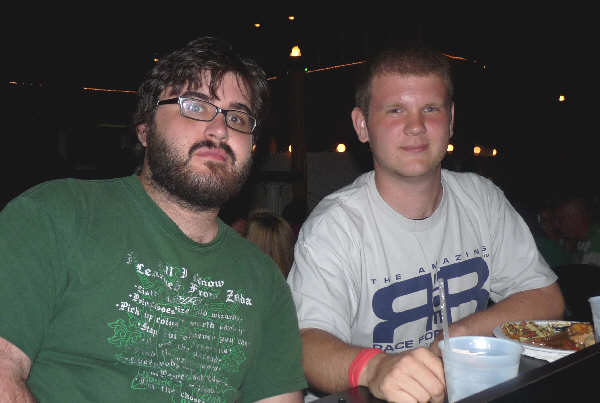 (Above) Sean Connelly (R) was the videographer for the event, pictured with Jessie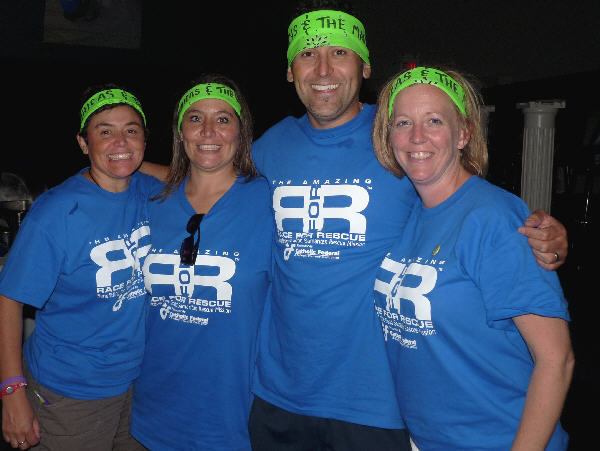 (Above) Coming in 9th place, "Three Chicas & The Man" included, Dora Salinas, Maria Salinas, Victor Salinas and Annie Hingston
---
"The BUZZ" - Read Feedback From Readers!
rescuerace Says: On August 29, 2011 at 08:45 AM

FYI The Race for Rescue is not put on by Good Samaritan Rescue Mission but all donations and proceeds go directly to the Mission. Please contact Race for Rescue for more information about playing in next year's Race. E-mail contactR4R@gmail.com To set up a tour of the GSRMission please contact Marlene at the Mission.
Thank you! Mary
---
---
Send This Story to a Friend!
Letter to the editor
Link to this Story
Printer-Friendly Story View
---
--- Advertisments ---