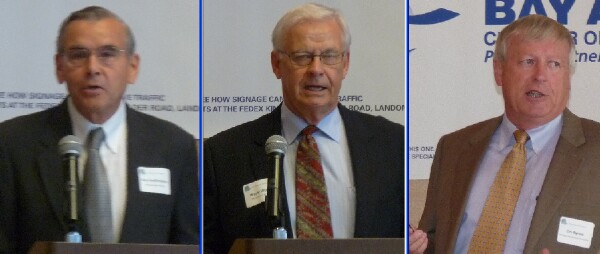 Ray VanDriessche (Michigan Sugar Company) Emcees a early morning presentation "It's Pure Michigan . . . Pure Bay Area" with feature speakers, Wayne Wood, President of Michigan Farm Bureau and Jim Byrum, President of Michigan Agri-Business Association
---
Rumors Escalate About Three Huge Bay Area Job Producing Projects Pending
September 25, 2011 1 Comments
By: Dave Rogers
All of a sudden, the future for Bay County business and jobs appears much brighter.
A new international freight distribution terminal based on a deep water port facility at the mouth of the Saginaw River may be in our future, sources at the Bay Area Chamber of Commerce "Bay Area on the Go" event hinted.
Meanwhile, another potential project in a former industrial facility near the mouth of the river is said to have the potential for more than 500 jobs in the high technology arena.
And, word is that boring for potential construction has been occurring at the Uptown at RiversEdge site, the former Industrial Brownhoist property, on Water Street in downtown Bay City.
Mike Seward, president of the Bay Area Chamber of Commerce, said the Great Lakes Bay area leads the state in job growth, with 2.5 percent in the last year, while the Bay area's percentage of 3.6 percent gain in residents employed also leads the state.
Jim Byrum, president, Michigan Agri-Business Association, became the first to tout the need for a port authority to manage growth of the Saginaw River port, and perhaps provide a bonding vehicle for infrastructure improvements.
"Logistics drives what happens in Bay County," he said. "What is grown here has to move by rail or water, and we need more storage and other facilities. This is the bread basket of the state."
The port authority would provide structure for needed facilities for inbound fertilizer and other ag goods,that will make farmers in the region more competitive, as well as for export.
The growth of Michigan and Bay area agriculture, as well as worldwide food shortages, are demanding more storage, processing and handling here, Mr. Byrum said.
He defined the Bay region as including Bay, Tuscola, Saginaw, Arenac, Midland and Huron counties, citing the state's total farm cash receipts from farms in this area at $4.4 billion annually.
Products in this mix include corn, soybeans, wheat, sugar and dry beans, yields of which have been booming under advanced technology. From 1970 until today production of corn, soybeans and wheat has increased nearly 300 percent, he said.
Agriculture is a $71 billion per year industry in Michigan, said Wayne Wood, president of the Michigan Farm Bureau, and crops are second in diversity to California.
Michigan Gov. Rick Snyder, main speaker at the chamber event, wants to double agricultural exports and increase jobs in the field by at lest 10 percent, said Mr. Wood.
Because of our central location, access to water, and to water transportation as well, Bay County is positioned for a very bright future, said several speakers at an ag seminar preceding the luncheon.
Michigan needs to invest in rail, roads and bridges -- including a second bridge to Canada -- said Mr. Byrum. "If we ship economically, we make more money," he enthused.
Additional electrical generating capacity, natural gas and broadband wireless is critical to growth of the area, he added.
Ray Van Driessche, president of Michigan Sugar Co., said Michigan State University is working on developing the direly needed workforce, and Mr. Byrum and other speakers cited the need for more guest workers from other countries. Workers in all categories are needed, said the speakers.
A new video produced for the chamber by Ric Mixter of Airworthy Productions was premiered at the luncheon, touting Bay County's contributions to the state's ag business.
---
"The BUZZ" - Read Feedback From Readers!
sbrink Says: On September 28, 2011 at 02:07 PM

Dave,

I was reading the article "Rumors escalate about three...." when everything seemed to be good news then right at the Mr. Byrum spoke on the need for more guest workers from other countries. Is he kidding or did you not report on why with so many unemployed workers in the state already that we would need to ship in workers from other countries? We have local colleges that have changed or added to their programs to train workers for the new markets. My Local Union Training Center has continued to add programs/certifications to meet the ever changing world market. I still believe that we, as a state, need to focus on training our own residents to make our great state stronger. Thank you for your time in reporting the news.
---

Dave Rogers




Dave Rogers is a former editorial writer for the Bay City Times and a widely read,
respected journalist/writer in and around Bay City.
(Contact Dave Via Email at carraroe@aol.com)

More from Dave Rogers
---
Send This Story to a Friend!
Letter to the editor
Link to this Story
Printer-Friendly Story View
---
--- Advertisments ---