Six New Medical Enterprises Join Bangor Commercial Park Development
Professional Offices Helping Fill Up 44 Acre Park on Former Golf Course
January 15, 2005 1 Comments
By: Dave Rogers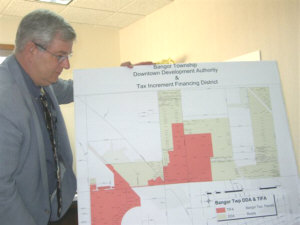 Bangor Township Supervisor Terry Watson calls the 44-acre development "a beautiful commercial park."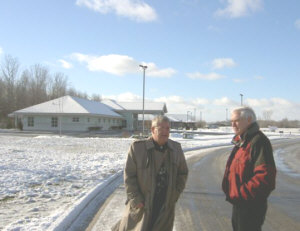 Bangor Township Supervisor Terry Watson and Ken Lange, chairman of the Bangor DDA, survey newly built offices in the park off Euclid and Wilder near the Bay County Civic Arena.
      S & S Development, a professional commercial subdivision on the old Euclid Golf Course, is now home to eight major enterprises.
      Medical and dental offices in the park right now include a large multi-physician health clinic, three dentists' offices, a pain clinic, therapy clinic and an orthodontist. In addition, the park is home to the Bay County Civic Arena.
      Bangor Township Supervisor Terry Watson calls the 44-acre development "a beautiful commercial park."
      Much of the developed area is owned by Dr. Dhana D. Shrestha, M.D., who operates the largest medical enterprise there, the Bay Area Health Clinic. The S&S portion of the property is about 60 percent developed with 10 of 20 lots occupied by buildings.Several other owners have property available west of the current road running from Euclid to Wilder.
      If you get the kinks worked out of your body in the medical offices you can go down the road and take a few turns on skates on the ice at the Bay County Civic Arena. The arena attracts thousands of skaters, parents and friends every year and is considered a major economic boost to the area.
      The fast progress of the development is attributed to planning and the fact that input was received from county, township, city and business representatives a few years ago, according to Ken Lange, chairman, Bangor Downtown Development Authority. He stressed that the township is the primary initiator of developments, not the DDA.
      The property owner donated the road and improvements were made by the DDA in the interest of the development. Bay County facilitated wetland mitigation that was required prior to construction.
      "That's exactly what a DDA is supposed to do; it's a financial tool for development," he added.
      "Visitors to these buildings help the local economy; people go to motels, the mall, restaurants," said Mr. Lange.
      A small portion of the cost of infrastructure put in by building owners is reimbursed by the DDA, said Mr. Lange. Right now that normally amounts to about five percent of the total project cost.
      Total acreage in the development area is approximately 30 percent developed. Bangor officials are expecting more professional offices like legal, insurance, governmental, engineering, hospital, colleges or funeral homes in that area.
      "It is expected that new developments will result in a greater tax base to fund local governmental needs, provide positive economic growth and ultimately more jobs for Bay County," concluded Mr. Lange.
      Limited funding for required on-site infrastructure, handicap facilities, public safety, sidewalk required by local ordinance, etc., for newdevelopment projects can be considered under certain circumstances for a limited period of time, said Lange, who can be contacted at 684-2050.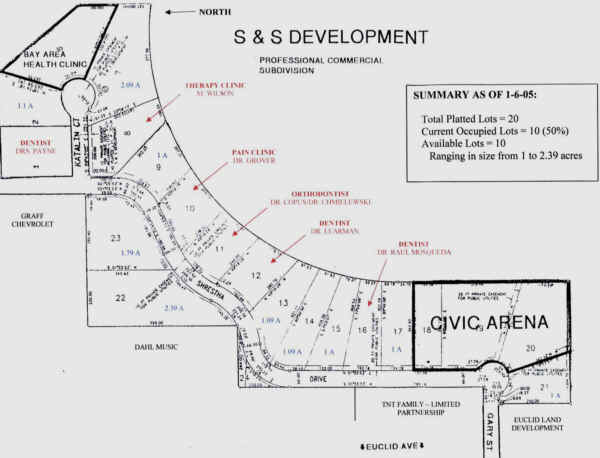 Map shows new offices recently erected in Bangor development area, which has half the lots plus property to the west still available.
---
"The BUZZ" - Read Feedback From Readers!
macattack1 Says: On December 04, 2008 at 04:31 PM

Way too much government interference at all levels Federal, State, Local. How can anyone make a profit when you have to pay all these dictatorship governments. What happened to the free enterprise. We the people never never sighed up for a redundant governments. It reminds me of Mexico by the time you pay off all the agencies and it's governments you can't afford to complete your business.
---

Dave Rogers




Dave Rogers is a former editorial writer for the Bay City Times and a widely read,
respected journalist/writer in and around Bay City.
(Contact Dave Via Email at carraroe@aol.com)

More from Dave Rogers
---
Send This Story to a Friend!
Letter to the editor
Link to this Story
Printer-Friendly Story View
---
--- Advertisments ---