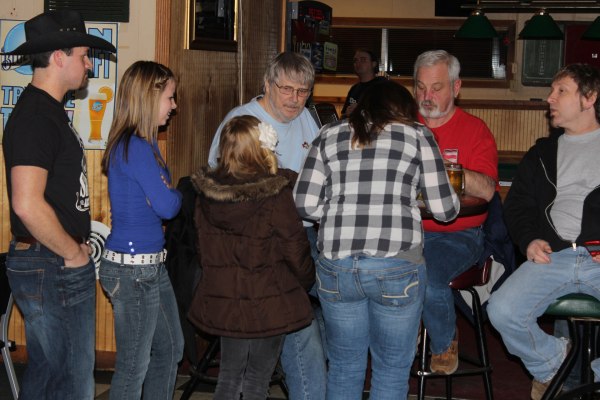 SIGN UP -- (L/R) Travis Paten, Raelyn Hawkins and Morgan Hawkins sign up to perform on Wednesday night at Willew Lounge. Judges looking on are (L/R) O.J. Cunningham, Dave Bernreuter and Bruce LaFrance. (MyBayCity Photo by Sean Connelly)
---
Willew Singers Get Better Each Week and Better With Each Performance
February 18, 2012 Leave a Comment
By: Sean Connelly
Week five of Michigan Idol at the Willew in Bay City saw some incredibly strong performances by all of the competitors as they closed out the first half of the season.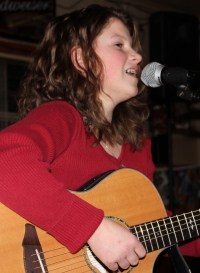 Allie Shermetaro
Allie Shermetaro wowed the Willew, and more importantly, the judges once again this week with her rendition of Sara Evans' Suds in the Bucket. OJ Cunningham, MyBayCity Publisher and one of the judges for Michigan Idol, had nothing but praise for the young girl, "That's why I got up this morning!"
Even other contestants stop and take notice when Shermetaro is up on stage. "I love watching Allie," Amanda Glashauser, last season's third place contestant and a top performer this season, said. "The level that she's at for her age [is] incredible."
The judges didn't have long to cleanse their sensory pallets, however, as Travis Paten quickly came up to remind everyone in attendance that he's a top competitor this season.
OJ Cunningham, handing out even more praise from the judge's table, had this to say about Paten's energetic performance of Aaron Tippin's Kiss This. "You own this place right now, man," Cunningham said. Travis was all over the stage area and even a little bit further than that as he pulled up a chair next to a few Willew patrons while boosting his Stage Performance ratings, for sure.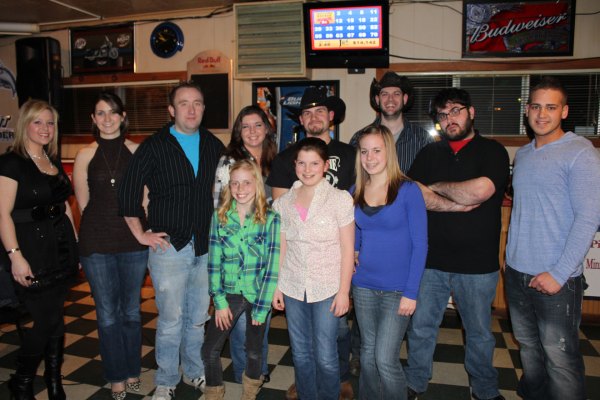 GROUP SHOT -- Michigan Idol performers gathered for a group shot after the competition, Pictured are: (Front) Morgan Hawkins, Allie Shermetaro and Raelyn Hawkins. (Back Row) Stephanie Petrimoulx, Renee Pawloski, Marty Hofelich, Amanda Glashauser, Travis Paten, Fred Waibel, Jesse Fisher and Joey Atchinson. Missing are Brandy Adams and Jada Archer.
(MyBayCity Photo by Sean Connelly)
Allie Shermetaro, Joey Atchinson, and Marty Hofelich all brought out their guitars again, but the instrument count made its way up to four this week as Amanda Glashauser pulled out her ukulele to perform Elton John's Rocket Man. "I was excited to try it," Glashauser said, "...it's my new mission for the competition to get over my stage fright when I play [the ukulele]."
For exciting action every week, come out to the Willew in Bay City for Michigan Idol! Competitors have the chance of winning a 50+" big screen TV from Millar's TV and Appliance and an XBOX 360 with four games from Game On of Bay City.
Michigan Idol runs for 10 weeks and wraps up the current season on March 21st, 2012. Singers must compete in at least five of the 10 weeks of singing competition to be eligible for prizes.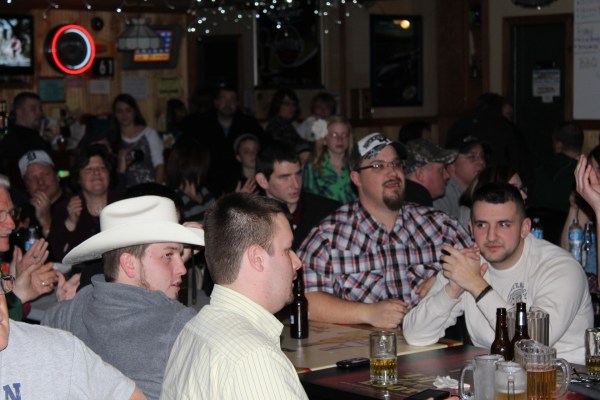 EVERY SEAT FILLED -- There was a full house at Willew Lounge on Midland Rd. and Two Mile Wednesday night for the fifth week of the Michigan Idol competition. The crowd was entertained by the performers and cheered loud and often during the night.
(MyBayCity Photo by Sean Connelly)
February 15, 2012 Performers were:

(L/R) Jesse Fisher, Brandy Adams, Fred Waibel, Jada Archer, Amanda Glashauser and Joey Atchinson.
(MyBayCity Photo by Sean Connelly)

Marty Hofelitch, Morgan Hawkins, Raelyn Hawkins, Renee Pawloski, Stephanie Petrimoulx and Travis Paten.
(MyBayCity Photo by Sean Connelly)
The Michigan Idol Show is Sponsored by:



---
---
---
Send This Story to a Friend!
Letter to the editor
Link to this Story
Printer-Friendly Story View
---
--- Advertisments ---