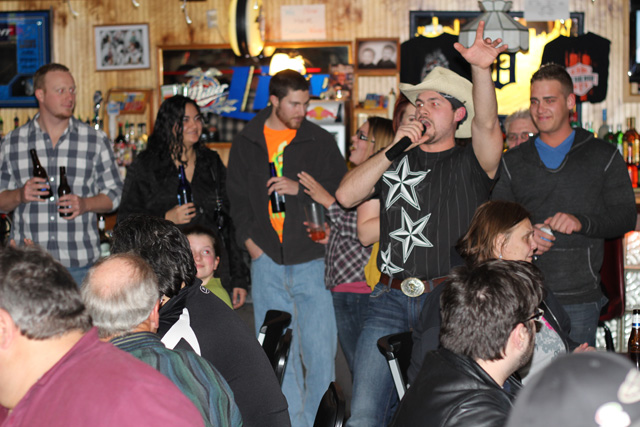 Travis Patten makes his way through the crowd during his performance!
---
Mash-Ups Make Their Michigan Idol Debut
March 11, 2012 Leave a Comment
By: Sean Connelly
There are just two weeks left of Michigan Idol Season 3 at the Willew Lounge in Bay City.
Week eight (8) saw some fantastic performances, with many of the judges professing "That was the best you've ever done," to multiple contestants including Amanda Glashauser, who performed a unique version of Bonnie Tyler's Hit Me With Your Best Shot.
And while the contestants all seemed to have brought their "A" games once again, there was one performance that had something that no other performance at Michigan Idol has ever had before.
Natasha Ehlert not only brought her own wireless microphone, to guarantee that she could move around however she pleased for her performance, but she also brought her own music track. It was a track that was mixed by her husband, DJ Fade, and it was comprised of two Adele songs, a Lady Gaga song, and finished with the Spice Girls.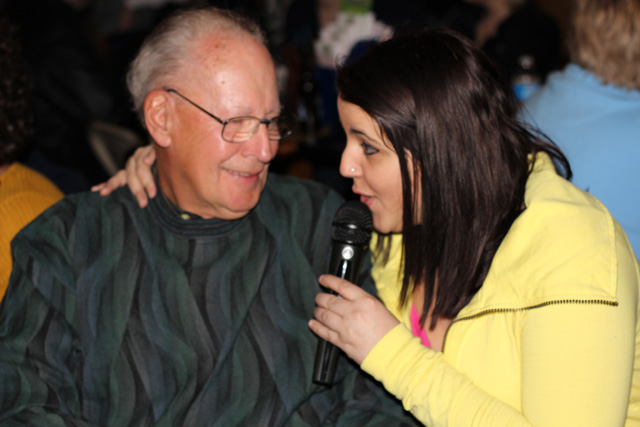 Natasha Ehlert sings to a Willew patron for her "Mash-Up" performance!
(MyBayCity Photo by Sean Connelly)
Ehlert performed what's called a "Mash-Up," which is a song that is created when you blend two or more songs together, usually by overlaying the vocals of one track over the instrumentals of another. "I was tired of standing around," said Ehlert, "I thought this was a great way to bring some energy to my performance."
The judges seemed to agree, as Bruce LaFrance exclaimed "You rocked it!" in his appraisal of Ehlert.
The increased energy level is something that's been a trend lately at Michigan Idol. It's something that not only the performers have been feeling. Local Willew patron Andrew Johnson has been having a blast each week. "It's hard not to get in to it," said Johnson, "When these guys and gals are coming out into the crowd and singing specifically to you."
With only one performance left before the final week, many of the contestants are getting prepared for the challenge that awaits them. "These last few weeks are trial runs," Jesse Fisher, a veteran contestant at the Willew and Michigan Idol, told MyBayCity.com. "We don't get use any monitors with lyrics for that last week. We've got to get ourselves ready for it."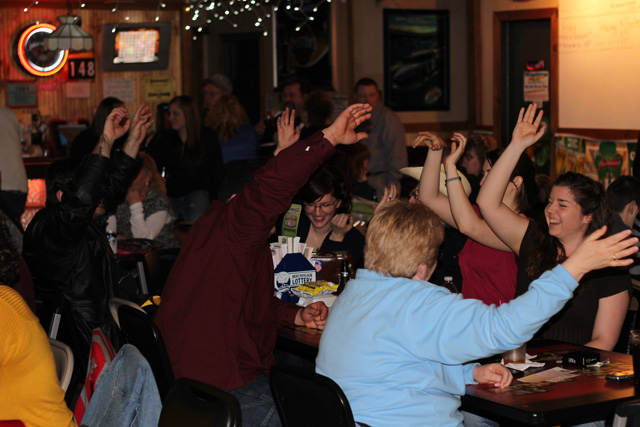 The crowd gets in to the show at the Willew!
(MyBayCity Photo by Sean Connelly)
Michigan Idol is a 10 (ten) week competition that runs through March 21st, 2012 (Every Wednesday night) at the Willew in Bay City. Warm ups start at 7PM, with the actual competition starting around 8PM. The grand prize for this 10-week season is a 50 inch plasma TV, provided by Millar's TV and Appliance, and an XBOX 360 with four games, provided by Game On of Bay City.

(L/R) Amanda Glashauser, Allie Shermetaro, Travis Patten, Renee Pawloski, Adam Simmons, Stephanie Petrimoulx
(MyBayCity Photo by Sean Connelly)

(L/R) Raelyn Hawkins, Natasha Ehlert, Morgan Hawkins, Marty Hofelich, Joey Atchinson, Jesse Fisher
(MyBayCity Photo by Sean Connelly)

Fred Waibel
(MyBayCity Photo by Sean Connelly)
The Michigan Idol Show at WILLEW is Sponsored by:



---
---
---
Send This Story to a Friend!
Letter to the editor
Link to this Story
Printer-Friendly Story View
---
--- Advertisments ---