Depression Galvanized Bay City Social Activist Florence Tye Jennison
Unemployment Insurance, Social Security Initiated by Chicago Movement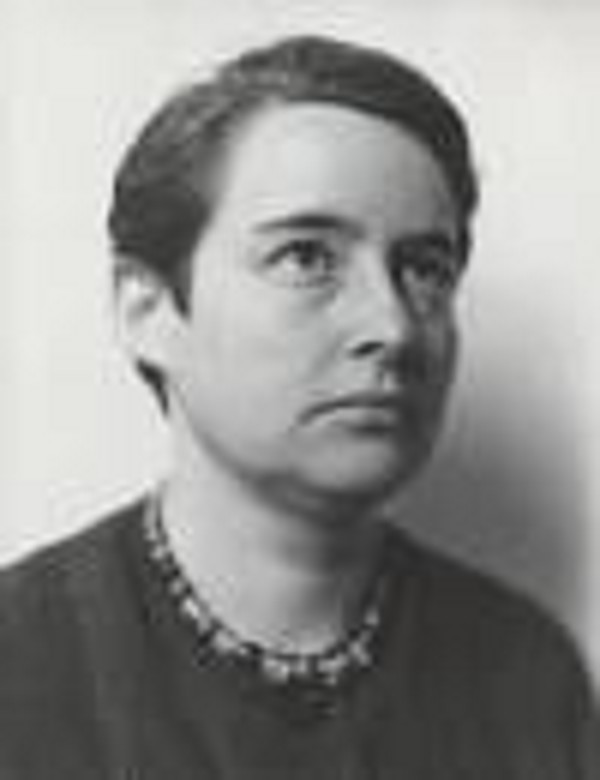 Only known photo of Bay City's Florence Tye Jennison from the University of Chicago Archives. (Courtesy Historical Press L.L.C.)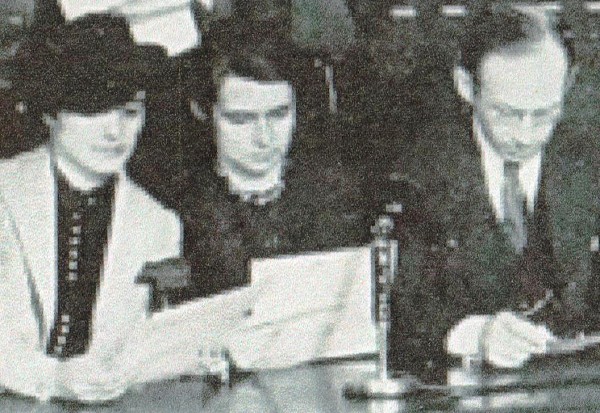 Florence Tye Jennison, center, participating in a radio debate with Chicago law students in 1937.
Current proposals to reverse the New Deal and return the United States to pre-World War I economic and social policies recall Depression-era activism that led to programs like Social Security and unemployment insurance.
One paragon of such activism was Florence Tye Jennison, heiress of a Bay City hardware empire, who spent much of her life and fortune supporting programs to help the poor and aged.
The daughter of George Birney Jennison and Lillian Jennison, she was born here in 1900. She was the great-granddaughter of noted abolitionist politician and Bay City pioneer James G. Birney. She never married and died in New Orleans in 1985.
"The decade of the 1930s found America facing the worst economic crisis in its modern history," states the history of Social Security, (http://www.ssa.gov/history/briefhistory3.html) continuing:
"Millions of people were unemployed, two million adult men ("hobos") wandered aimlessly around the country, banks and businesses failed and the majority of the elderly in America lived in dependency. These circumstances led to many calls for change."
Wealthy people like Theodore Roosevelt were early advocates of government assistance to working people and the poor even before the 1930s. TR was a Republican Progressive whose 1912 Bull Moose run for President is entwined with Bay City history.
Bay City's Tenth District Republican Congressman was Roy O. Woodruff, a former mayor of Bay City and a Roosevelt Progressive who served until 1946. He was a national leader of the old Bull Moosers.
The need for government social programs was illustrated by a Connecticut survey of 1932 that found that 33.5 percent of the old people over 65 years old in that state had no income whatsoever. A Wisconsin report in 1915 indicated that 21 percent of the old people over 60 had incomes below $100. Only 29 percent of the old people surveyed in Wisconsin had incomes above $500.
Miss Jennison set an example for privileged women of the early 20th century and the Depression era, working with the famed Jane Addams at Chicago's Hull House, a neighborhood assistance center.
Hull House was opened by Miss Addams and Ellen Gates Starr, both graduates of Rockford (IL) Female Seminary, in 1889 in an immigrant community at Halsted and Polk streets on Chicago's near west side.
The neighborhood settlement house, as it was called, was patterned after Toynbee Hall in London, England, operated by Samuel A. and Henrietta Barnett to improve life and working conditions for low income citizens.
The radical idea behind Toynbee Hall that became the basis for settlement houses throughout England and the U.S. (e.g. Hull House) was that graduates would undertake social work in the deprived areas of towns and cities and learn something of what it was like to experience poverty -- in the words of Samuel Barnett, 'to learn as much as to teach; to receive as much to give'.
Several European countries had been developing old age pension systems since the 1800s. In the U.S. it was with the creation of Civil War pensions that a full-fledged pension system developed in America for the first time.
As late as 1932, only about 15 percent of the labor force had any kind of potential employment-related pension. And because the pensions were often granted or withheld at the option of the employer, most of these workers never saw a retirement pension. Indeed, only about 5 percent of the elderly were in fact receiving retirement pensions in 1932. The company pension was not available to most Americans prior to the advent of Social Security.
Miss Starr wrote that the only hope for the oppressed was to eradicate the conditions of life that stifled the creative and aesthetic response. She especially fought against child labor, an abuse that lately has reawakened globally and is affecting the U.S. economy.
Jane Addams gave the seconding speech for TR at the Republican Progressive convention Aug. 7, 1912 in Chicago. In the social sphere the platform called for:
A National Health Service to include all existing government medical agencies.
Social insurance, to provide for the elderly, the unemployed, and the disabled
Limited injunctions in strikes
A minimum wage law for women
An eight hour workday
A federal securities commission
Farm relief
Workers' compensation for work-related injuries
An inheritance tax
A Constitutional amendment to allow a Federal income tax.
The main theme of the platform was an attack on the domination of politics by business interests, which allegedly controlled both established parties. It aimed "To destroy this invisible Government, to dissolve the unholy alliance between corrupt business and corrupt politics is the first task of the statesmanship of the day."
To that end, the platform called for strict limits and disclosure requirements on political campaign contributions and registration of lobbyists.
Roosevelt's "New Nationalism" called for a strong government to regulate industry, protect the middle and working classes, and carry on great national projects. This "New Nationalism" was paternalistic in direct contrast to Wilson's individualistic philosophy of "New Freedom."
The Bull Moose platform was called "A Contract With The People," a name reminiscent of Speaker Newt Gingrich's political campaign program of the 1990s.
The only known surviving photo of Miss Jennison has been obtained by Historical Press L.L.C. of Bay City from the University of Chicago Archives and is published here for the first time.
Miss Jennison co-authored a book with Senator Paul Douglas of Illinois who was one of the initiators of social reforms such as unemployment insurance. She was research assistant to Douglas, economics professor at the University of Chicago.
Their book, "The Movement of Money and Real Earnings in the United States 1926-1928," was published by the University of Chicago Press in 1930.
A lawyer, pacifist and intellectual, Miss Jennison also ran for Congress twice on the Democratic ticket, once while living in Illinois and later when she moved to New Orleans, Louisiana.
At the time of the 1930 census there were 6.5 million people 65 years of age and over in the United States, representing 5.4 percent of the population. As a result of a declining birth rate from about 1820 on, the ratio of aged persons to the total population has shown a continuous increase for more than a century.
Frances Perkins, Secretary of Labor in the administration of President Franklin D. Roosevelt, in a 1960 speech recalled how social legislation emerged:
"We talked about old-age insurance for four mortal days. Paul Douglas of Chicago, then a professor of social subjects at the University of Chicago and now a Senator in Congress, was the guiding hand as the secretary of this conference. We ended up with a proposal to think of some form of unemployment insurance on a regional basis. Well, that was as much as you could do in the winter of 1932."
A Presidential Economic Security Committee headed by Marion Folsom of the Eastman Kodak Company studied how to protect Americans from economic insecurity. Ms. Perkins recalled: "In January 1935 there was a report that recommended unemployment insurance and old-age insurance but omitted health insurance just because the experts couldn't get through with health insurance in time to make a report on it."
A history of Social Security states that because of the earlier onset of economic old age, earnings must be higher during working years and savings increased to avoid old-age dependency, commenting: "Analyses of wage trends, however, such as those made by Prof. Paul H. Douglas in his Real Wages in the United States, offer little hope of such increase on the basis of our American experience between 1890 and 1928."
The Depression resulted in large groups of normally secure, competent older workers being discharged. Thus "economic old age"--i. e., permanent inactivity and consequent cessation of earnings--begins in many cases early in middle life, often antedating by a considerable number of years the period of physiological old age."
Miss Perkins commented: "Of course, the (Social Security) Act had to be amended, and has been amended, and amended, and amended, and amended, until it has now grown into a large and important project, for which, by the way, I think the people of the United States are deeply thankful.
"One thing I know: Social Security is so firmly embedded in the American psychology today that no politician, no political party, no political group could possibly destroy this Act and still maintain our democratic system. It is safe. It is safe forever, and for the everlasting benefit of the people of the United States."
Miss Jennison, who had graduated from the John Marshall Law School in Chicago in 1937, was traveling in Europe when World War II was breaking out. She told the Bay City Times on Oct. 16, 1939:
"I concluded on my arrival in the United States that is was good to be alive," Miss Florence Tye Jennison, of Bay City, told her family. She visited here this weekend after docking in New York after a hurried trip from Europe.
"Miss Jennison, who is studying law in Chicago, went to Europe in late August to obtain background material on economic phases of life in Europe, including Scandinavian countries and Russia. She had been there but a few days when the Polish crisis culminated in war.
Miss Jennison lived the last years of her life in New York City, where she attended meetings of the United Nations and filed telegraphic reports with The Bay City Times. She also had a summer home on Mission Peninsula near Traverse City.
###
---
---

Dave Rogers




Dave Rogers is a former editorial writer for the Bay City Times and a widely read,
respected journalist/writer in and around Bay City.
(Contact Dave Via Email at carraroe@aol.com)

More from Dave Rogers
---
Send This Story to a Friend!
Letter to the editor
Link to this Story
Printer-Friendly Story View
---
--- Advertisments ---