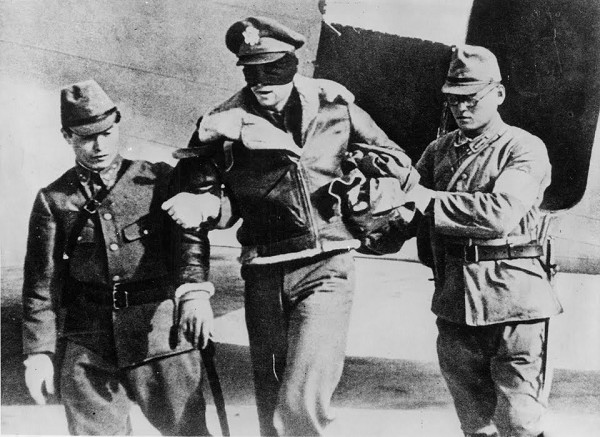 U.S. Air Force photo obtained from the Japanese shows one of Doolittle's raiders in custody of Japanese soldiers after capture following bomber crash in China.
---
What Happened to Carl Boehringer, Bay Cityan Interned in Tokyo in WWII?
Local Man Was Among Witnesses to Raid by Col. Jimmy Doolittle in 1942
May 13, 2012 1 Comments
By: Dave Rogers
(EDITOR'S NOTE: MyBayCity.com has previously reported that U.S. diplomat Carl Boehringer of Bay City was at the U.S. Embassy in Tokyo when the Japanese attacked Pearl Harbor, Hawaii, on Dec. 7, 1941. This is a follow-up detailing what subsequently happened to Boehringer.)


Bay City diplomat Carl Boehringer was among Americans in Tokyo during Pearl Harbor attack who four months later witnessed the daring retaliatory raid by Col. Jimmy Doolittle's bombers.
Boehringer, born here in 1903, was from a prominent local family that was in the nursery business. He was a graduate of Central High School and Michigan State University. (Boehringer Court off Park Avenue is named for the family.)
(Please see "After Pearl Harbor," mybaycity.com Dec. 12, 2011.)
Air Force Writer Raymond V. Whelan, who interviewed a Doolittle Raid survivor five years ago, wrote:
"As soon as U.S. Army Air Forces officials started planning the attack, some of their higher-ups feared the mission would prove to be impossible.
"Yet, 80 Army Air Corps pilots, bombardiers, gunners and navigators had no qualms about volunteering for the special project.
One of the volunteers was Lt. Col. Richard "Dick" Cole, a lieutenant from Dayton, Ohio.
"We were trained to fly bombers," Colonel Cole said. "We volunteered because that was our job."
Four months after Pearl Harbor, with Lt. Col. James H. "Jimmy" Doolittle in command, Lieutenant Cole and the other volunteers launched 16 B-25 Mitchell bombers off the flight deck of the USS Hornet. The aircraft carrier was steaming through the Pacific Ocean about 600 miles east of Japan.
The bombers flew 13 hours into enemy airspace until they reached Tokyo. They dropped bombs that destroyed dry docks, factories, power plants, steel mills, oil refineries, warehouses and military installations.
"The mission by Colonel Doolittle and his "Raiders" on April 18, 1942, was the first successful air strike against Japan during World War II," wrote Whelan. "It boosted the sagging morale of the United States during the early stage of its involvement in World War II.
"Japan had to pull back its defenses from that point on," said retired Air Force Col. Carroll V. Glines, the author of four books on the Doolittle raid.
The Defense Media Network recalls: "On April 18, 1942, at 8:20 a.m. local time, Lt. Col. James H. 'Jimmy' Doolittle piloted his B-25 Mitchell medium bomber off the flight deck of the USS Hornet. Doolittle's B-25 circled the aircraft carrier once to get a navigational fix, then leveled off for the flight west to Tokyo and eventually China. The Doolittle Raid to bomb targets in Japan had begun.
"Shortly after noon, Tokyo time, Doolittle's aircraft was in sight of Japan's capital city. At 12:30 p.m., Doolittle dropped his bombs over his industrial target. The 16 planes comprising the Doolittle Raid caused panic among the Japanese population. But there was one group whose reaction to the American bombers was one of pride and joy: Americans who had been interned in Japan since Dec. 7, 1941. (Including Mr. Boehringer.)
Eyewitnesses reported that within hours of the surprise raid on Pearl Harbor, the Japanese had rounded up the hundreds of American journalists, missionaries, businessmen, and their families in Japan and interned them under guard in compounds in metropolitan Tokyo.
The American embassy staff and their families all moved to the embassy compound, which was placed under guard. A similar roundup was conducted in the United States regarding the Japanese diplomatic corps and nationals. Until America and Japan worked out a repatriation agreement, all those two groups could do was wait.
"The American embassy staff were interned but not comfortably and were barely fed - many lost considerable weight by the time they were exchanged," according to a later observance by one commentator. "A Swedish ship did take the Japanese staff to Mozambique but two Japanese ships carried the American staff to Mozambique. After the exchange, the Swedish ship returned to the US with the Americans and the Japanese ships returned to Japan with their staff. The ships had the words "DIPLOMATIC" painted in huge letters on the side to prevent their being attacked by submarines.
"The exchange included many more people than just diplomats. Tourists, businessmen, and missionaries were also trapped in Japan when the war broke out and were also interned and exchanged.
The Defense Media Network recalls further:
"Meanwhile at the embassy compound, Ambassador Joseph Grew and his staff were also about to eat when the raiders arrived overhead. From their embassy vantage point, they observed at least six fires caused by the B-25s' bombs."
The interned Americans initially thought that the raiders were Japanese planes conducting a drill. Checking with the Japanese guards at the embassy gates, they discovered the truth. They saw a total of three B-25s. One of the bombers, flying at treetop level, came as close as three-fourths of a mile to the embassy.
Though physical damage caused by the raid was minor, its psychological impact was enormous, the defense observer indicated. "The Japanese people and its military were shaken to their core. In contrast, American morale shot sky high. The raid also changed Japanese strategy, causing the high command to recall a number of front line squadrons to beef up homeland air defense, and to green light the invasion of Midway.
Fifteen of the raiders' planes ran out of gas as they attempted to reach safety in China and were captured by the Japanese.
Colonel Doolittle, Lieutenant Cole and most of the other Raiders bailed out over friendly territory in China.
However, the Japanese captured eight raiders. Later, they executed Lts. William G. Farrow, Dean Edward Hallmark and Sgt. Harold A. Spatz. Lt. Robert John Meder died of starvation during internment.
Lts. George Barr, Robert L. Hite, Chase J. Nielsen, and Sgt. Jacob DeShazer secured release after the war. During the raid, Cpl. Leland Faktor died while attempting to bail out of his aircraft, and Sgts. William J. Dieter and Donald E. Fitzmaurice died during crash-landing.
One bomber landed intact, but its five-man crew touched down inside the Soviet Union. Because the Soviets wanted to maintain neutrality with Japan, they seized the plane and interned Capt. Edward York, Lts. Robert Emmens and Nolan Hernson, and Sgts. Theodore Laban and David Pohl. After 14 months of imprisonment, all five raiders escaped to Iran.
"As for the interned American and Japanese nationals, after many weeks, the repatriation agreement was finalized. The exchange took place on July 22, 1942, at the neutral port of Lourenco Marques, Portuguese East Africa (now Mozambique). There, 1,450 Americans, British, and other nationals were exchanged for 1,096 Japanese citizens."
After the war Mr. Boehringer served in Germany with the U.S. Diplomatic Service then took a post with the U.S. Chamber of Commerce in Tokyo. He died at age 69 in Hong Kong in 1972. ###
---
---

Dave Rogers




Dave Rogers is a former editorial writer for the Bay City Times and a widely read,
respected journalist/writer in and around Bay City.
(Contact Dave Via Email at carraroe@aol.com)

More from Dave Rogers
---
Send This Story to a Friend!
Letter to the editor
Link to this Story
Printer-Friendly Story View
---
--- Advertisments ---