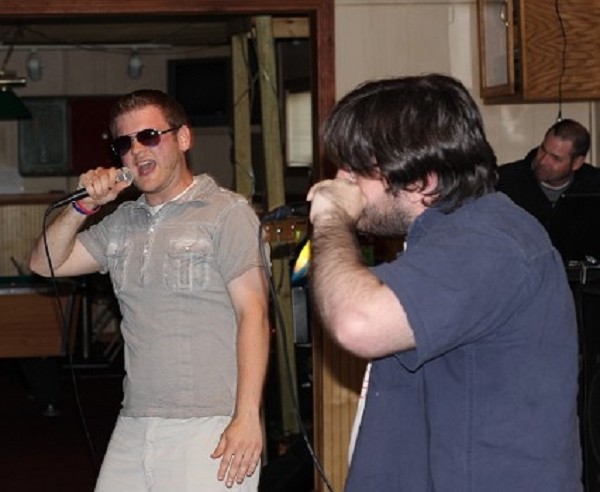 Sean Connelly and Jesse Fisher performed quite the song!
---
A Week to Remember at Michigan Idol
June 2, 2012 Leave a Comment
By: Sean Connelly
Week 8 of Michigan Idol Season 4 was definitely one to remember.
The competition kicked off with Season 3 winner and Season 4 Judge Joey Atchinson performing a brand new song for those in attendance. The song, just recently written and never before heard, grabbed everyone's attention. "He (Atchinson) just continues to impress me," said former guest judge Heather Emmons. But the show was just getting started, as all the contestants brought their "A" game to the stage and really put on a spectacle for the Willew crowd.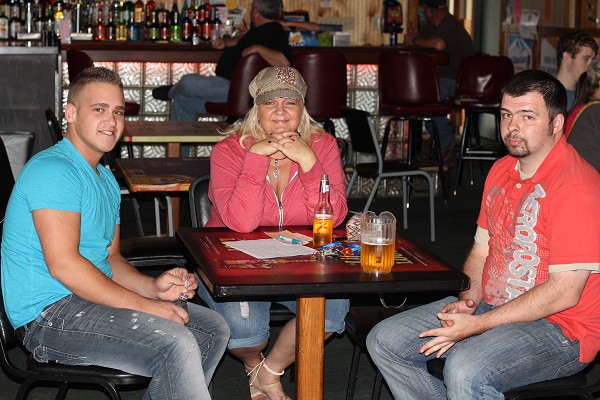 (L/R) Judges Joey Atchinson, Diane Szczepanski, and Josh Novak
Photo by Sean Connelly
© MyBayCity.com
Debi Schmeider was the first contestant up, getting praises from the judges early on. "Each week you continue to impress me," said judge and MyBayCity.com journalist Diane Szczepanski, "you've got such an incredible voice."
Travis Paten was second to perform this week, instead of closing the competition as he normally does. Paten changed things up even more as he slowed things down from his normal up-tempo, energetic song selection. "Slowing things down was a great choice," said Judge Atchinson. "It really gave your vocal ability a chance to shine, and it definitely did."
But no one switched things up quite like Michigan Idol veteran Jesse Fisher did. This week, Fisher performed a song by Lonely Island and Akon, along with a partner, despite some "raised eyebrow" reactions from certain members of the crowd. "It's a vulgar song, for sure," said Fisher of his music selection. "But we're in a bar," Fisher continued. "Plus, it was done entirely as a joke."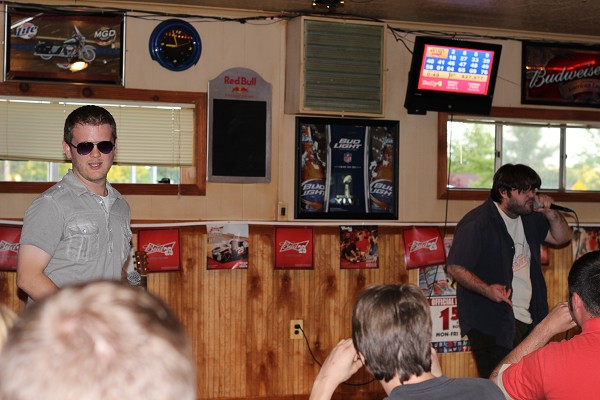 (L/R) Sean Connelly and Jesse Fisher performing Lonely Island's "I Just Had Sex"
Photo by Josh Sharrow
© MyBayCity.com
If one thing is for sure, the duet, done with MyBayCity.com journalist Sean Connelly, grabbed everyone's attention. "I was entertained the whole time!" exclaimed Judge Szczepanski, "I've got to give it to you guys for doing a song like that, that took some b****! Pun intended!"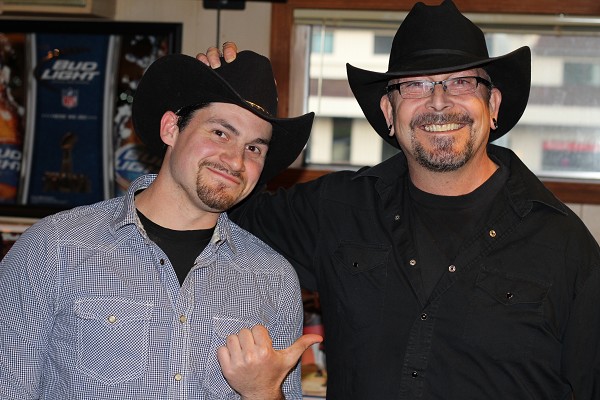 (L/R) Travis Patten and Rody Dodd
Photo by Sean Connelly
© MyBayCity.com
Finishing off the night's competition was Rody Dodd, competing in his third week this season. "I don't have any family out to support me," said Dodd. "So this week I'm going to be sitting with the competition," Dodd added. Dodd sat with Travis Paten and Paten's normal crew after "calling out" Paten just two weeks ago.
The two get along great, but understand that there's a competition to be won.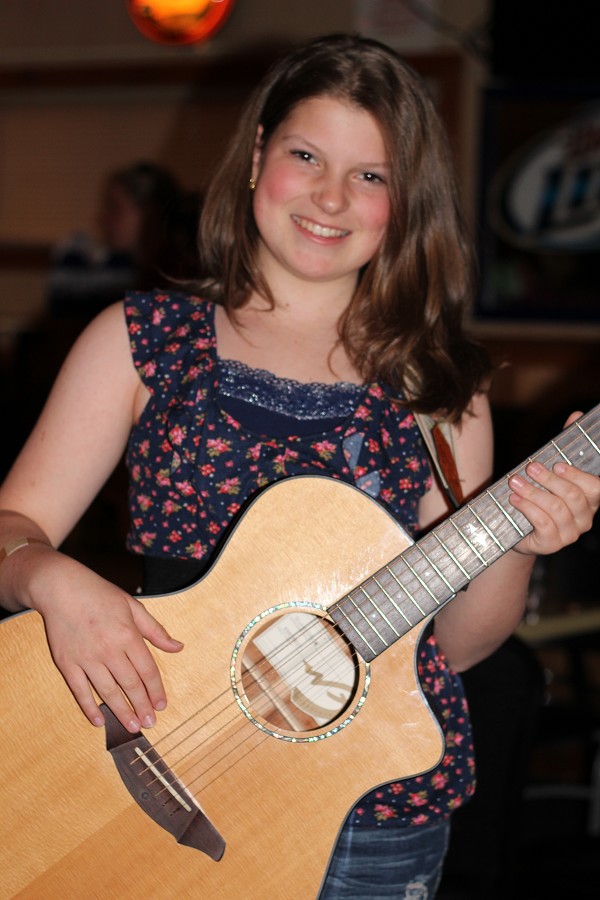 Allie Shermetaro performed a few songs
for the Willew Crowd!
Photo by Sean Connelly
© MyBayCity.com
After the competition had ended, those in attendance at the Willew Lounge were given a treat when Allie Shermetaro, Season 3's second place finisher, took the stage to perform a few songs -- One of which included an original, Caryn's Song, written about Shermetaro's own sister.
Shermetaro performed in front of another live crowd this past Friday -- opening for artist Mandi Layne at Tobi Keith's in the Detroit area. "I came up to Bay City to support Travis (Paten), and got asked to do a few songs tonight," said Shermetaro. Fans of Shermetaro can request her original, Caryn's Song, on LastChoiceCountry.com.
This season's grand prize, a 50cc Schwinn Hope Scooter, is provided by Steven's Cycle Sales of Bay City. In order to win the grand prize, contestants must be present in five of the 10 weeks of the competition. All qualifying competitors will have their top five scores combined to determine the winner on the final night, June 13th, 2012.
Michigan Idol Season 4 takes place every Wednesday night at the Willew Lounge in Bay City, MI. Warm-ups start at 7:00PM with the competition getting underway around 8:00PM.
The Michigan Idol Show at WILLEW is Sponsored by:



---
---
---
Send This Story to a Friend!
Letter to the editor
Link to this Story
Printer-Friendly Story View
---
--- Advertisments ---