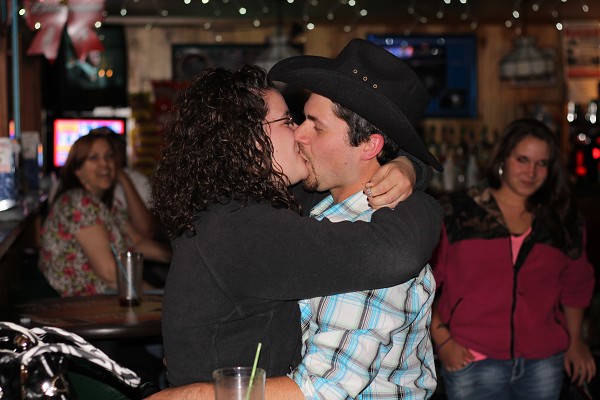 Love Was in the Air at Willew's Michigan Idol!
June 10, 2012 Leave a Comment
By: Sean Connelly
One of the most common things I get asked about writing the Michigan Idol article every week for MyBayCity.com is "How do you keep the content fresh?" It's a tricky thing to do when you're reporting on the same event each and every week, with the same contestants, the same judges, and the same members in the crowd over and over.
Sometimes it takes some real digging to find the story that people might actually want to read about, and then, sometimes it slaps you right in the face.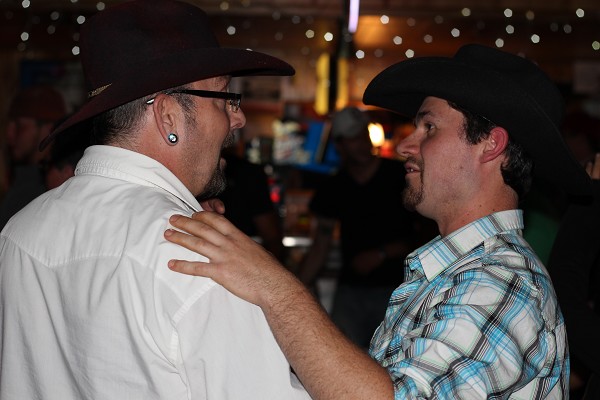 Rody Dodd congratulates Travis Paten on an incredible night.
Photo by Sean Connelly
© MyBayCity.com
It was the latter of the two this week as romance was in the air for week nine of Michigan Idol Season 4 at the Willew in Bay City.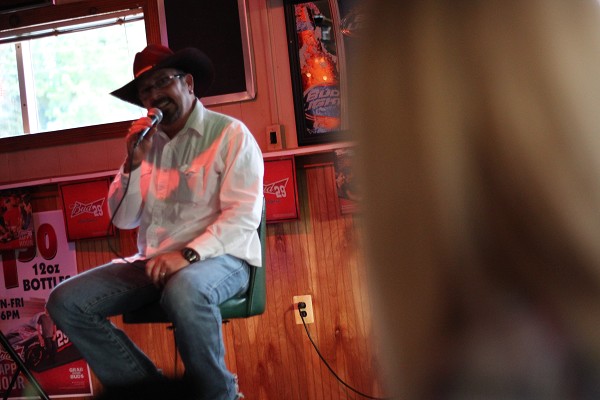 Rody Dodd singing to his wife, Danel Dodd.
Photo by Sean Connelly
© MyBayCity.com
Last week, many things that were out of the ordinary during the Wednesday night performances at Michigan Idol. Mainstay Jesse Fisher rocked the Willew with a break away from his normal somber song selection, Travis Paten switched from singing high energy, up-tempo songs to a slower vocally driven selection, and he also opted to not close out the night like he normally does.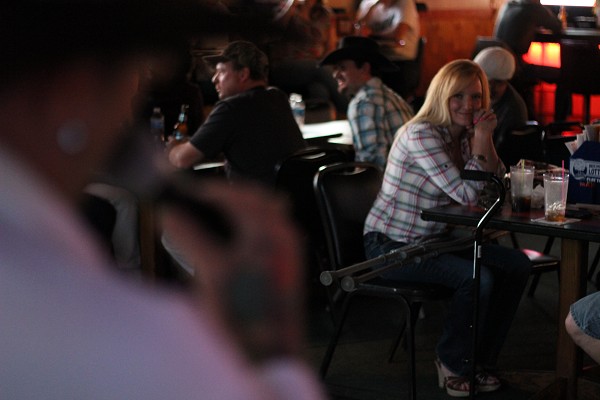 Rody Dodd singing to his wife, Danel Dodd.
Photo by Sean Connelly
© MyBayCity.com
This week things were back on to normal, Debi Schmeider impressed the judges with her incredible voice, Rody Dodd and Travis Paten continued their friendly rivalry, Chuck Kirkbride had a song and dance of his own for everyone in attendance, and Jesse Fisher was back to singing his somber rock song of the week.
And then Travis picked up the microphone.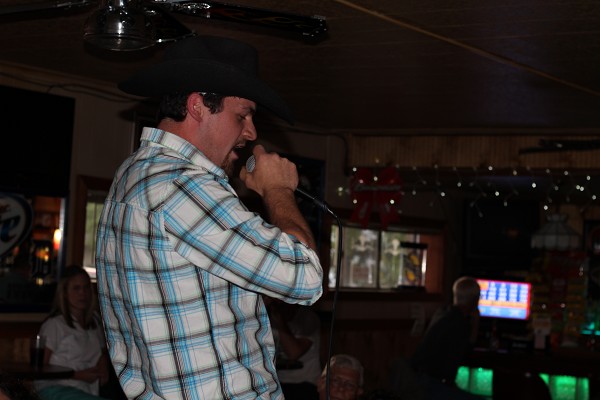 Travis Paten gets up on a chair for his warm-up performance.
Photo by Sean Connelly
© MyBayCity.com
"I knew something was up," said former guest judge Heather Emmons, "When I saw he (Paten) brought out the wireless microphone."
It's not an uncommon thing, for contestants to secure a wireless microphone for their performance, since crowd interaction and involvement is something that is strongly recommended if you want to improve your chances at winning the competition.
Paten performed Dierks Bentley's My Last Name, something a little slower than his normal, but one that his emotion carried him through. It was an impressive performance, for sure. But when Paten made his way over to his girlfriend, Kaitlin Wendt, while singing the lyrics, "So darlin' if you're wonderin' why I've got you here tonight, I want to be your husband, I want you to be my wife," everyone at the Willew suddenly realized just how special a night this was.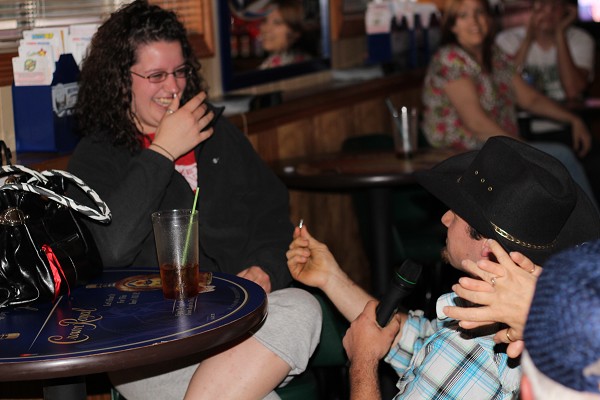 Travis Paten proposes to his new fiance, Kaitlin Wendt.
Photo by Sean Connelly
© MyBayCity.com
Travis got down on one knee and completely surprised Wendt, pulling out a ring and asking for her hand in marriage. The answer was obvious as a smile shot across her face. "It was such a huge surprise," said Wendt, "He's (Paten) always been there for me, I want to do the same for him."
The two met each other while attending school at Baker college and have been together ever since December 30th, 2008. "I've been planning this for a couple weeks now," said Paten, "I wanted to make it special ... I'm just at a loss for words right now."
It's going to be hard to top that next week as Michigan Idol Season 4 wraps up with it's final night on June 13th, but with the many surprises we've had in the last two weeks at the Willew there isn't much that should surprise anyone one bit at this point.
Be sure to head out to the Willew Lounge in Bay City for the finale of Michigan Idol Season 4 this Wednesday at 8:00PM to see who brings home the brand new 50cc Schwinn Hope scooter courtesy of Steven's Cycle Sales of Bay City!

(L/R) Travis Paten, Jesse Fisher, Debi Schmeider, Chuck Kirkbride, Rody Dodd
Photo by Sean Connelly
© MyBayCity.com
The Michigan Idol Show at WILLEW is Sponsored by:



---
---
---
Send This Story to a Friend!
Letter to the editor
Link to this Story
Printer-Friendly Story View
---
--- Advertisments ---