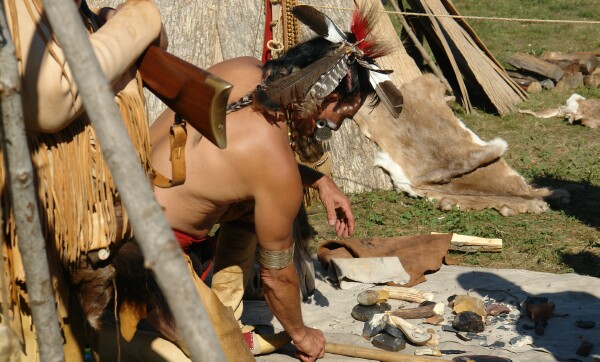 River of Time - From Native Americans to World War II
Re-enactors Teach History Of Michigan At Annual Encampment On Riverfront
September 30, 2012 1 Comments
By: Stephen Kent
Time seemed to slip back to an earlier day as the Bay County Historical Society took over Veteran's Memorial Park for the annual River of Time Historical Encampment. Re-enact ors from far and wide descended on the park to construct one of the largest encampments held. Thousands of visitors strolled among tents, teepee's, and campsites representing life as it was from the 1600's through World War II.
This year was one of the largest events on record. Many re-enact ors have been coming to this event for years but there were new visitors as well. The Native American camp was among those which was larger.
Robin Schwicht, education director for the Ohio Historical Society and her husband camped with Eliot McFarland, a regular at River of Time. McFarland played the part of the Scottish Lord Elcho, a wealthy gentleman surveying the new world. The campsite was true luxury with fine china, furniture, and excellent wine and food. Schwicht displayed her sketches and watercolor paintings. She visited with Ron Bloomfield from the Bay County Historical Society and compared notes about exhibits, education, fundraising and the success of the encampment.
River of Time was designed to be an educational program. Admission is free to the public (although donations are accepted to help cover the thousands of dollars the event costs.) Re-enactors start to show up on Wednesday and Thursday and Friday is dedicated to school children from around the area. The grounds are overrun with kids who visit with re-enactors to learn about the periods they portray.
Education continues for the entire weekend. Lloyd Baker was on hand to illustrate colonial time lantern making. He has taught this early skills for years at Agawam Scout camp in Lake Orion. In operation since 1918, that came is being closed and the property sold. Baker was pleased to be able to bring his lessons to River of time and found an eager audience for his demonstrations and lessons.
River of Time is run by an all volunteer committee of the Bay County Historical Society. Admission is free to the public with cost of the event underwritten by sponsors, fund raising, and donations.
The Bay County Historical Society, founded in 1919, is the legacy of the original Pioneer Society which was founded in the 1870's with the objective of preserving the history of Bay County. The Society and Museum are located next door to City Hall and feature a huge collection of historical items, a large research library, and numerous exhibits on multiple floors.
The Historical Society and Museum are funded under contract with Bay County funded by a tenth of a mil tax assessment. That millage is up for renewal on November 6 under the title "Historical Preservation Millage Proposal". A YES vote will insure that the museum and it's thousands of artifacts continue to preserve Bay County's history.
The Historical Society is also supported by membership. Anyone can join to show their support. They receive the regular newsletter and other benefits from the Society. To become a member of the Bay County Historical Society, call the Museum office at (989) 893-5733. Visit the web site at
www.bchsmuseum.org
---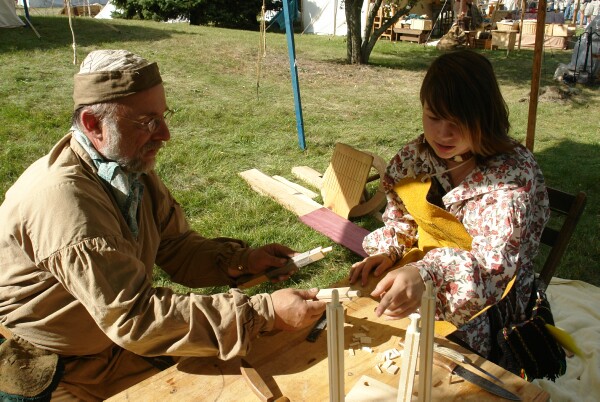 Lloyd Baker teaches lantern making to re-enactor Aidan Wesel.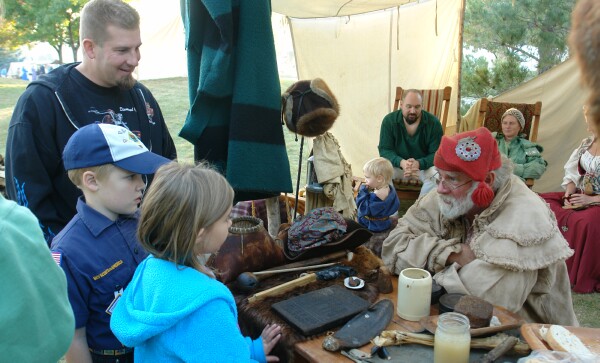 Randy Baker teaches living history with the stories of trappers and explorers.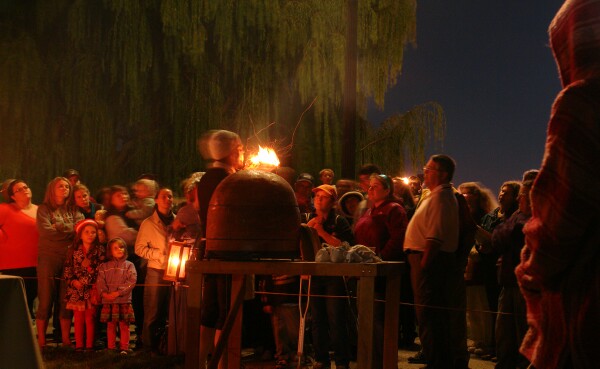 David Schubert with his bread oven is a regular at River of Time.
Even at night he had a large audience as he demonstrated making fire with flint and steel.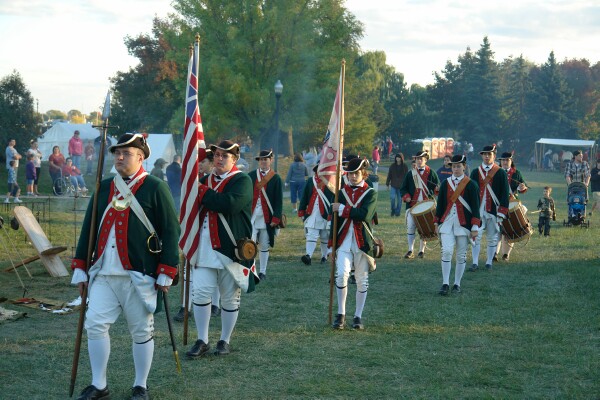 Fife and Drums regularly paraded through camp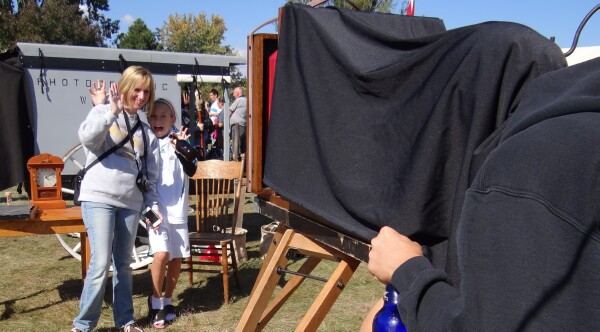 Posting for antique tin-type photograph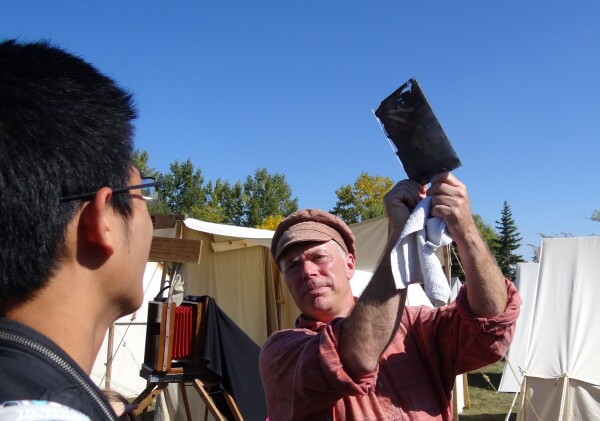 Bill Badgley was back with his Civil War photography studio.
Here he shows off a glass negative he's made in his photography wagon.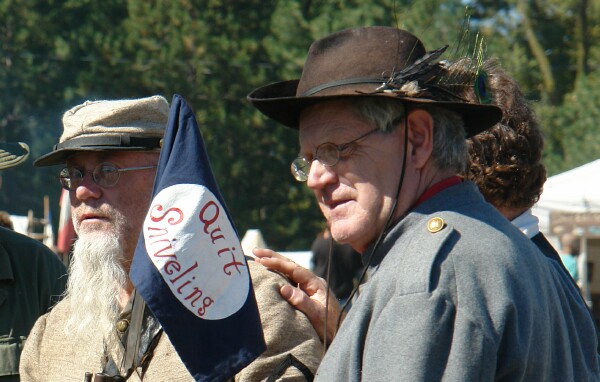 Quit Sniveling ! ! !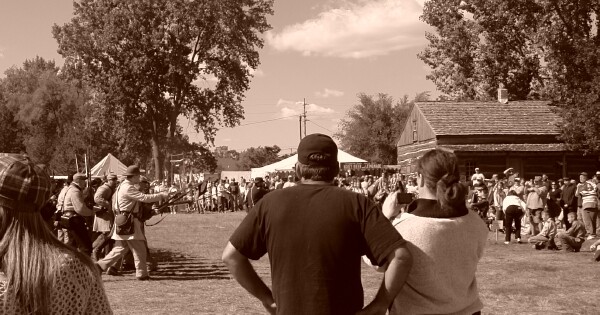 Visitors enjoy skirmish line complete with gunfire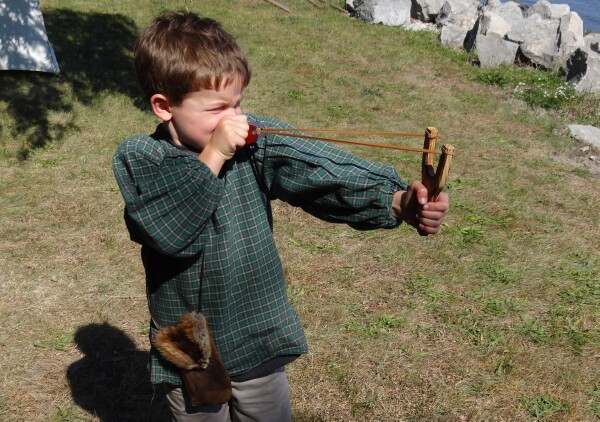 Take careful aim!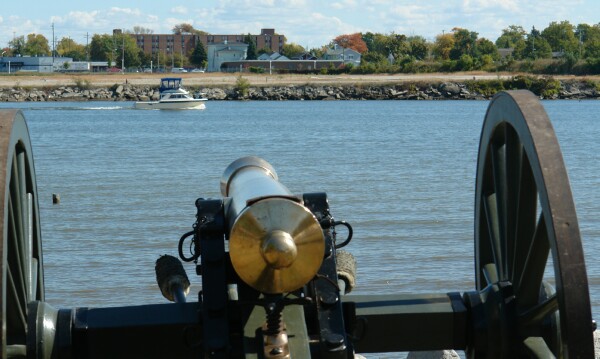 Take VERY careful aim!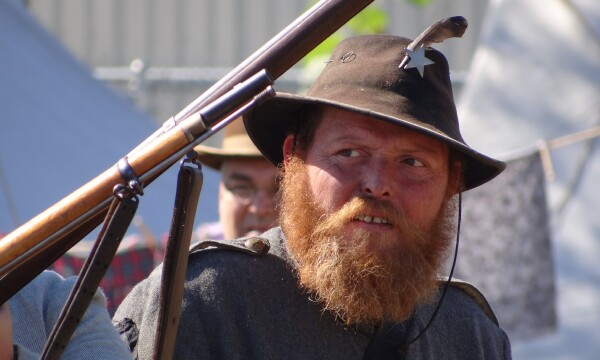 Soldier of the line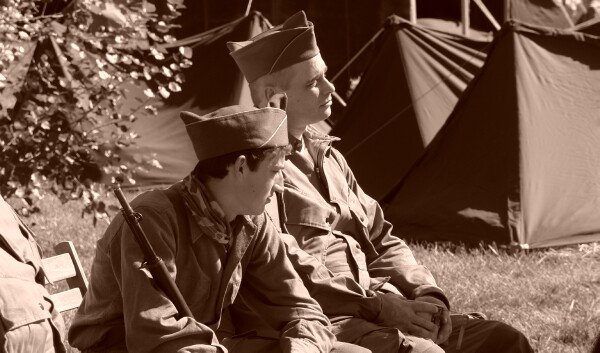 WW II soldiers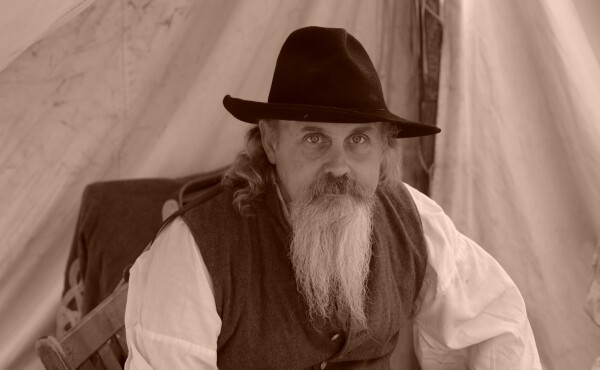 Steve Graves portrays Confederate Lieutenant General Nathan Bedford Forrest
(July 13, 1821 - October 29, 1877)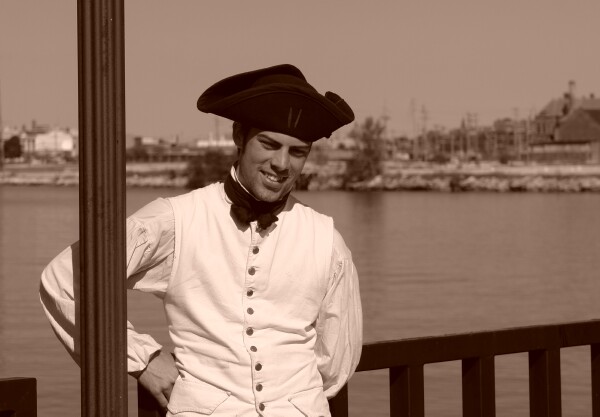 Revolutionary War Soldier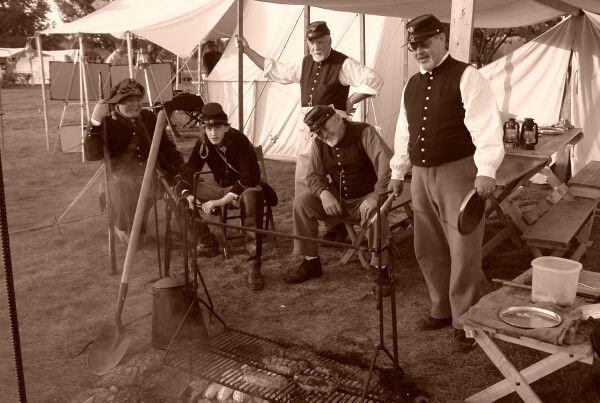 Federal troops watch those 2 inch thick steaks grilling over an open fire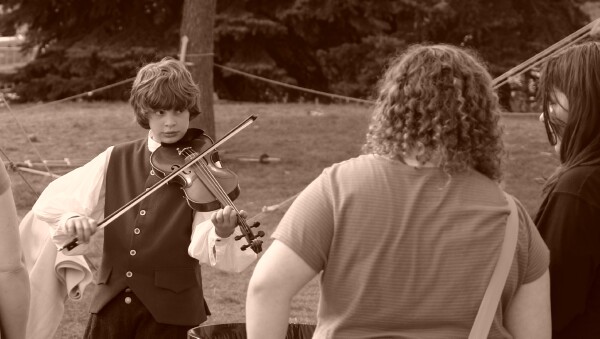 Christopher Kaperski played tunes on his violin during the afternoon.
Christopher's entire family played string instruments into the night.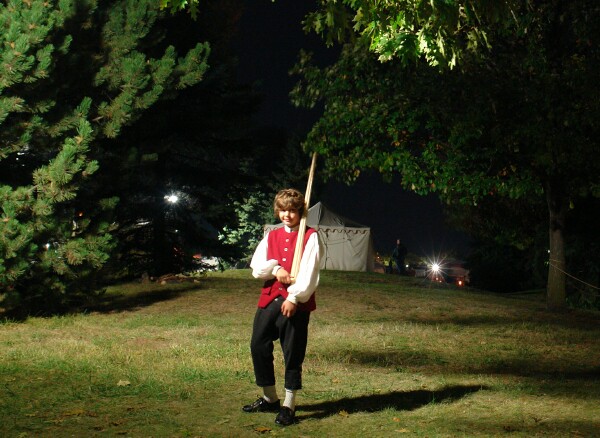 After a day of playing violin, Christopher Kaperski got in a little night time sword practice behind the tents.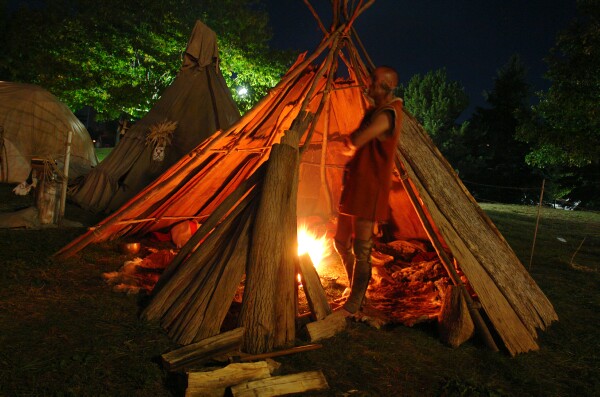 Campfire lights tee pee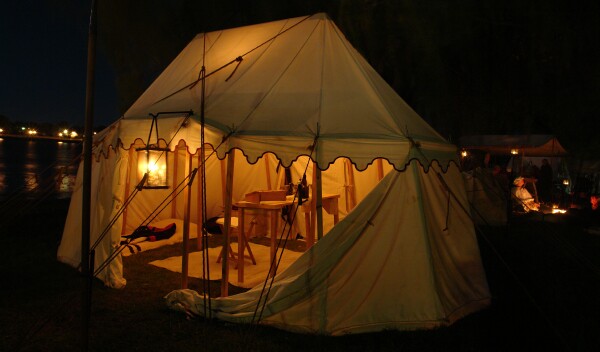 European style tents from early exploration period.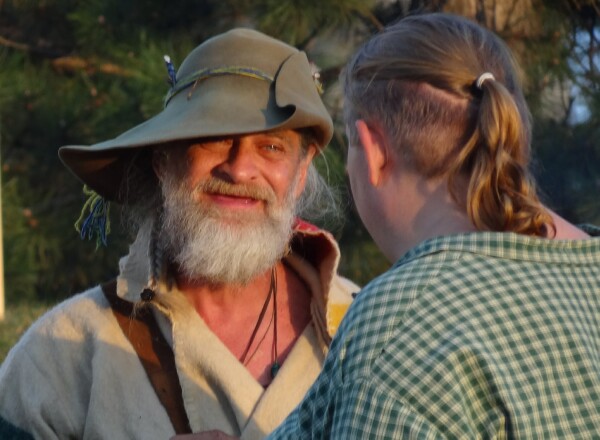 Trapper from 1700's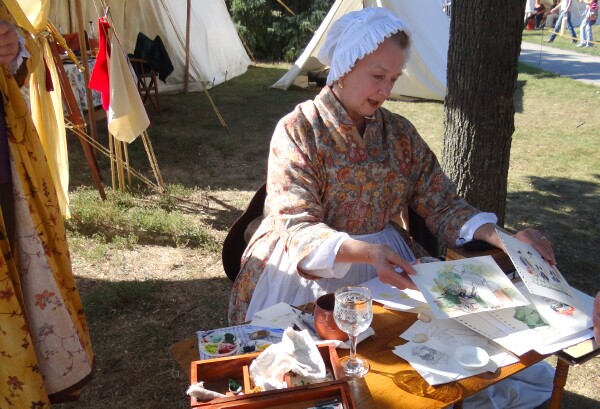 Robin Schwicht shows her watercolors of the event.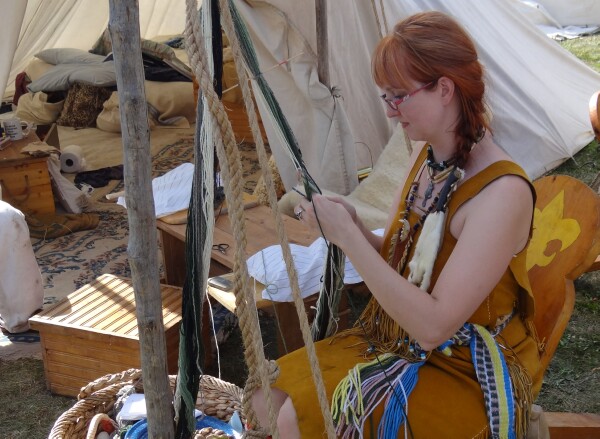 Nichole McLaughlin demonstrates Native American "finger weaving". The sashes were used as trade goods with French traders. Wrapped several times around the waist they could be used as kidney braces when heavy loads were carried on the back. They were also used as leg bands.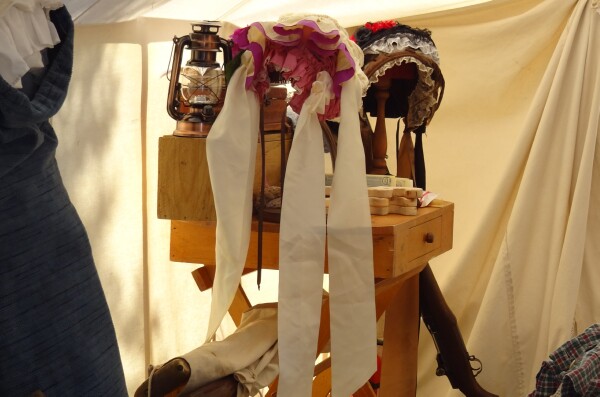 Hats and guns inside a tent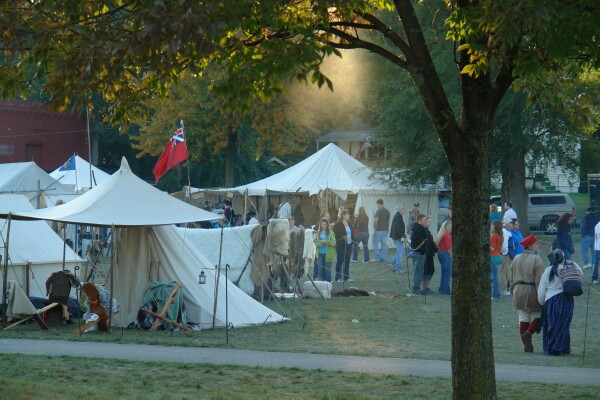 Sunbeam filters through campfire smoke on Saturday afternoon

Panoramic view of camp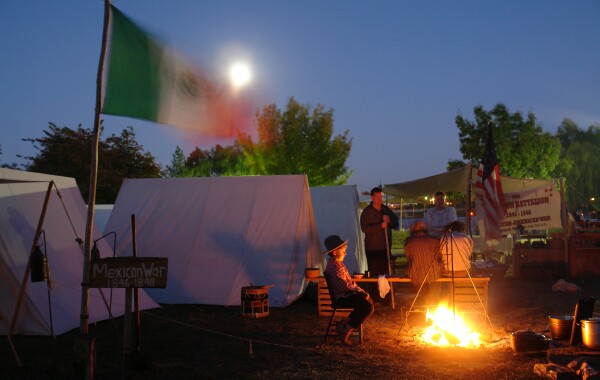 Mormon Battalion campfire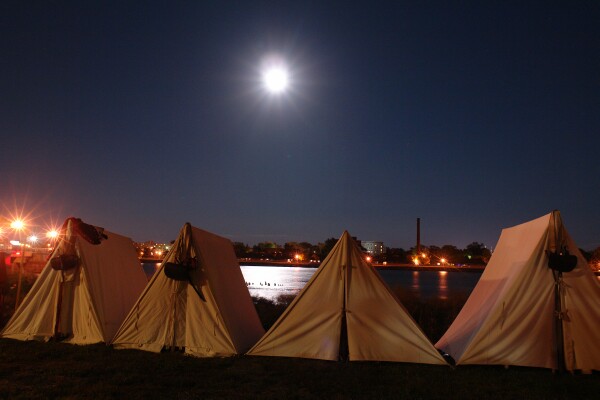 Tents line the river under a full moon and clear sky.
MyBayCity.com has covered the River of Time since 2003.
Take any of these links for prior year coverage:

2018.a, 2018.b
2017.a, 2017.b, 2017.c,
2015, 2014, 2013,
2012, 2011, 2010, 2009,
2008, 2008, 2008, 2008,
2007, 2007,
2006, 2006,
2005, 2005, 2005,
2004, 2003,
...
---
---

Stephen Kent




Steve Kent and his family have lived in Bay City for 40 years. He is VP of Technical Services at MMCC which produces MyBayCity.Com. Kent is active in many Bay City civic organizations.

More from Stephen Kent
---
Send This Story to a Friend!
Letter to the editor
Link to this Story
Printer-Friendly Story View
---
--- Advertisments ---