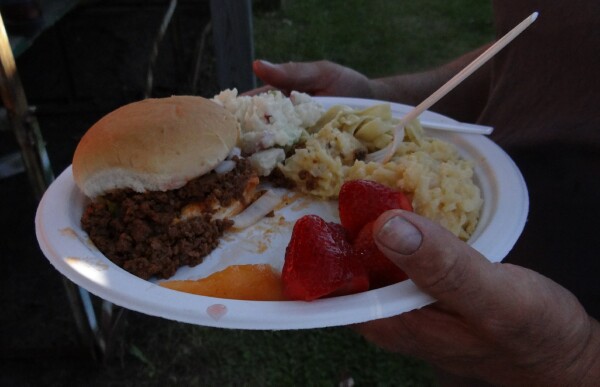 OK, Lets start with the food. The 4-H auction is something of a "family affair" and it seems
most folks know each other. They provided the food and didn't charge a dime!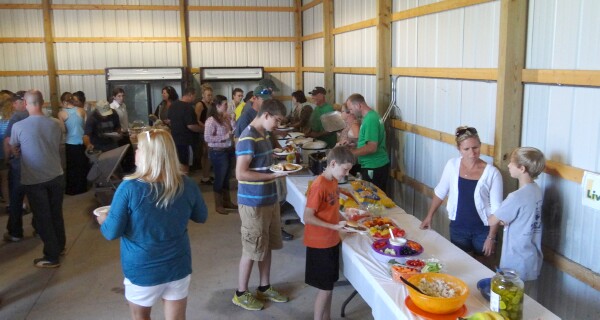 4-H families do know how to make some good food.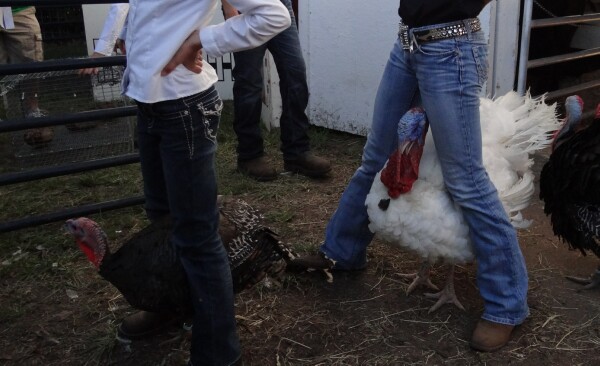 Some kids walked their turkeys, others carried theirs.
But when a turkey can weight FIFTY POUNDS, walking may be best.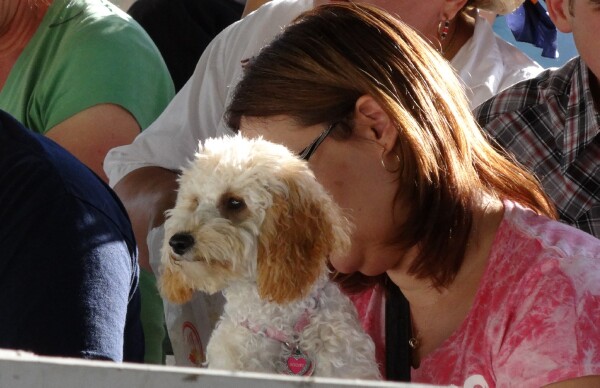 We couldn't figure it out. Is he looking for supper?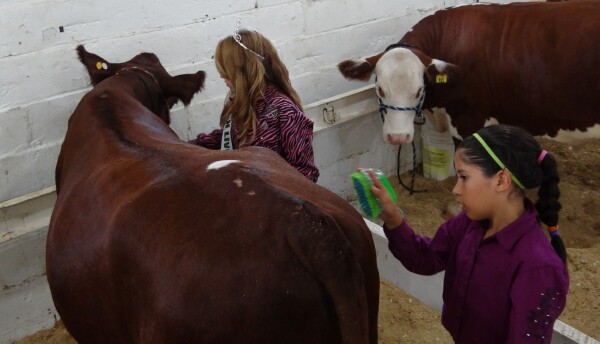 Sometimes it takes two to make a steer really shine.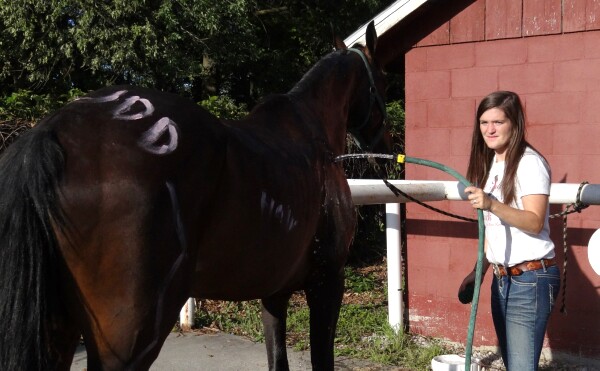 Thressa Irish washed down her horse Budd. "He's a good jumper,
probably because he's tall", she said. "The writing is because we did a fun show today
and decorated our horses", she went on. The Garber High student has owned Budd for
three years and has been doing the fair for at least 8 years.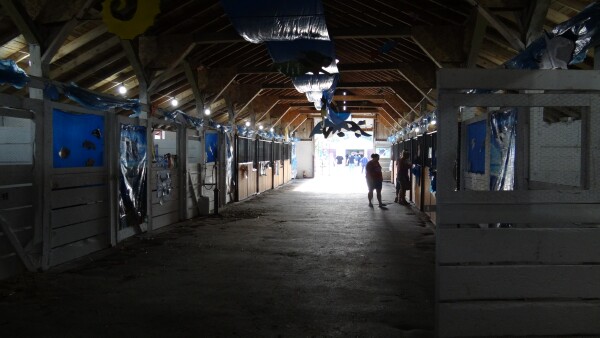 Long view down the horse barn.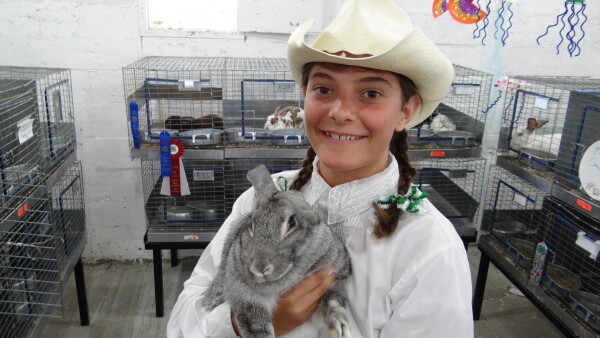 Meline Smith with "Jackie", her 9lb, 6oz Flemish Giant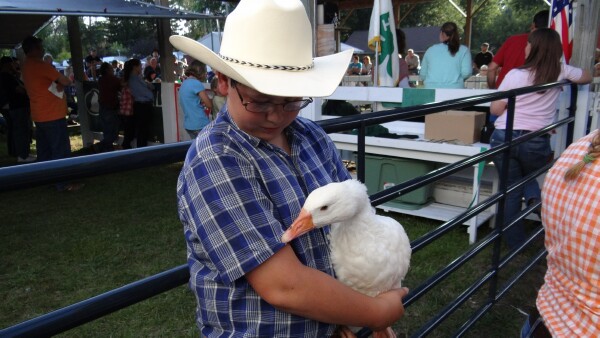 Is the duck hungry or just anxious.
He just kept nibbling on that shirt.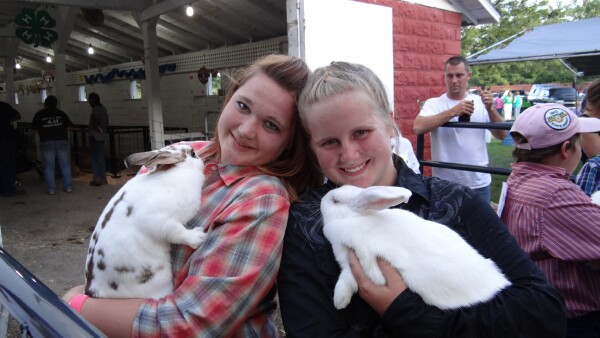 15 year old Best friends Rachael Naugle and Kennedy Bedell
raise their rabbits, ducks and pigs near each other in Linwood.
Rachael is from the "Country Cousins Critters and Kids" club,
Kennedy is from "Feathers and Fur".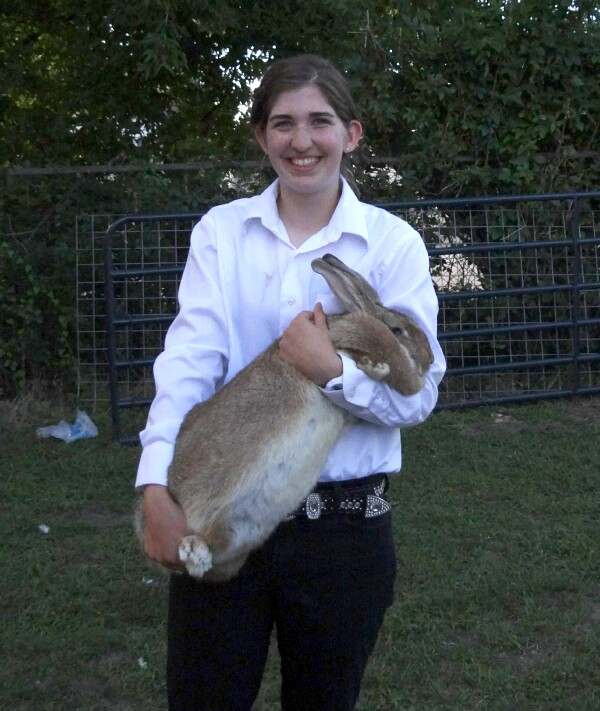 Megan Beson and her 14.3 pound rabbit, which brought $300!
Megan is from the "Hicktown Heroes" club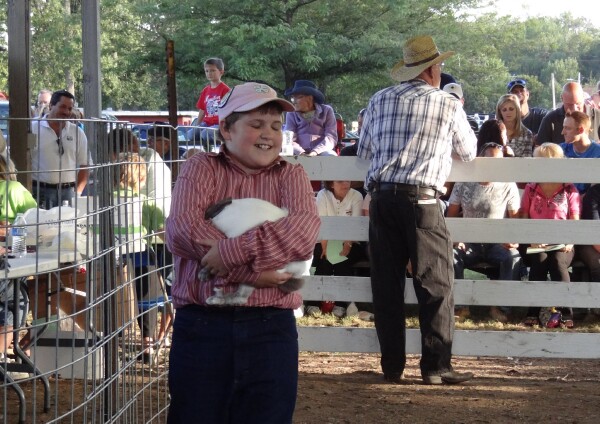 Tristen Julian, from the "Kaleidoscope" club is about to lose that rabbit.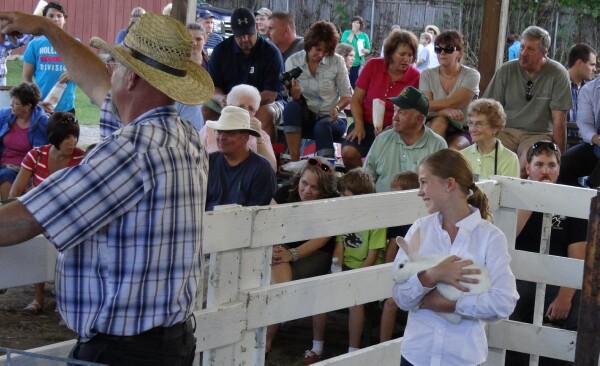 Makayla Trepanier from the "Kaleidoscope" club likes those bids.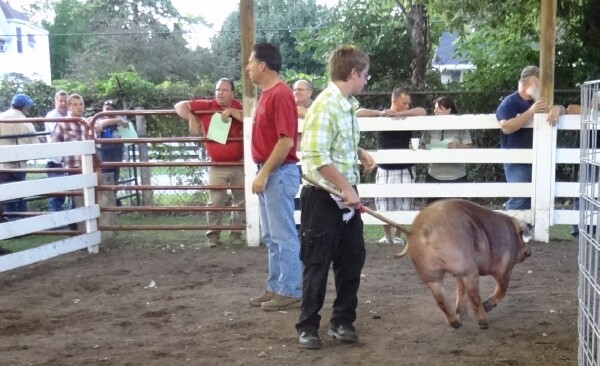 0990
Something about those pigs; every one of them
came out on the run and charged around the pen.
Jacob Bohinger from the "Bits and Pieces" club got %514 for this one.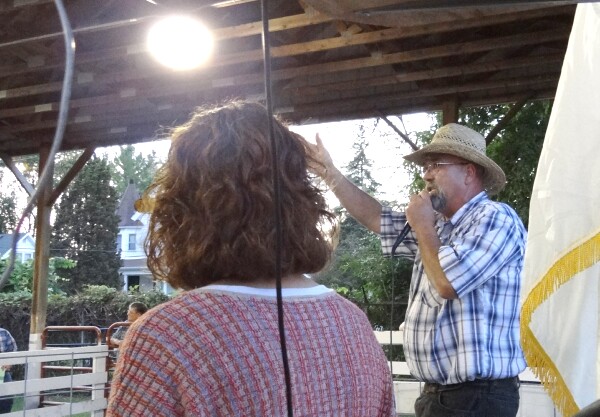 Auctioneer Mike Erskine started selling chickens...
and there were FOUR PAGES of chickens on the list!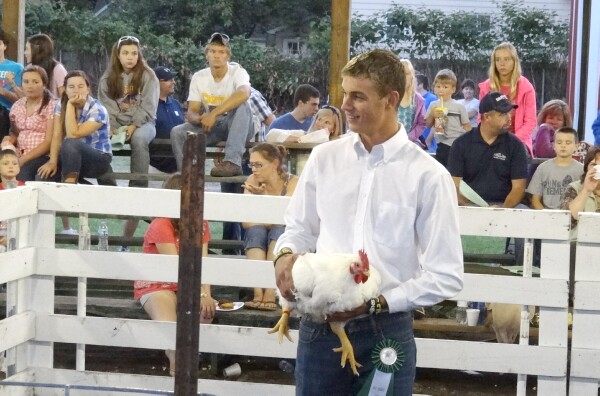 Logan Rechsteiner from "Country Cousins Critters and Kids" shows his chicken,
which brought $225.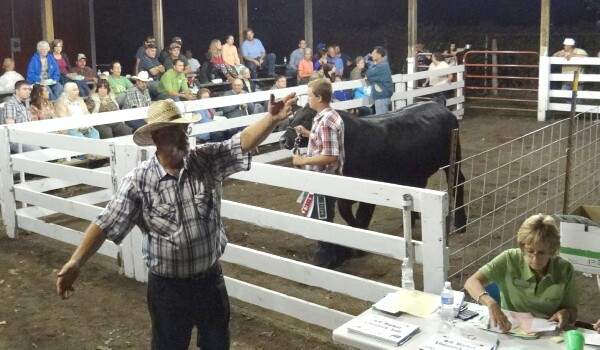 Hunter DeCatur from "Country Cousins Critters and Kids"
and his 1300 pound Grand Champion steer, which brought $2,860.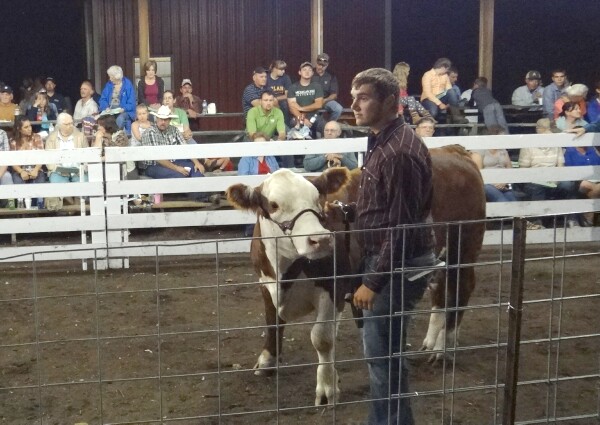 Justin Naugle's 1,245 pound "Reserve Champion" steer got $2,614.
Justin is also from "Country Cousins Critters and Kids"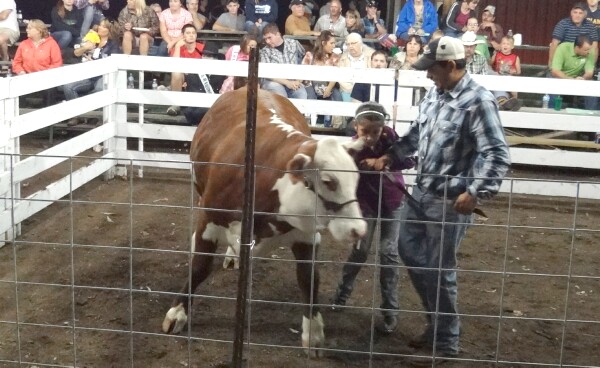 It's not just the big boys who wrangle steers.
Jennifer Monciviaz needed a little help handling her cow,
but she earned $2,540 for that 1,270 pound animal!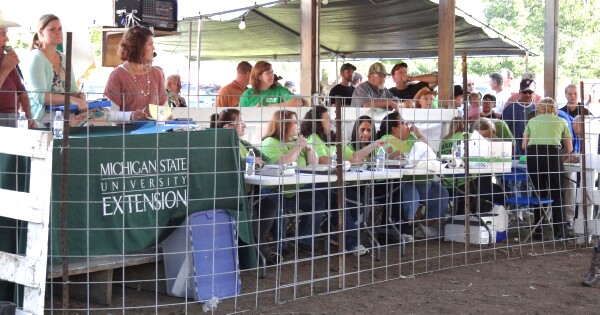 Chemical Bank volunteers handle the recording and collecting of the money.
MSU does the organization and management.
Dick, Rick, and Mike handle the auction itself.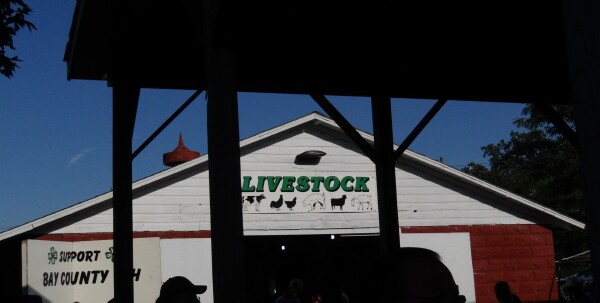 Entrance to the barn.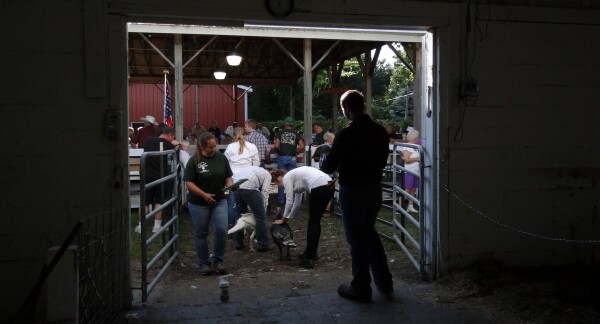 Young farmers wait their turn to show.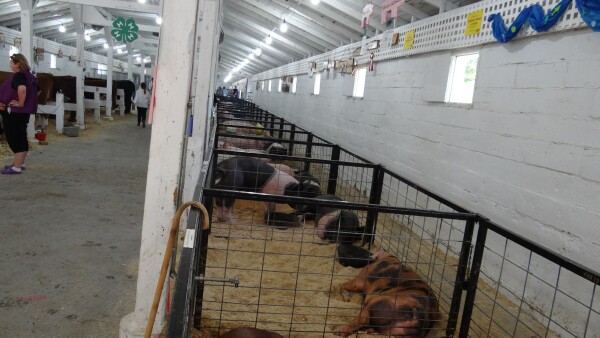 The barn is open to the public to view the animals.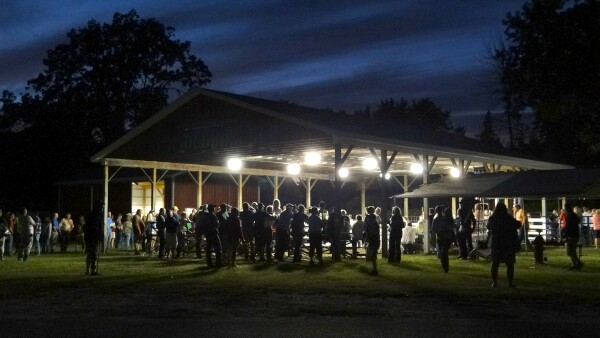 The auction started at 6:00 and went past 10:00.
It was a long night but nobody seemed to leave early.