CATHOLICS COMBINE: St. Joseph Parishioners Celebrate Feast Day, Ponder Fate
Consultant Peter Borre' to Meet April 7 with New United Parishes Group
March 20, 2014 1 Comments
By: Dave Rogers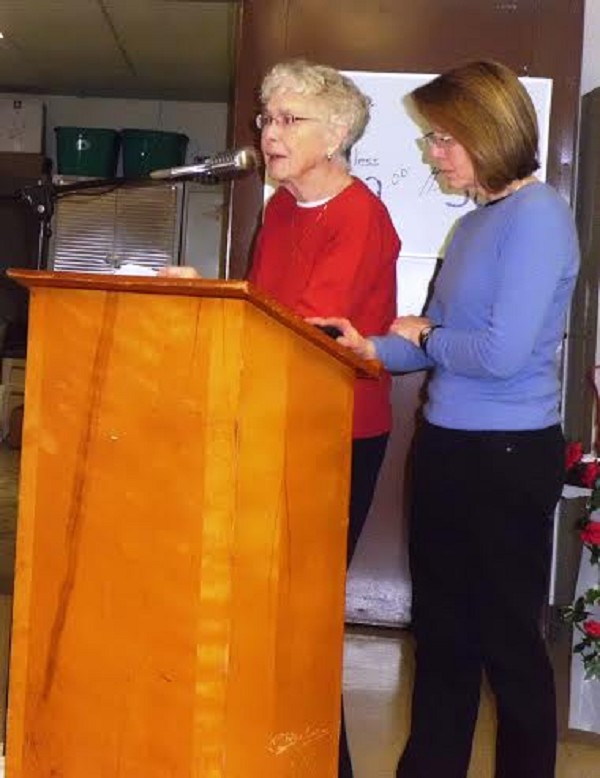 Dolores Maillette, left, is assisted by her daughter, Anne Yandall, in a St. Joseph history presentation.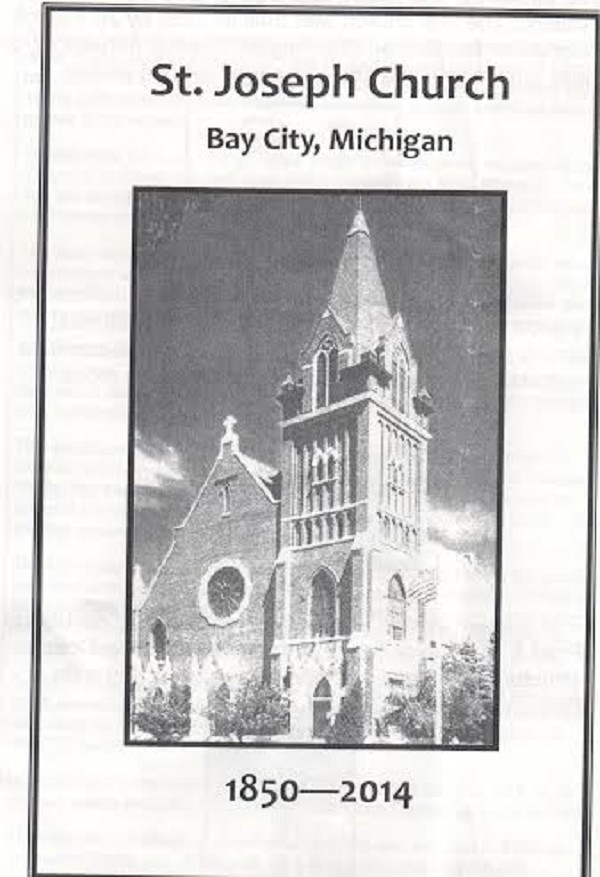 Cover of a program handed out at the St. Joseph Parish gathering Wednesday evening.
The gathering Wednesday night of hundreds of Roman Catholics from Bay City St. Joseph, the first church of the Saginaw Valley, was a bitter sweet experience because the 163-year-old church is closing in July.
Families, most of French Canadian or Italian descent, brought their children and grandchildren, some of whom participated in a traditional ritual honoring the Saint.
The group was celebrating the March 19 Feast of St. Joseph, husband of Mary, mother of Jesus, some privately predicting perhaps for the last time because the historic church has been declared "for occasional use" in reorganization by Bishop Joseph Cistone.
The order affecting St. Joseph and other churches is slated to take effect in July. The church is part of a "cohort group" also including St. Boniface, St. John the Evangelist, Essexville; St. Hyacinth, Our Lady of Guadalupe, St. James, St. Stanislaus Kostka, and St. Norbert, Munger.
Among consolidation changes is the new name Our Lady of Czestochowa for the newly combined St. Stanislaus and St. Hyacinth. The history of those churches goes back to a "church war" at St. Stanislaus in 1896-1898 that brought a two-year closing of the church by Pope Leo XIII and a visit by a Vatican official to restore order.
St. Hyacinth was formed in 1907, mainly by former St. Stan parishioners living south of 27th Street. The distance to the church was one issue cited and another the contention that new immigrants felt unwelcome among the older parishioners. Departing families were reimbursed $9,278 for donations they had made to the construction of the new St. Stanislaus Church.
Cistone has said shrinking membership and a lack of priests are main reasons for the diocese reorganization that will shrink 109 parishes by about half. He has conducted a "Planning Tomorrow's Parishes" process over the past year and closings are being implemented.
The diocese has lost more than 51,000 members, or about a third, since 1988.
Meanwhile, a new group concerned with the diocesan reorganization, United Parishes, will meet April 7 at the Bay City County Club with Peter Borre', church reorganization consultant of Boston.
Periodic protests have occurred at some parishes, including one at Pinconning St. Michael where the news media was barred by the bishop from attending one of his prayer meetings last year.
The diocese has dictated that occasional use buildings will no longer celebrate Mass on a regular schedule, though they still could be used for funerals and weddings of former members.
The Reid Group, consultants, of Seattle, led by Notre Dame University divinity graduate and former Archdiocese of Seattle administrator John Reid, is assisting the diocese in the reorganization.
Recommendations to the seven Bay City east side churches include:
1.-Develop a more specific plan for Hispanic ministry in your cohort.
2. Since the linkage begins July 1, 2013, with one pastor and one parochial vicar for the two parishes of St. Stanislaus and St. Hyacinth, begin functioning as pastoral council one month early (last September 15).
3. Continue your exemplary collaborative efforts across cohorts in hospital and jail ministry as well as in your support for BACS.
4. Be sensitive to issues of transition and loss for the parish community and leadership. Draw upon diocesan services and, as needed, Tom Conklin of Catholic Family Services.
5. Consider providing assistance with transportation for the elderly and those with disabilities.
6. Review the potential use of buildings and consult with Diocesan team leaders regarding canonical and legal implications of non-use.
7. Find a way to communicate all of the good things that you are doing to local media as well as the diocesan Communications Office as a way of spreading the good news of your cohort and inspiring and encouraging others."
Arlene Allaben, of Pinconning, last September told a reporter: "We're praying to keep the churches open. We're wearing black, mourning the closing of our churches."
Parishioners of St. Matthew, Zilwaukee, filed an appeal of their closing with the Vatican that has been rejected.
A spaghetti dinner was served to the St. Joseph throng at the parish-owned Village Hall on Johnson Street, located just west of the adjacent former St. Joseph athletic field.
Longtime St. Joseph parishioner Dolores Maillette, 90, reviewed the history of the parish with a photo presentation, assisted by her daughter, Anne Yandall.
St. Joseph was founded in 1850, mainly to serve the growing French Canadian population attracted by jobs in the lumber industry.
"St. Joseph is the oldest Catholic parish in the Saginaw Valley," said Ms. Maillette. "The first church was built by 20 French Canadian families on Washington Avenue between Second and Third streets, the site of the present bus station." The present church, completed in 1911, was designed by local architects Pratt & Koeppe in a neo-gothic fashion after the Shrine of Ste. Anne de Beaupre in Quebec, she said. The church was placed on the Michigan State Register of Historical Sites in 2000.
Wednesday in Rome, Pope Francis celebrated the Feast of St. Joseph pointing out that the saint is a model for all fathers and educators.
Speaking to the crowds gathered in St. Peter's Square for the General Audience, the Pope's catechesis focused on three aspects pertaining to the life and mission of St Joseph: as the 'guardian' of the Holy Family; as the teacher and educator of the young Jesus; and as a guide who helped Jesus respond to the working of the Holy Spirit.
The Catholic Diocese of Saginaw was established on February 26, 1938 by Pope Pius XI. Its territory included 16 counties, carved out the Diocese of Grand Rapids and the Archdiocese of Detroit, in Michigan's "thumb and index finger."
Today, the Saginaw diocese covers 11 counties in Eastern mid-Michigan within the Roman Catholic Province of Detroit: Arenac, Bay, Clare, Gladwin, Gratiot, Huron, Isabella, Midland, Saginaw, Sanilac, and Tuscola.
The diocese encompasses 6,955-square-miles of land and is home to 101,000 Catholics.
A news release from Cindy Bourdow, coordinator, United Parishes and Parish Petitioner Groups, announced the return of Peter Borre for a status update on petitions in Rome.
Mr. Borre' will be speaking at a meeting of petition groups on Monday, April 7, 2014, at 6 p.m. at the Bay City Country Club, 7255 S 3 Mile Rd, Bay City, MI 48706.
"This meeting will primarily focus on the status of our petitions in Rome, and is specifically targeted to petitioner groups, but all concerned parishioners throughout the diocese are welcome to attend," said Ms. Bourdow.
Doors will open at 5:30 p.m., and meeting will begin at 6 p.m., with a status update from Mr. Borre', followed by a question and answer session. There will be a cash bar and food and drinks will be available for purchase before and throughout the meeting.
---
---

Dave Rogers




Dave Rogers is a former editorial writer for the Bay City Times and a widely read,
respected journalist/writer in and around Bay City.
(Contact Dave Via Email at carraroe@aol.com)

More from Dave Rogers
---
Send This Story to a Friend!
Letter to the editor
Link to this Story
Printer-Friendly Story View
---
--- Advertisments ---