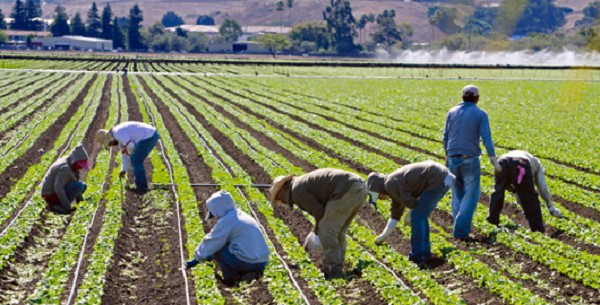 Called "stoop" labor, farm work takes physical endurance that domestic workers don't seem to have.
---
FARM HAND SHORTAGE: Immigration Reforms Urged to Fill Agriculture Jobs
Broken Immigration/Foreign Labor System Cited by Michigan Farm Bureau
January 25, 2015 1 Comments
By: Dave Rogers
With spring planting time fast approaching, Michigan farmers are getting heartburn over labor shortages.
Glitches in the immigration program keeping foreign workers out are costly to American farmers.
Termed "jobs most Americans won't do," farm work is physically demanding and mainly attracts workers from other countries; therefore farmers are hoping Congress will ease up on immigration restrictions.
The federal H-2A visa program is meant to help fulfill agriculture's demand for legal foreign seasonal workers, but farms eligible to use the program have found it complicated, expensive, and unresponsive to their time-sensitive needs.
The State of Michigan Inter-agency Migrant Services Committee reports Michigan farmers have a need for 49,000 seasonal workers annually but less than 250 are hired through the H-2A visa program.
Farmers and ranchers are continuing to experience difficulty in obtaining workers who are willing and able to work on farms and in fields. Besides being physically demanding, Ag jobs are conducted in all seasons and are often transitory.
Dairy is Michigan's No. 1 agricultural industry, but presently there is no visa program to assist dairy farmers in legally sourcing and hiring foreign workers, according to the Farm Bureau.
Farmers only 35 miles (about 50 minutes) outside of Detroit are reporting labor shortages of 30 percent, resulting in the loss of locally harvested vegetables for consumers.
Farmers cannot rely on local workers alone as they often find the work to be too physically demanding.
Farmers' attempts to mechanize have not replaced the need for hand labor. Machinery and technology only work with certain crops. Asparagus, apples, and some vegetables still need to be picked by hand to avoid crop damage.
According to Michigan labor statistics, average farm wages hover around $12.20 per hour - almost $5 above the current minimum wage in Michigan. Job seekers in towns like Kalamazoo, Grand Rapids, Traverse City, and Detroit can make a higher wage, but often choose the $7.40 job at the nearest fast food restaurant.
Paying higher wages won't solve the labor shortage problem. Most Michigan farmers operate on narrow margins and cannot pass along labor costs to consumers. Raising wages could mean higher grocery prices and less local produce, according to the Farm Bureau.
The demand for foreign workers is heightened due to not only a lack of a domestic workforce, but also the reverse migration of workers from the U.S. to Mexico, historic levels of immigration enforcement, and bipartisan congressional commitment to a tough work authorization system through mandatory E-Verify.
A national survey conducted by the National Council of Agricultural Employers of H-2A employers under the current rules showed that administrative delays result in workers arriving on average 22 days after the date of need causing an economic loss of nearly $320 million for farms that hire H-2A workers.
Reforms to the immigration system can assure that American agriculture has a legal, stable supply of workers, both in the short-and long-term for all types of agriculture, says the Farm Bureau. This requires a legislative solution that deals with the current unauthorized and experienced agricultural workforce and ensures that future needs are met through a program that will admit a sufficient number of willing and able workers in a timely manner.
Past legislative proposals (e.g. Ag JOBS, HARVEST Act, BARN Act and other bills) have attempted to reform the H-2A program to ensure a future workforce in agriculture. However, it is apparent that those proposals are no longer viable to meet agriculture's needs.
Multiple H-2A regulatory changes and rigid program administration have made use of an already difficult program nearly impossible.Costly recruitment requirements result in less than 5 percent of those referred by the government working the entire contract period.
Agriculture needs a program that functions as efficiently as the current free market movement of migrant farm workers while providing the security of a contractual relationship in areas where there is little migration.
Having lost confidence in the H-2A structure as a framework for future success, Farm Bureau is seeking the new approach outlined above to ensure a legal, reliable, long-term workforce for all sectors of the industry.
###
---
"The BUZZ" - Read Feedback From Readers!
VMobley1 Says: On February 11, 2015 at 11:58 AM

I don't know much of the business side of farming, but too often I feel like using migrant workers is a new form of slavery. Farmers don't want (or legitimately can't afford) to pay minimum wage to a large group of workers. But last time I checked, inconvenience wasn't really a reason to circumvent the law.

I think it'd be nice if they gave locals a chance to work for them before dismissing it as "jobs Americans won't do." It's been decades since they bothered asking any locals if they would do the work, maybe it's time to ask again?
---

Dave Rogers




Dave Rogers is a former editorial writer for the Bay City Times and a widely read,
respected journalist/writer in and around Bay City.
(Contact Dave Via Email at carraroe@aol.com)

More from Dave Rogers
---
Send This Story to a Friend!
Letter to the editor
Link to this Story
Printer-Friendly Story View
---
--- Advertisments ---