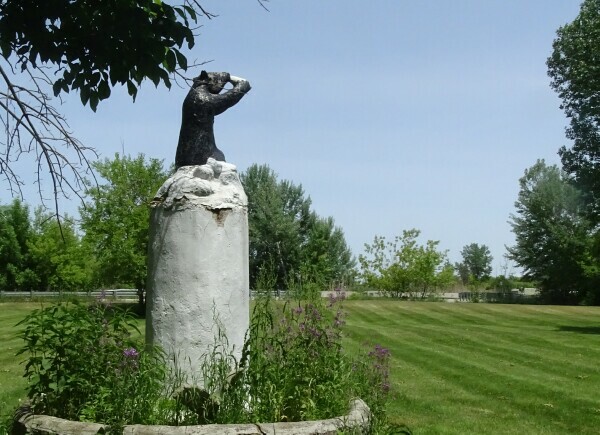 Jenny The Beer Drinking Bear
An Out-of-the-way Statue Commorates Long Lost Resort
January 21, 2020 1 Comments
By: Stephen Kent
Have you ever noticed the statue of the bear on Old State Road just south of Quanicassee?
I came across it around 1980 shortly after moving to Bay City. I've always loved exploring the area so it was not unusual to take the turn onto Old State Road when heading for the Thumb. (Nice thing about Michigan is that you can't get lost. Most roads are laid out in a grid. Besides, if you just keep going East, or West, or North, you'll eventually reach a coast!)
Experience tells me that most folks don't pay much attention to what's around them. Even if they happened to take the little used Old State Road, they might drive right by the statue and never notice it.

When I passed a bear on a pedestal, I did notice it. And I paid attention. That's probably because I went to Baylor University in Waco, Texas where the school mascot is the BAYLOR BEAR.
At Baylor, right in the middle of campus, you'll find the Bear Pits and there have always been a few real bears living there. I've seen those Baylor Bears since I was a little kid. My Mother was a Baylor grad so we went to football games even when I was too young to care about that part of the trip.
The important thing to know about the Baylor Bears is that in the 1960's the "yell leaders" always took a bear to football games. They taught it to guzzle Dr. Pepper from the bottle. (Dr. Pepper got its start in Waco and was a second "mascot" of the area.) The bear would sit on its haunches, grasp the bottle in both front paws and tilt it to the sky to slurp it down.
So a bear drinking from a bottle was not foreign to me. But finding a statue of one, in a park setting, on a lonely Michigan back road... well, THAT got my attention.
For years, when my folks, or brothers, or nieces and nephews visited, I've taken them out to Quanicassee to see the bear. I never knew how to explain it, but everyone thought it was great.
Not long ago I learned that one of my friends had grown up in Quanicassee. She did a little looking and asking and found the basics of the story. I took that information and did more research to come up with several sources that tell, basically, the same story.
According to the lore, the bear was Jenny and her statue was built by Frank Vanderbilt. I've not been able to find a primary source, but the name makes sense. Just north of Quanicassee lies Vanderblit Park. It's a lovley, small park and campground and gives some credence to the name being prominent in the area.
As the story goes, Vanderbilt was once a fighter. He later had a bar or other establishment in Bay City. He eventually bought property and started an Inn or Hotel, or maybe just a bar, on the Quanicassee River. There is some mention of a fire at the Bay City property, or some other calamity that caused him to move. One oral source said that one "Indian Joe" was involved with Vanderbilt at some point. That name is supposed to be in one of the Bay City history books, but I've yet to find it.
Vanderbilt located his establishment in Quanicassee because it was on the road into Bay City from the Thumb region. To attract visitors he had a small "zoo" which featured a few native animals. At some point he acquired a bear cub which he named Jenny. The bear would be chained and would sit on an old tree stump.
After someone gave her a bottle of beer, Jenny began to accept the bottles and would sit on the stump to drink. Vanderbilt found that he could sell bottles and make some money from visitors who wanted to buy a beer and watch Jenny drink.
When prohibition started the beer stopped flowing. Jenny, having become something of an alcoholic, is said to have become more and more unhappy and irritable. As the story continues, a group of men from a down-state hunting club offered to purchase the bear and give her a home in the Detroit area. Vanderbilt thought this would be a good solution and sold Jenny.
It wasn't long after that the true fate of the young bear came back to Vanderbilt. It is said that he was told that, rather than giving Jenny a home, she actually became the "guest of honor" at a bear bar-b-que held by the club.
The unhappy Mr. Vanderbilt decided to honor his long time pet by commissioning a statue for the yard of his establishment. The buildings are long gone now, but the statue remains. It sits in a concrete ring on the large piece of land that looks like a park. Someone mows the grass and keeps the area clean, but there are no signs or other indications of the past. A couple of houses sit across the road, but there's never been anyone around when I've been there.
Perhaps someday the statue will disappear. In the meantime, I stop by a couple of times a year just to be sure Jenny is still around. Maybe I'll run into someone, someday, who knows the full story. I'd like to hear it.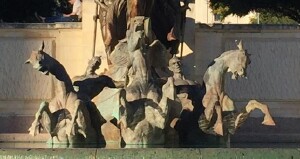 Bears weren't the only college creatures from my childhood. Dad earned his Master's in Accounting at the University of Texas and our young family lived in Austin for two years. Mom would take my brother and me to campus when she picked up Dad. We'd wait sitting on the edge of the "Littlefield Fountain" watching the water spray over the mythical Hippocampuses (sea horses), which we called "Water Horses". In later years Dad became an adopted Baylor Bear because I, the first of five sons, went to Baylor. In fact four of our five, plus Mom, went to Baylor. Dad had little choice in is allegiance.
...
---
"The BUZZ" - Read Feedback From Readers!
sunbeamf Says: On January 30, 2020 at 01:01 PM

I enjoyed this story and have even driven past the statue. I checked the BC Times for the time period--online on BC Library site under databases--and here's one of the articles. https://www.genealogybank.com/doc/newspapers/image/v2%3A16559E52C53A8520%40GB3NEWS-165E90EA77DE9A15%402418335-165D9B264B36E9F0%404-165D9B264B36E9F0%40?h=7&fname=frank&lname=vanderbilt&fullname=&kwinc=&kwexc=&rgfromDate=&rgtoDate=&formDate=&formDateFlex=exact&dateType=range&processingtime=&addedFrom=&addedTo= Apparently Jennie was one of two bears and had a little bear!! In case the link doesn't work the date of the article is 28 Jan 1909
---

Stephen Kent




Steve Kent and his family have lived in Bay City for 40 years. He is VP of Technical Services at MMCC which produces MyBayCity.Com. Kent is active in many Bay City civic organizations.

More from Stephen Kent
---
Send This Story to a Friend!
Letter to the editor
Link to this Story
Printer-Friendly Story View
---
--- Advertisments ---