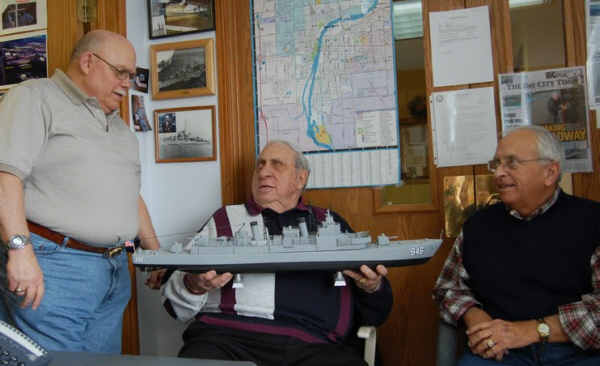 Here comes the Edson. Mike Kegley, left, and Dick Janke admire the model of the USS Edson held by Jim Dobson.
---
Navy Reportedly Ready to Make Announcement on Release of Destroyer Edson
January 15, 2012 5 Comments
By: Dave Rogers
The U.S.S. Edson is coming!
The U.S.S. Edson is finally coming!
Officials of the Saginaw Valley Naval Ship Museum expect the Navy and federal representatives to make an announcement this week in Bay City releasing the U.S.S. Edson.
The 418 foot long destroyer will be released in March, local backers believe, from the Philadelphia Navy Yard, birthplace of the U.S. Navy, now called the New Energy Hub. That facility actually has been closed since 1996 and plans are underway for a massive development on the site.
Towing of the Edson to Bay City will commence as soon as the Great Lakes are clear of ice and tugs can be hired to make the trip to Quebec and through the St. Lawrence Seaway.
SVNSM supporters are conducting a drive to raise about $200,000 to pay towing, mooring and refurbishment costs of the ship as well as to meet unforseen emergencies. (See ussedson.org) Consultants have estimated the Edson will attract upwards of 80,000 visitors a year.
The Navy history of the Edson states:
"The keel for the Forrest Sherman class destroyer USS EDSON (DD-946) was laid at Bath Iron Works in Bath, Maine, on 3 December 1956. EDSON is one of the relatively few ships of the U.S. Navy named for a United States Marine, in this case Major General Merritt Austin Edson.
"Edson was launched on 4 January 1958 by General Edson?s widow, Ethel Robbins Edson, who broke the traditional bottle of champagne over the ship's bow. EDSON'S final outing out and sea trials occupied the next ten months, and on 7 November 1958, EDSON was commissioned under the command of CDR Thomas J. Moriarty, USN. She then sailed in early 1959 to the Caribbean and through the Panama Canal to reach her original homeport of Long Beach, California, on 2 March 1959.
"For the next two decades, EDSON served as a valuable member of the U.S. Pacific Fleet, earning a reputation as a Top Gun ship and the nickname, "The Destroyer." Her ship's crest included a skull copied from the shoulder patch worn by then Colonel Edson's First Marine Raider Battalion.
"Edson's last decade of service began by sailing to her new homeport of Newport, Rhode Island. There, on 15 December 1988, EDSON was decommissioned by CDR Gideon W. Almy III, USN, the eighteenth and final Commanding Officer. EDSON then served for many years as part of the Intrepid Sea-Air-Space Museum in New York City, prior to be returned to the U.S. Navy."
Though it is no longer the landlord of the 1,200 acres at the bottom of Broad Street, the U.S. Navy is still employs 2,500 on the Philadelphia Navy Yard site, carrying out significant research, development, testing, and evaluation activities through its NAVSEA (Naval Sea Systems Command) program.
One of ten Surface Warfare Centers operating within the United States, the Philadelphia Division is considered the center of excellence for shipboard machinery, supporting the larger Carderock Division?s role of developing new technologies. A foundry and propeller manufacturing center also remain in operation.
Philadelphia Navy Yard was located on the former League Island on the Delaware River near the mouth of the Schuylkill River. Founded in 1762, it was here that the Continental Navy and Marines were formed in 1775 and here that frigate United States, the first American warship launched under the naval provisions of the Constitution, was built.
Later it was a place where many technical innovations such as Ericsson's screw propeller were developed. During the Civil War, it was the southernmost navy yard that did not fall to the Confederacy.
In 1876, the yard was relocated from Philadelphia's Southwark district. Technological developments associated with Philadelphia Navy Yard over the next 70 years included steam turbine propulsion and marine radio.
When destroyer production resumed in the 1930s, Philadelphia built four 1,500-tonners and the last Sims-class ship. During World War II, it also completed two late Gleaves-class ships while focusing on types that other yards could not build as efficiently or at all, e.g., fast battleships Washington, New Jersey and Wisconsin.
Following the war, the yard continued to serve as a vital part of the Navy shore establishment, refurbishing and modernizing vessels as well as maintaining a large reserve fleet until it closed in 1996.
The Philadelphia Navy Yard, once home mainly to mothballed ships such as the Edson, has undergone a gradual transformation in the last ten years since the site was cleaned up and new businesses moved in.
The U.S. Department of Energy will put up $122 million for a new "Energy Innovation Hub" to be located at the Navy Yard, featuring a partnership between United Technologies and Pennsylvania State University.
At its peak during World War II, the Philadelphia Navy Yard had a workforce of 40,000, but things trickled down to a crawl after the war and the last Navy ship was built there in 1970. The site was cleaned up in the 1990?s and by 2000 the first of about 80 new businesses started to move in.
The current workforce is about 7,500, and that seems due to shoot up with additional clean energy investments. Aside from new green jobs generated by the Energy Hub, the Navy Yard has just been tapped to host the largest urban solar energy installation in the U.S.
The new Energy Hub is one of three such facilities being developed by the Department of Energy. Its full name is the Energy-Efficient Building Systems Design Hub, and the Navy Yard was selected as an ideal location because it includes more than 200 buildings that are powered by an independent electric microgrid. This "virtual municipality" will become a real-life testing ground for new energy saving technologies as well as greenhouse gas reduction related to building systems, presumably in United Technologies areas of expertise which include heating and air conditioning systems as well as elevators and escalators, along with various aerospace products.
---
(Prior Story) Local News Article 06659 (Next Story)
"The BUZZ" - Read Feedback From Readers!
swingdancer2 Says: On January 16, 2012 at 10:26 AM

It's pretty cool that the Edson will finally be coming to Bay City, but what would really be something is to have one of our own built by, "Defoes Ship Building Company" along side of her.
fwiggles Says: On January 17, 2012 at 01:07 PM

I served on the EDSON frof 1969 through 1973. I came on board her in the Spring of 69 stright out of FT C SHOOL at Great Lakes. a nd left her in Dec of 73! did not see her again until th1996 reunion in New york! I took my two grown daughters to see her. Look ing forward to taking my Wife to see her come in!
dwalter Says: On January 18, 2012 at 12:00 PM

I served as an Electrician Mate on Edson from November, 1968 to July, 1970 under Commander's Holmes and Boyle.
Great Skippers!
I can't wait to journey east and see her again!
dswacks Says: On January 21, 2012 at 10:35 AM

It's about time I hope this is true these men have worked tirelessly to get that boat here. they can celebrate their persistence!!
---

Dave Rogers




Dave Rogers is a former editorial writer for the Bay City Times and a widely read,
respected journalist/writer in and around Bay City.
(Contact Dave Via Email at carraroe@aol.com)

More from Dave Rogers
---
Send This Story to a Friend!
Letter to the editor
Link to this Story
Printer-Friendly Story View
---
--- Advertisments ---