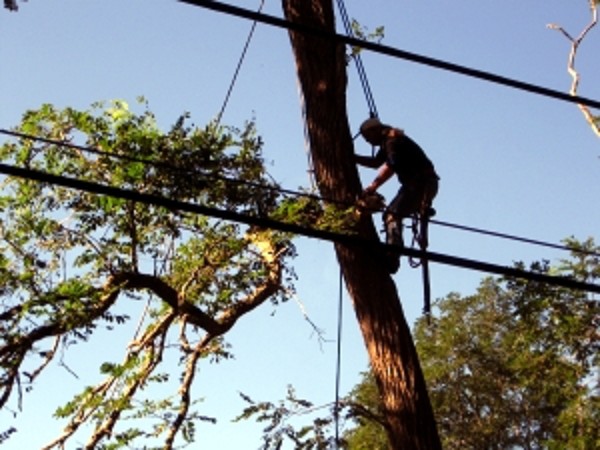 Consumers Energy is raising many questions with its line clearance tree removal now underway in Bay County.
---
TREE CUTTING QUESTIONS: Consumers Energy Line Clearance Work Controversial
November 18, 2012 2 Comments
By: Dave Rogers
Consumers Energy is raising many questions with its line clearance tree removal now underway in Bay County.
Jon Hall, communications director of forestry operations for Consumers Energy, has told the media the company works hard to establish communication with all involved.
One of the biggest issues is the large sections of trees left for the homeowner to remove.
Another frequently asked question:
Is there any charge for your line maintenance tree trimming work?
CONSUMERS' ANSWER: "The tree trimming done by Consumers Energy to provide clearance for our electric lines is included in our normal rates. Our Private Tree Service Program is offered for other customer-requested trimming. For more information, or to get an estimate, call (800) 582-4238, or complete our tree trimming bid form."
"These conflicts with wires and trees are happening all over the state and mostly where inappropriate species are being planted near overhead wires," he said during a Flint Township subdivision dispute a few years ago.
He urged homeowners to research www.arborday.org for advice on planting the right tree in the proper place.
Installing wires underground would cause more damage than overhead lines, he said.
Trees would be removed, as would lines when needing repairs, and trenches would be dug in lawns. Trees can't be planted over the underground lines because root systems can damage them. He said people think there are fewer outages with underground lines, but that's not so.
Ash trees in Michigan are being infested by an invasive insect species called the Emerald Ash Borer. This bug has killed millions of ash trees in the Lower Peninsula and there seems no hope to stop it. Once an ash tree dies it will stand for up to three years then fall to the ground, usually in one piece, with the potential to cause severe property damage and injury.
We strongly recommend that you have Consumers Energy, or another qualified tree removal company, remove the tree(s) as soon as possible. Contact the number on the card you received to have Consumers Energy provide a bid.
There are safety issues, too. If a homeowner is digging with a metal shovel and hits a gas line, it hisses and smells. With a power line, there is no warning. "It's fatal," Hall said.
He said the chunks of wood left behind are cut to a size that can be handled and that most people want the wood.
###
---
"The BUZZ" - Read Feedback From Readers!
nvinbc Says: On January 20, 2013 at 03:25 PM

Consumers Power crews cut about 20 trees in our yard and did a wonderful job. We had considered having them cut down for several years but did't have it done due to the cost. A Consumer Representative stopped by and asked about cutting them. I asked how much they were going to cut and he said "We'll cut whatever you want. We'll cut them all the way to the ground--if you want." They said it would be a month or so before they would be working here. When they came last year, they did a wonderful job. They even raked the yard afterwards. There was very little left for us to do but put the few pieces left out by the road with a sign saying FREE WOOD. By the end of two weeks all the wood was gone. Nothing left but homeowners and wood burners that were very happy for all their free work.
blhailston Says: On August 25, 2016 at 12:31 PM

I have 2 large tall Ash trees near power lines that died over the winter. Would Consumers remove them as a normal course of line area maintenance or would I be charged for the removal?
---

Dave Rogers




Dave Rogers is a former editorial writer for the Bay City Times and a widely read,
respected journalist/writer in and around Bay City.
(Contact Dave Via Email at carraroe@aol.com)

More from Dave Rogers
---
Send This Story to a Friend!
Letter to the editor
Link to this Story
Printer-Friendly Story View
---
--- Advertisments ---