MICHIGAN POTTED? Movie May Secure Fame for Movement's Start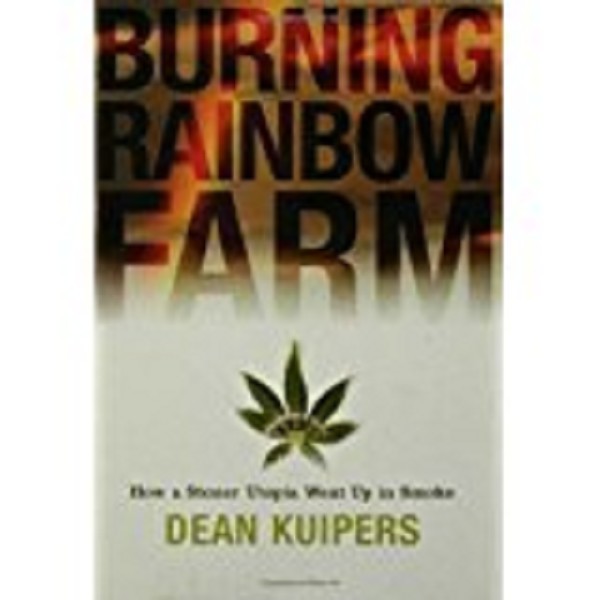 Soon the nation may recognize the tragic events in 2001 at Michigan's Rainbow Farms as the apex of a recreational pot wave that is sweeping the nation.
A book published in 2006, "Burning Rainbow Farm," is currently being made into a movie featuring Rainbow Farm in Cass County.
However, Michigan voters will have a say on Nov. 6 Whether the wave will come crashing to an end in Michigan; by some prognosticators, this state's public is not totally convinced widespread pot use is the nirvana it has been cracked up to be.
Bay City, for one, has maxed out on receiving applications, with 25 firms or individuals seeking city approval. The city charges $5,000 for an application and the state $6,000. Many available buildings have bee snapped up by pot speculators looking for a fast start if voters approve recreational pot use in the November election.
A deadly standoff revolving around marijuana and a campground property that resulted in the death of two West Michigan men is in the early stages of being made into a movie.
According to Dean Kuipers, author of "Burning Rainbow Farm: How a Stoner Utopia Went up in Smoke," director Lenny Abrahamson has signed on to direct the movie, which was also optioned by a production studio.
If the movie is a success, Michigan may enter the counterculture hall of fame along with Waco, the hippie heaven of Woodstock in upstate New York, and the Stonewall Inn in New York's Greenwich Village which launched the international gay rights movement.
Rainbow Farm was a relatively popular campground in Cass County with a reputation for being friendly to the idea of recreational marijuana.
It was also known for hosting big name entertainment, such as Big Brother and the Holding Company, Tommy Chong and Merle Haggard.
The operators of the farm, Tom Crosslin, and Rolland Rohm, later faced multiple charges stemming from the fact that marijuana was grown on the property, among other things.
Through asset-forfeiture laws, law enforcement and the Cass County prosecutor's office sought to take the property away from Crosslin and Rohm, who had previously been in trouble with the law.
"They wanted it to be legalized," said Kuipers, author of the book. "I think that when this all went down and he discovered he was subject to asset forfeiture, I think that just sent him over the edge."
For days, both Crosslin and Rohm refused to come off the farm, and armed themselves as the Cass County Sheriff's Office, Michigan State Police and FBI surrounded the campgrounds.
At one point Crosslin set fire to part of the property as tensions escalated.
Days later, both men were shot by an FBI agent and State Police Officer. According to the FBI at the time, Crosslin raised his gun while approaching the agent.
The deaths of Crosslin and Rohm remain controversial 17 years later, with some feeling that too many law enforcement resources and federal resources were used, escalating tension.
Kuipers, author of "Burning Rainbow Farm", is originally from Mattawan. He moved to Los Angeles but flew back to West Michigan to watch the scene at Rainbow Farm unfold once he saw it make national headlines back in 2001.
"It's really unfortunate that Tom and Rollie really felt so threatened by what was happening that they themselves picked up weapons," Kuipers said, referring to their final days alive and weeks leading up to the standoff. "There needed to be a dialogue with the authorities because Tom was that sort of guy, and he tried to go to the prosecutor's office several times to settle differences before it escalated to this point."
In some circles, the standoff at Rainbow Farm was marked as an infamous milestone in the push to legalize marijuana for recreational purposes, but in a more broad sense, it has been somewhat forgotten, perhaps due to the incident taking place just before 9/11.
"I think the Rainbow Farm story is something that resonates with people when they hear it," Kuipers said, "People aren't supposed to die because of their stance on whether or not you can smoke weed and in the end, that's what happened."
Kuipers acknowledged, however, that in end, Crosslin and Rohm broke the law, and that Crosslin also played a role in escalating tensions.
"It seems really apparent that Tom shot at a news helicopter and that's really bad," Kuipers added. "But they had the support of so many in the community who wanted the police to go in there and try to talk with them."
Kuipers says although the book now has a director and production company hoping to turn it into a movie, it's still too early to predict a release date.
2018 is poised to become the year that cannabis becomes legal in our state, and Michigan NORML has been working towards November 6th, 2018 since the NORML affiliate was organized in 2001. Michigan NORML was formed after tragic events at a hippy conclave known as Rainbow Farms resulted in the murders of two men who advocated for cannabis reforms long before Michigan NORML was organized. The sole mission of our original founders was to legalize cannabis so that no other person had to die for a plant!
Michigan NORML has upgraded its website, developed presences on Facebook, Twitter, YouTube and soon on Instagram. It also partners with the Action Network, a company that has created a comprehensive back-end application specifically for organizations like ours, that provides Michigan NORML with the member management software that has fueled our recent expansion. Michigan NORML is assembling a social media machine! We are feeding it with content and building our subscriber database daily. Right now our total subscriber network reaches over 10,000 supporters!
"In January we hit the ground running by launching our 2018 GET OUT THE VOTE campaign to register all 1.5 million cannabis consumers in Michigan," said a NORML official. "Additionally, all our supporters were provided with a report card grading the performance of their member of the United States Congress. Michigan NORML then followed that action up by contacting all those legislators with an email blast. We've also contacted every member of the Michigan legislature, both Senators, and Representatives, multiple times asking them to support specific legislation and to repeal the 6% PATIENT TAX.
Michigan NORML has reorganized as a 501(c)(4) lobbying organization to have greater flexibility to engage in direct political actions. It has restructured our chapter system to provide for a more defined and efficient chapter structure. We have also taken steps to insulate our brand from interlopers by registering social media names that closely resemble our name. That has been a problem for us in the past and it's the reason we can not register any version of the Michigan NORML brand on Instagram today.
###
---
---

Dave Rogers




Dave Rogers is a former editorial writer for the Bay City Times and a widely read,
respected journalist/writer in and around Bay City.
(Contact Dave Via Email at carraroe@aol.com)

More from Dave Rogers
---
Send This Story to a Friend!
Letter to the editor
Link to this Story
Printer-Friendly Story View
---
--- Advertisments ---