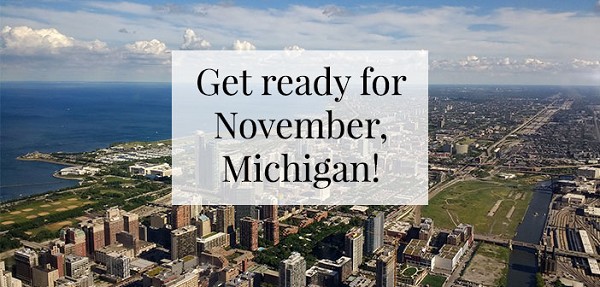 POT VOTE DICEY: Legal Marijuana Not a Slam Dunk, Opponents Say
Although one poll shows 60 percent of voters approve, the Nov. 6 vote to legalize marijuana in Michigan may be facing an uphill battle.
Scott Greenlee, a political consultant who heads an anti-pot coalition that includes the Michigan Chamber of Commerce, police and faith-based groups, says his polling puts support for legal pot at just 48 percent.
"These results indicate that as more people find out about the details, support is less than certain," he added. "The proposed ballot measure calls for the lowest taxes on recreational marijuana in the country. Essentially, Michigan would become the marijuana capital of the United States if the proposal was passed as the ballot language is written."
Although Republican state legislators considered legalizing pot to suppress pro-pot voter turnout, no action was taken within the 40-day window and the legalization issue now is approved to appear on the Nov. 6 ballot.
Greenlee, a spokesman for Healthy and Productive Michigan (HPM), said: "We remain opposed to the legalization of recreational marijuana in any form and are against the legislature passing it, or of course, the general public passing it in November," he said. "We will continue working against it on all fronts."
Greenlee, a guest on Off the Record with Tim Skubick, said while alcohol dissipates in the body virtually overnight, marijuana may last three or four weeks.
HPM states: "The only ones getting rich are the marijuana industry. State governments and society lose money whenever pot is legalized. Whether it is costs to employers, increases to social service costs, the rise in homelessness or the regulatory system created to manage the marijuana program, the marijuana industry doesn't pay these costs. Instead, we all pay -- citizens, employers, and state government. Thus, any revenue is outweighed up by the societal costs attributed to legalization. This is just like tobacco and alcohol, where costs far outweigh revenues.
Several states, including Vermont, Ohio Rhode Island, Delaware, and Arizona, have rejected the idea that recreational marijuana is good for their state. People in states with legalized marijuana, like Colorado have found that things are not as they expected.
Michigan voters legalized cannabis for medical use in 2008 when 63 percent of voters approved Proposal 1.
Meanwhile, Detroit Metro Times reports that locally approved marijuana dispensaries that have applied for licenses under new rules can now stay open three months past an initial June 15 deadline as they wait for their license requests to be processed. The Michigan Department of Licensing and Regulatory Affairs has granted the applicant businesses permission to operate until Sept. 15, in a move designed to ensure marijuana patients can continue to get their medicine while the state prepares to issue licenses. The deadline to apply for a license was Feb. 15."
Metro Times opined: "It also seems that it's going to get uglier before it gets better, as we see who will actually get licenses and who will get their dreams smashed on the rocks."
The Committee to Regulate Marijuana Like Alcohol (CRMLA) asserts:
- Marijuana has legitimate medical uses and is proven to be safer and less addictive than either alcohol or tobacco;
- The continued enforcement of marijuana prohibition wastes law enforcement resources and clogs our legal system;
- Taxing and regulating marijuana has the potential to generate hundreds of millions of dollars that will be dedicated to Michigan's roads, schools, and local governments
- The campaign is proposing a set of strict regulations that follow best practices from other states that have already legalized as well as the regulatory system set by the legislature in 2016;
- Local communities will have the authority to regulate marijuana businesses within their jurisdictions or ban them altogether;
Michigan would be the 10th state to legalize marijuana for adults 21 and older.
###
---
---

Dave Rogers




Dave Rogers is a former editorial writer for the Bay City Times and a widely read,
respected journalist/writer in and around Bay City.
(Contact Dave Via Email at carraroe@aol.com)

More from Dave Rogers
---
Send This Story to a Friend!
Letter to the editor
Link to this Story
Printer-Friendly Story View
---
--- Advertisments ---