WIND BONANZA?: Economic Blessing to Some Farmers, Abhorred by Others
Upper Thumb Has Most Concentrated Wind Farms in State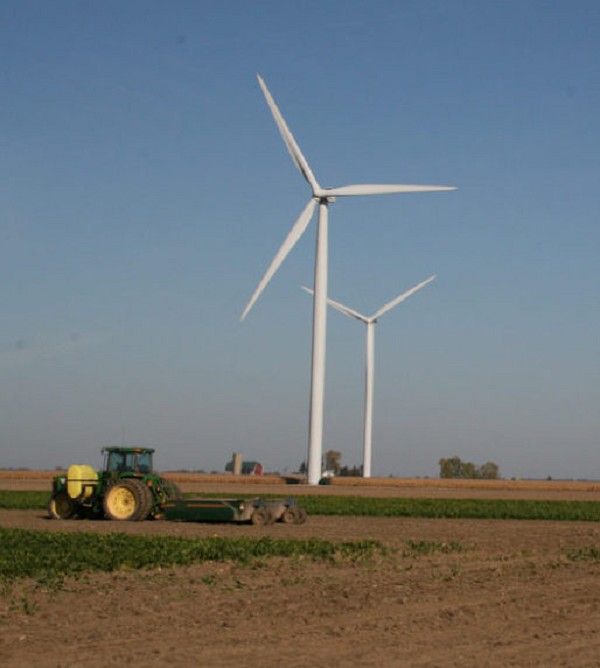 Windmills dominate farming scene near Pigeon in Michigan's Thumb. (Energy News Network)
Wind farms are proving to be a blessing to some farmers and a curse to others.
As the Monitor Township Board prepares for a beehive of angry citizens at a 7 p.m. meeting Monday night, officials undoubtedly worry that if the proposed siting of windmills is scratched, tax revenue that would supplement the budget will be lost.
Anti-windmill signs have sprouted in multiple locations in Monitor, stating: "Too Tall, Too Close, Too Loud." They are part of a citizens campaign seeking to derail plans by Detroit Edison to install windmills in multiple locations in the township.
Bloomberg Businessweek recently observed: "The more than $100 billion that companies have invested in wind power in low-income counties --where about 70 percent of wind farms are located -- has helped double assessed land values in some of the poorest parts of rural America."
"The counties that host the largest number of turbines by far -- by far -- have the largest increase in the total taxable value of property in their jurisdictions," said energy consultant Stanley Pruss.
Four counties that hosted the most wind turbines in 2014-2015, he added, saw more than $45 million directed to communities in those areas.
"These are agricultural counties," Pruss said. "That's a huge amount of money that went to operating budgets, townships, counties, police and fire."
In February 2014, farmers from 14 townships in Michigan were surveyed by Sarah Mills of the University of Michigan, and 1,210 landowners responded. Mills found that those with turbines on their property invested twice as much in their farms in the last five years than neighboring landowners without turbines. That included improvements to homes, outbuildings, equipment, and drainage or irrigation.
The survey also found that landowners with turbines bought more farmland than others in the past five years and that they are "more likely to have a succession plan in place for their farm."
Businessweek also noted that "Wind energy, the fastest-growing source of electricity in the U.S., is transforming low-income rural areas in ways not seen since the federal government gave land to homesteaders 150 years ago."
For some farmers, turbines spin-off six-figure incomes that have allowed them to retire from farming altogether. However, this windfall his highly dependent wind conditions, location, local zoning, setback requirements and a bit of luck.
In Huron County Michigan, turbine projects and placement has pitted neighbor vs. neighbor and nasty exchanges in the township halls have ensued. While each lease is confidential, Bloomberg noted that landowners who sign lease agreements with wind companies typically get between $7,000 and $10,000 per turbine each year.
One landowner who spoke to Businessweek commented: "Before, I raised corn and soybeans and cattle. Now I don't. I'm a wind farmer."
In an analysis of the article by Tina Casey she noted, "The full impact of new wind turbines on local communities is a bit more mixed than the article represents, but it does underscore how the wind industry is playing a critical role rural economic development -- without the high risks and impacts of fossil fuel extraction."
Thumbwind.com is a blog covering the explosive growth in wind farms throughout the Thumb. Michigan's Upper Thumb currently has 472 operating turbines or 43% of total operating in the state.
Huron County has the largest installed wind energy base in the Great Lakes region. The Upper Thumb region also hosts a high-capacity, 140-mile electric transmission line called the Thumb Loop, capable of carrying electricity or up to 2,800 wind turbines.
The Tuscola Bay wind farm, located in Fairgrove, Michigan and owned by NextEra Energy Partners, was put into operation in 2012. Each of the 75 wind turbines in the farm is 262 feet high, with a blade length of 150 feet. The output of each turbine is 1.6 megawatts, with a total farm output of 120 megawatts.
###
---
---

Dave Rogers




Dave Rogers is a former editorial writer for the Bay City Times and a widely read,
respected journalist/writer in and around Bay City.
(Contact Dave Via Email at carraroe@aol.com)

More from Dave Rogers
---
Send This Story to a Friend!
Letter to the editor
Link to this Story
Printer-Friendly Story View
---
--- Advertisments ---