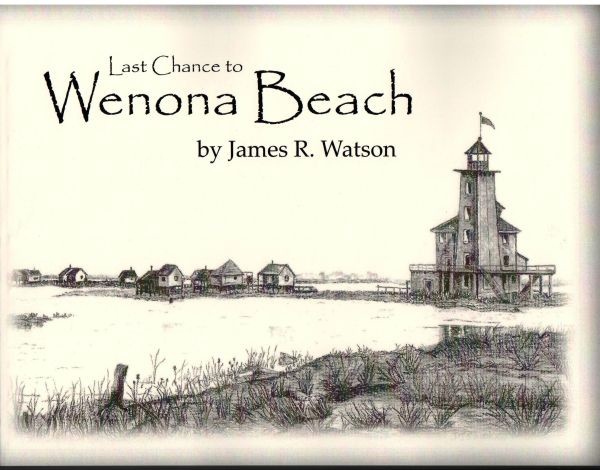 Cover of J.R. Watson's latest book features charcoal drawing by Donna Shook of Saginaw River lighthouse and hunter's shacks that once created a special community of waterfront dwellers.
---
WENONA BEACH REPRISED: J.R. Watson's New Book Recalls Glory Days
November 3, 2013 2 Comments
By: Dave Rogers
Only oldsters and a few early Baby Boomers (born 1946-1964) recall the days before 1966 when the public flocked to the bay at Wenona Beach, then an amusement park.
Longtime beach resident and marine enthusiast J.R. Watson, a Gougeon Brothers retiree, is now out with his second book extolling the history of Wenona Beach and the bayfront area that was a Mecca for sailors, fishermen, cottagers, swimmers and boaters in the nine decades between 1876 and 1966.
The book, "Last Chance to Wenona Beach," is a marvelous 125 page walk back in time, linking the beach and town with historically important photos of sites and scenes and the people who reveled in its glory days.
The bayfront property that once was the amusement park is now the Wenona Beach Estates Mobile Home Park. Attempts to purchase the park, and renew public access there, were reportedly unavailing because of costs. Besides the price of the park, dozens of mobile homes would have to be moved and residents relocated.
Unofficial reports are the mobile home park is being considered by a developer for a high-rise luxury condominium complex, using the now more attractive bay shoreline as an asset. Such interest would doubtlessly put the price of the park out of range of local public recreation planners, observers indicated.
Recently, the Bay Area Chamber of Commerce launched an effort to reopen public access to Saginaw Bay. A "full court press" is being mounted to gain access to, and develop the old Paraleon Beach at the foot of State Park Drive.
Currently there are only a few very limited places where anyone can view the bay and go fishing, wading or swimming from the shore.
Shunned and deprecated for years as a center of pollution after decades of industrial and sewage dumping, environmentalists now see the bay, and the river, as recreational assets.
Why the difference now?
Besides wastewater control efforts for the past 20 years, and treatment of combined sewage discharges, massive amounts of contaminated bottom spoil have been removed and placed in two huge confined disposal area (CDAs). One disposal area is the so-called Sludge Island at the mouth of the river and the other bridges Bay County's Frankenlust and Saginaw's Kochville township on the west bank of the river.
The late Frank Cliff, prosperous machine shop owner, in the mid-1960s, bought the deteriorating amusement park with its iconic Jack Rabbit, Ferris Wheel, Casino and other memorable attractions.
The economy being what it was, and Midwest vacationers opting for bigger attractions like Cedar Point, the heady days of Wenona Beach as an amusement park were over. It became a new investment opportunity -- a mobile home park.
J.R. Watson, "Captain Watson" to some insiders, has produced a treasure trove of Wenona Beach nostalgia for the reverie of old time residents, and the revelatory initiation of newer ones.
Watson traces the history of the area from the development of Oa-At-Ka Beach in 1876. Oa-At-Ka (meaning 'queen of the waters') was a popular grove established by Eulalie LeRoux, Narcisse LaPorte and Thomas Donahue.
A pier, viewing tower, bath house, hotel, dance pavilion and a restaurant called "The Beach Club Room" operated by John Archibald, along with cottages, brought scores of visitors. Soon a merry-go-round and other rides were installed. An 1897 map even shows an opera house. It was located at the foot of Carriage Road, now Bangor Road.
The Battle Creek and Bay City Railroad snaked in from West Bay City in 1890 and the Wenona Coal & Mine Company provided employment for locals. The Bay Side Post office was across the trail from the mine.
An ice house was established in 1909, served by the Grand Trunk Railway bringing the necessary cooling blocks to Bay City.
Wenona Beach, opened in 1887 several miles east, topped Oa-At-Ka by building the ornate Victorian 3,600 seat vaudeville and resort house, with fun-lovers flocking in by electric cars of the Bay City Traction Company.
Visitors from all over the Midwest came to experience the thrill of the roller coaster, installed in 1903 at a cost of $12,000. A water plant with pipes running into the bay served the resort grounds and cottages at Aplin Beach and Oa-At-Ka with "fine pure water."
Watson's book is illustrated by historic photos of the resort courtesy of the Bay County Historical Society and the author's own collection.
Yacht racing was held for the entertainment of crowds ranging up to an amazing 5,000 on the 4th of July 1896.
A massive casino was renamed the pier and entertainment switched from Vaudeville to roller skating. The list of performers who had appeared there was topped by the Marx Brothers and Ozzie Nelson, but nobody stayed longer or was more popular than the incomparable Harry Jarkey.
Watson reviews the other beaches, Frenchy's and Whitey's fishing docks, the growth of the sailing community and yacht clubs and such iconic places as Sunset Shores plus the inimitable Last Chance Saloon near the Belinda Bridge where the motorman would shout "Last Chance to Wenona Beach!"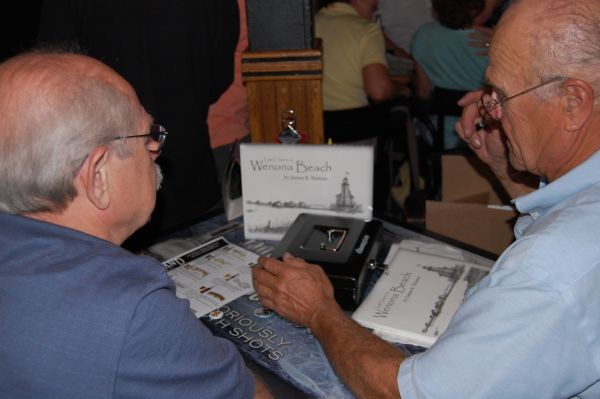 Capt. Watson autographs books at the Bier Garten where a large crowd gathered for the book debut.
Photo by Dave Rogers
© MyBayCity.com
###
---
(Prior Story) Community Article 8552 (Next Story)
"The BUZZ" - Read Feedback From Readers!
sunbeamf Says: On November 12, 2013 at 02:28 PM

Where can I buy it? Loved the first book.
jasmin292 Says: On March 04, 2015 at 07:25 PM

I recently checked out "Last Chance to Wenona Beach" by James R. Watson. What a great book. I would like to purchase a copy if I only knew where to gat a hold of it. I checked on-line at Barnes&Noble with no luck. I'm hoping that you could direct me to where I could order one.

Thanks in advance
---

Dave Rogers




Dave Rogers is a former editorial writer for the Bay City Times and a widely read,
respected journalist/writer in and around Bay City.
(Contact Dave Via Email at carraroe@aol.com)

More from Dave Rogers
---
Send This Story to a Friend!
Letter to the editor
Link to this Story
Printer-Friendly Story View
---
--- Advertisments ---