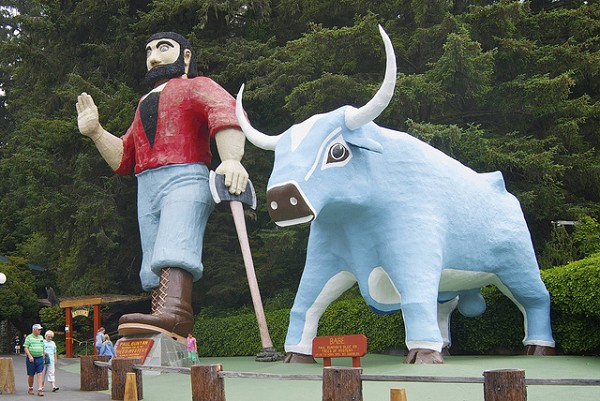 One of the many Paul Bunyan images around the country, this one at St. Ignace, Michigan.
---
BUNYAN MODEL? Bay City Lumberjack Joe Fournier Tale Now Subject of Song
February 9, 2015 1 Comments
By: Dave Rogers
The legend of Paul Bunyan lives in poetry, prose and music from opera and now even to rock.
J.D. Dominowski has written and recorded a song, "The Ballad of Saginaw Joe," to add to the fame of the legend.
More than 25 years ago, in 1990, I wrote and published a book giving all the evidence I could find that Fabian "Saginaw Joe" Fournier was the model for the legend of Paul Bunyan.
The book is "Paul Bunyan: How A Terrible Timber Feller Became a Legend," published by Historical Press L.L.C., (192 pages, $15.)
Up to now no one has challenged the theory that the character of Paul Bunyan was based on the real-life exploits of Fournier.
In fact, just the opposite, as shown by the following recognition the book has received:
*Booklist of the American Library Association reviewed the book in 1990, commenting: "If you think Paul Bunyan and Babe the Blue Ox are totally imaginary, you're in for a surprise: both are based in reality."
*We were invited to make a presentation to the Omaha, Nebraska, public library in connection with a Paul Bunyan Opera premiere in 2000. The opera by was sweeping the world about that time.
*We have been welcomed by bookstores and public officials to Oscoda, where the tale originated with Oscoda Press writer James T. McGillivray in 1906, for the Paul Bunyan Festival.
*We have been interviewed on camera for two documentary movies about the Paul Bunyan Legend by filmmakers from Minnesota and Canada.
*The enshrining in timber times folklore of Hell's Half Mile, first described by Bay City historian Col. Augustus Gansser in 1905 and amplified in my book, has captured the imagination of local folks and those farther afield who conduct the Hell's Half Mile Film Festival every year, drawing crowds to dozens of amateur film showings.
The first edition of 2,000 hardcover copies of the book sold out in the first year, acquired mainly by libraries. The second paperback edition, still available, has been updated to include what I consider "hard evidence" that directly links Joe Fournier and Bay City to the Bunyan legends.
Among the "special notes" updates is the fact that Seattle lumberjack author James Stevens, spent nearly the entire year of 1931 in Bay City and Grayling researching the roots of the legend. Also mentioned is the fact that Stevens wrote an article in 1931 entitled "Iron Man of the Saginaw" published by famed Baltimore editor H.L. Mencken in his popular American Mercury Magazine. Also, in 1932 Stevens wrote the "definitive" book on the origin of Paul Bunyan, entitled "The Saginaw Paul Bunyan," nailing down his home town.
Stevens specifically mentions Fabian "Saginaw Joe" Fournier interchangeably with Paul Bunyan in the American Mercury article.
Hundreds of books with fanciful Bunyan yarns and a Disney movie have unfortunately built the legend into an unbelievable fantasy. Make no mistake, however, the story started with a real lumberjack. Perhaps Fournier, with a little of Silver Jack Driscoll thrown in for good measure.
Driscoll and Fournier fought their Homeric brawl at the Red Keg Saloon in Averill (now Sanford) that was reported by several writers and immortalized in a painting that has long gone missing.
Now comes a literary blogger who goes by the name of Ashe of One-elevenbooks who, after all these years, kicks dirt into Joe Fournier's face.
The best thing about the book is the giant pancakes, she writes, charging that there is little in the book to prove that Joe Fournier was the model for Paul Bunyan.
I guess, after all these years and the monumental pile of evidence that Fournier at least was model for Bunyan, we have to let that one pass as superfluous and irrelevant.
The legend that Joe Fournier was Paul Bunyan now seems to have superseded the legend of Bunyan himself. Critics might as well say there is no Santa Claus as to try to separate the two. Both Bunyan and Santa are resident figures in the hearts and minds of children everywhere, aren't they?
The latest glory to come the way of the legend comes from J.D. Dominowski, a singer-songwriter, who writes:
"We recorded "The Ballad of Saginaw Joe" a few weeks ago at Bay City's Reed Recording Company and shared it via our band's social media pages and it's drawn quite a bit of discussion!
It was difficult to put into a 'song' format due to the amount of information that is out there....but I would like to say thank you for your time researching this and writing about it in such length and detail. I thought it was such a neat story that it needed to be put out, at least locally, in a musical format of some kind.
Local history/folklore isn't the easiest subject for a rock band to write about and release, but I do hope it generates some new interest in not only Fabian Fournier's story but the countless other tales of our area."
https://soundcloud.com/deerhorn-1/sins-in-stereo-the-ballad-of-saginaw-joe-rough-mix
THANKS JAY DEE! I can't wait to hear this song.
###
---
---

Dave Rogers




Dave Rogers is a former editorial writer for the Bay City Times and a widely read,
respected journalist/writer in and around Bay City.
(Contact Dave Via Email at carraroe@aol.com)

More from Dave Rogers
---
Send This Story to a Friend!
Letter to the editor
Link to this Story
Printer-Friendly Story View
---
--- Advertisments ---