ALICE WIRT: Longtime Community Benefactor Mourned, Husband Jack Remembered
February 18, 2015 1 Comments
By: Dave Rogers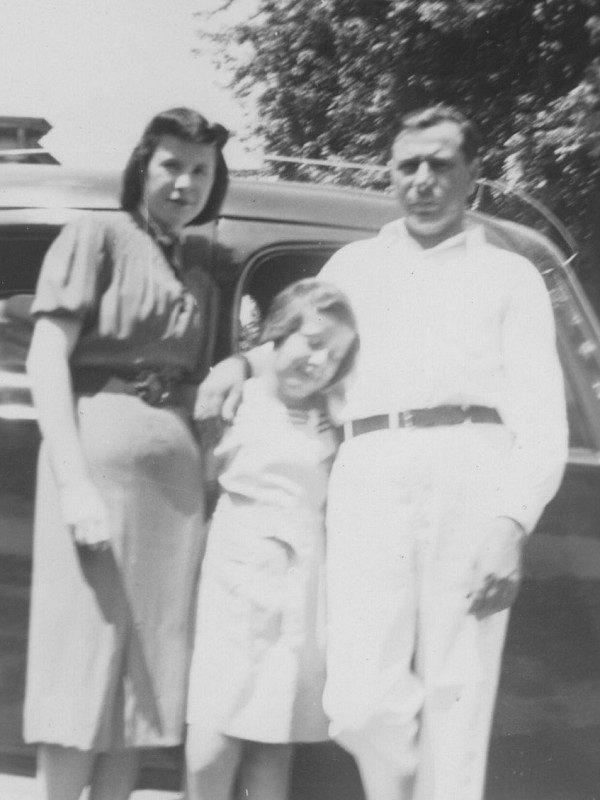 Pictured are Alice Wirt, left, with Alice's father, Dave Karse and Alice's younger sister, Florence.
If you go to the main public library, The Alice & Jack Wirt Library at 500 Center Avenue in Bay City, you will be experiencing one of Alice Wirt's legacies.
Almost everywhere one goes in Bay County the memory of Alice Wirt will shadow you:
*The Boys and Girls Club;
*Delta College;
*Saginaw Valley State University;
*McLaren Medical Center;
*The Bay Area Women's Center;
*Boy Scouts of America;
*Temple Beth-Israel.
And no doubt many other community causes that make a town civilized and welcoming.
Alice died this week at age 93, joining her husband Jack, who died in 2012, the other part of the team that did well in Bay City and shared their bounty with others.
Andrew Rogers, president of the temple, summed up her value to the community: "It was Alice's kindness that stood out and complemented that of her husband Jack."
"Jack's humble beginnings began with a dump truck and a lot of guts as he grew his business founding The Wirt Stone Docks, Sand and Stone, and Michigan/US Ash," stated his obituary upon his death May 19, 2012.
Born Jack Wirtenstein April 6, 1917 in Buffalo, New York, Jack grew up in Detroit and moved to Bay City in 1941. One of Jack's first enterprises in Bay City was a lending library -- lending books for pennies a week in the 1940s. No doubt that led to his later interest in helping the public library system.
Next was a sand and gravel business at 107 S. Lincoln Ave.
"Jack's philosophy, along with his wife Alice's was to give back to his community through significant philanthropy."
One of Jack's most significant accomplishments should not go unmentioned, but it came out when he was interviewed by a Bay City Times columnist writing about "senior citizens" in the 1980s.
Jack told the columnist he almost went broke in starting the Michigan Ash Company. His idea was to process fly ash retrieved from the waste of electrical generating power plants and mix it with concrete. Jack knew the ash would fill in the unseen minute gaps in concrete and prevent water from eroding streets, roads and structures.
However the equipment needed to process the fly ash by sifting it in huge silos was extremely expensive. But Jack made the investment and finally made it pay; his US Ash trucks may be seen all over the nation. How many people have any idea what the ash is for or the incredible benefit it brings to a nation's economy?
States the National Precast Concrete Association: "Fly ash is residue left from burning coal; it is captured with electrostatic precipitators, scrubbers or filter fabric baghouses in power plants, then sluiced to settling basins (wet) prior to disposal or stored in silos (dry) for sale or disposal.
"Economically, it makes sense to use as much of this low-cost ash as possible, especially if it can be used in concrete as a substitute for cement."
By some estimates, Jack's innovation -- much copied by other firms -- extends the life of highways and concrete structures by up to 10 years -- a magnificent benefit to the infrastructure of the nation that has largely been unrecognized.
Jack never claimed to be first to use fly ash nationally, but in the 1970s he sewed up contracts at all the Consumers Power plants and the Lansing Board of Water and Light. That meant he had to build processing facilities costing millions of dollars at each plant.
Fly ash suppliers use it to improve workability of fresh concrete and reduce water demand, shrinkage and permeability of the finished product.
What better way to dispose of unwanted coal ash and curtail pollution than by making it a useful part of roads and structures?
---
"The BUZZ" - Read Feedback From Readers!
dtwirt Says: On February 19, 2015 at 11:24 PM

Dave,

I need to add this correction.

That picture is actually of my Mother Alice, my grandfather (her Dad) Dave Karse and the little girl Is her sister, my Aunt Florence.

Thanks for such a nice tribute to my Mother!

Best Regards,

Doug Wirt
---

Dave Rogers




Dave Rogers is a former editorial writer for the Bay City Times and a widely read,
respected journalist/writer in and around Bay City.
(Contact Dave Via Email at carraroe@aol.com)

More from Dave Rogers
---
Send This Story to a Friend!
Letter to the editor
Link to this Story
Printer-Friendly Story View
---
--- Advertisments ---