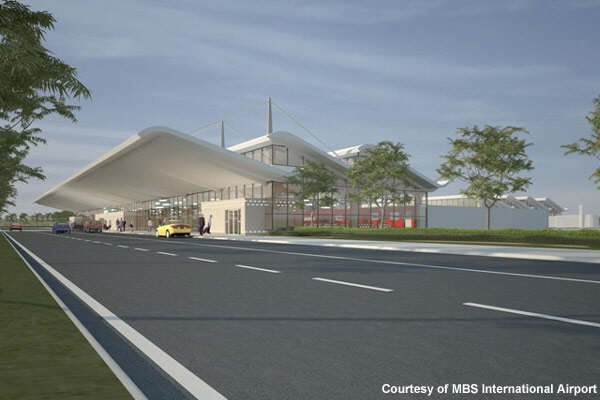 Futuristic new $50 million MBS International Airport Terminal will be open to the public Saturday.
---
MBS NEW TERMINAL: Federal Government Paid $35 Million, Economic Boost Seen
Study Showed Airport Generates 700 Jobs Creating $24 Million Annually
October 28, 2012 1 Comments
By: Dave Rogers
Is the new $50 million MBS International Airport Terminal an example of the much-maligned federal economic stimulus program?
The spanking new expanded, and futuristic design building is opening a year ahead of schedule, raising questions of how much political calculation has gone into the project.
"Does the fact that the airport is being opened just days before the Presidential election mean anything in particular?" asked a skeptical political observer.
"It doesn't matter -- we really needed this upgrade to our air service facility," said another observer, dismissing the timing of the opening as coincidental, noting: "In fact the expansion was being planned way back during the Bush Administration."
The fact that no local tax dollars were used in the new terminal may gladden the hearts of conservatives and liberals alike.
So, should we be concerned that our income tax or other federal monies are funding what could be considered a "pork barrel" project for the so-called Great Lakes Bay Region?
The Boyd Report says, no, the funds for the project come from travelers. "The U.S. value domestic ticket tax (currently 7.5 percent of base fare plus $3.30 per segment) is used to fund FAA operations and the Airport Improvement Program."
The high mark for passenger traffic at MBS occurred in 1998, with over 300,000 enplanements in one year, according to the Boyd Report. Enplanements in recent years have been impacted by the attacks of September 11th, as well as development of low-fare airline service at FNT."
In total, MBS departing passengers paid approximately $54.5 million in taxes, user fees, and passenger facility charges from 1995 to 2005.
Although MBS enplanements dropped to 201,000 in 2005, the combined value of time and cost of travel benefits to local users of MBS International Airport exceeds $7 million annually, the report stated.
Regardless of possible political machinations, airport expansion backers noted that MBS (Midland, Bay, Saginaw) has been in a tussle for passengers with Flint's Bishop Airport (FNT in airport speak) for years. "This gives us the competitive improvement we so desperately needed," the terminal supporter stated, commenting: "Thank God for Uncle Sam."
"To be sure, there will continue to be substantial numbers of passengers who will drive south to access the higher levels of air service that FNT can support. However, the conclusion is that the rate of traffic leakage from the MBS service area to Bishop International has essentially plateaued," said the Boyd Group report.
Once known as Tri-City Airport, the facility is operated by the cities of Midland and Saginaw and the County of Bay. A nine person board is appointed by the local municipalities.
Area residents have been invited to tour the new facility this weekend and see for themselves what Uncle Sam, generally, and the Obama Administration, in particular, have wrought.
In early planning, the economic impact of MBS International Airport on Midland, Bay and Saginaw counties was estimated to have been approximately $100.1 million. That was a 2005 estimate and the impact no doubt has risen. This figure includes wages, economic output, and tax revenues.
Labor income for the 678 estimated jobs generated by the airport was estimated at nearly $24 million per year by the Boyd Group, aviation consultant, of Evergreen, Colorado. That figure, too, is no doubt expanded in today's dollars and perhaps in number of jobs created.
The bulk of the cost of the terminal, about 70 percent, or an estimated $35 million, has been put up by the Federal Aviation Administration (FAA).
The airport is contributing about 20 percent of revenues, mainly from airline ticket taxes assessed to travelers, and other funding brings in the remaining 10 percent.
After years of trying to serve southeast Michigan from FNT, AirTran has now entered DTW, signaling an end to expansion of that carrier's flight levels at Bishop, states a footnote in the Boyd report.
Airport Manager Jeffery Nagle, speaking to the Rotary Club of Bay City March 3, 2009, outlined the expansion plans and described airport operations.
MBS is somewhat unique in among municipal airports in that it does not receive tax funds, reported Steven Kent, Rotary secretary in The Breezes weekly newsletter. All operating funds are derived from facility leasing, landing fees, and federal FAA funds. The airport is responsible for covering all its expenses.
The airport management and commission have no control over air fares or other air carrier related matters. They can, and do, however market the facility to carriers. The FAA regulates much of the relation between airports and carriers. The airport can offer some incentives such as waiving landing fees for a period of time in exchange for new service.
Perhaps the biggest change at the airport is the planned new terminal to be built on the north side of the airport property. Nagle told the Rotary Club that the planned terminal is the result of considerable study and planning done in a transparent fashion and complying with all federal and state regulations.
"The study considered remodeling the existing facility, which is rapidly becoming obsolete," he said. "It was determined that renovation would cost more than a new building. Expanding and building onto the existing facility was considered but was not practical. A new terminal will answer the needs of the airport and its passengers in the most cost effective manner."
Construction of the new terminal will come from federal, local and state sources but will not use local tax dollars, Nagle said, explaining: "It is anticipated that 70 percent of the funds will be provided by the FAA."
However, air travelers here do pay a tax -- a user fee for TSA security. The Transportation Security Administration (TSA) has mandated that airlines add a security fee to all tickets sold on or after February 1, 2002.
The Boyd group reported: "This government-imposed fee, called the 'September 11th Security Fee,' is used to pay the government?s cost for providing Federal civil aviation security services. This includes training and salaries for security screeners, law enforcement personnel, and Federal Air Marshals. The September 11th Security Fee applies to all airline tickets, including frequent flyer award travel, and is calculated at $2.50 per flight number to a maximum of $5 per one-way or $10 per roundtrip."
So where did the 20 percent, or $10 million, contributed by the airport for the new terminal come from? Again, air travelers, as explained by the Boyd Report: "The Passenger Facility Charge (PFC) Program authorizes the collection of PFC fees up to a maximum of $4.50 for every enplaned passenger at commercial airports controlled by public agencies. These monies are used by the airports to fund FAA-approved projects that enhance safety, security, or capacity; reduce noise; or increase air carrier competition.
"Since February 1997, MBS International Airport has assessed a $3.00 PFC. The airport is authorized to collect a maximum of $8.925 million through March 2010."
---
"The BUZZ" - Read Feedback From Readers!
mirhyd Says: On October 28, 2012 at 11:00 PM

When we fly it's usually a family group of 6-8 people. If we drive to bishop in Flint we save on average $100.00 per person, $600 to $800 savings for a 45 min drive, not bad. And the long term parking acrossed the road from Bishop is 70% cheaper then MBS. I don't think I'll be seeing that new airport for a long time.
---

Dave Rogers




Dave Rogers is a former editorial writer for the Bay City Times and a widely read,
respected journalist/writer in and around Bay City.
(Contact Dave Via Email at carraroe@aol.com)

More from Dave Rogers
---
Send This Story to a Friend!
Letter to the editor
Link to this Story
Printer-Friendly Story View
---
--- Advertisments ---