Area Job Potential Said 66,000 with International Trade Hub Through Halifax
Flint's Bishop Airport to be Vital Part of I-69 Aerotropolis Transport Hub
March 25, 2012 1 Comments
By: Dave Rogers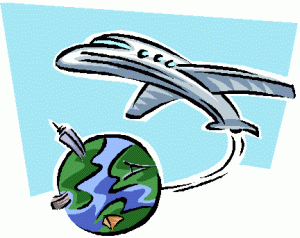 The NMDC designation is expected to drive potential new business investment and jobs for the Flint-Genesee Region. And Bishop Airport will be center stage.
The Great Lakes Bay Region may soon benefit from a nearby international trade hub under plans projected by Prima Civitas, (First City, First State) an East Lansing non-profit "think tank."
"Regional groups will spearhead this revolutionary endeavor to build Michigan as a center of trade and transport for the Great Lakes and the world," said Prima Civitas CEO Steve Webster, former associate director of the Michigan House Fiscal Agency and longtime Michigan State University vice president for governmental affairs.
In a related development, the I-69 International Trade Corridor partners from Genesee, Lapeer, St. Clair, and Shiawassee counties have taken the final step to become a Next Michigan Development Corporation (NMDC)/Aerotropolis designee.
Michigan Governor Rick Snyder's recent approval of the Act 7 inter-local agreement moves the partners closer to the culmination of a year-long effort that began at the invitation of the Michigan Economic Development Corporation (MEDC).
The application has now moved to the MEDC's Michigan Strategic Fund for approval of the designation.
Thirty-three municipalities in Genesee, Lapeer, St. Clair and Shiawassee counties signed on to the Inter-local agreement.
According to Tim Herman, CEO of the Genesee Regional Chamber of Commerce, the volume of support from communities across the I-69 corridor is impressive.
"This is a significant regional partnership that offers the opportunity for all of the partners to collaborate in new and different ways," said Herman. "Furthermore, the NMDC designation would allow the region to amplify our current efforts to reinvent Flint-Genesee County and grow the number of jobs and investment in our community."
David Hollister, former Lansing Mayor and Senior Vice President of Strategic Alliances for the Prima Civitas Foundation (PCF) concurs with Herman's perspective. He says the I-69 International Trade Corridor partnership takes regional collaboration to a new level. PCF, an East Lansing-based foundation focused on connecting the state's knowledge resources with public and private partners, plays a strategic advisory role with the partnership.
"I have worked on many collaborative efforts during my career, but never experienced this level of commitment among so many communities. It's unprecedented and truly historic," said Hollister.
The NMDC designation is expected to drive potential new business investment and jobs for the Flint-Genesee Region. And Bishop Airport will be center stage.
"When communities work together, it can only bring positive results for everyone and that's what's happening here...communities are pulling their resources together to move our region forward," said Jim Rice, Director of Bishop International Airport.
The NMDC will enable the I-69 Corridor to market the region's collective strengths to businesses that are engaged in international multi-modal commerce as an alternative to the congestion occurring at other border crossings, rail shipping/receiving yards and airports. In addition to Bishop Airport, key intermodal assets in the area include major freeways, the Blue Water Bridge, CSX and Canadian National rails, and several water ports.
"This is an exciting time for the Flint-Genesee region," said Janice Karcher, Vice President of Economic Development for the Genesee Regional Chamber of Commerce. "The communities that have signed on to participate in the NMDC see the opportunity to partner will benefit the regions' businesses and workers."
The Next Michigan Development Act allows for up to five NMDCs in the state to be granted by the Michigan Strategic Fund in cooperation with the MEDC. Currently, there are two designated regions.
The Prima Civitas effort also recently resulted in a $5.5 billion development plan for Iraq to be conducted by Michigan firms and organizations. (Please see details below.)
The Great Lakes International Trade and Transport Hub (GLITTH) is a project to capitalize on the immense freight traffic to and from the Port of Halifax, Nova Scotia, through the Detroit and Port Huron gateways.
Halifax provides an international trade connection to 150 countries.
"These two crossings, when combined, make southeast Michigan the largest international trade gateway in the country, yet only 6 percent of that traffic stops in the state," said Mr. Webster.
He projected that a freight hub near these crossings would, through both direct and indirect means, create over 66,000 jobs in the region.
Mr. Webster amplified: "But it isn't just the Detroit-Flint-Lansing triangle that stands to gain: despite a lack of exposure and public awareness, Michigan's agricultural sector is booming, and the ability to get commodities to market more quickly, both domestic and international, will help agribusiness and other industry vital sectors across the rural areas of the state."
Bay and area counties last year were highlighted at a Bay Area Chamber of Commerce Agri-Business Seminar. Speakers noted the massive potential for growth in the ag sector here, including transportation, storage, processing and growing as well as animal husbandry.


Further, easy access to transit and freight routes will induce logistics and manufacturing jobs throughout the state.
To address the vastly underutilized resource that is Michigan's geographic place in the global supply chain, Prima Civitas is partnering with:
Michigan Economic Development Corporation
The Port of Halifax, Nova Scotia
Michigan State University - College of Social Science
Michigan State University -Eli Broad College of Business
Canadian Studies Center at MSU's Institute for Public Policy and Social Research
Detroit Regional Chamber of Commerce
Genesee Regional Chamber of Commerce
Lansing Regional Chamber of Commerce
Dalhousie University, Halifax
Officials from the National Investment Commission of Iraq recently said the Commission has signed a memorandum of understanding (MOU) to construct a $5.5 billion planned urban development on the outskirts of Baghdad.
The consortium of Michigan companies leading this effort, MICH Development, is organized by the Prima Civitas Foundation (PCF), an organization founded by Michigan State University to leverage the university's diverse resources to assist the state.
The MOU with MICH Development will pave the way for a major investment that will improve the lives of Iraqi families while also creating opportunities for American businesses, particularly those in Michigan.
Dr. Sami Al-Araji, Chair of the Investment Commission and a Michigan State University alumnus, introduced this opportunity to MICH Development. PCF CEO Steven Webster said the MOU is the result of a long and complex set of discussions with officials in Iraq and Michigan businesses and paves the way for a second phase in the project's development - finding key construction management and financing firms to take on the challenges of this major project.
"Our lineup of strong Michigan firms has won us the right to move forward and add other key players that are vital to move this project from the drawing board to bulldozers," said Webster. "We are preparing now to engage in a national search for a senior construction management firm and a financing arm that will be able to move our work forward."
Obtaining interim financing as well as partnering with a globally competitive construction management firm capable of building such an extensive project in the Middle East will be vital in ensuring the success of this effort.
Patrick McRae, Director of International Programs for PCF, recently returned from Iraq where he has been engaged in discussions with officials. He said preliminary estimates suggest that the Michigan firms could win about $1.5 billion in business from the project in planning, construction, engineering, project management, and green-energy development and procurement.
"Fewer than 10 consortiums have made it to the MOU stage on major projects with the National Investment Commission," said McRae. "Our ability to bring Michigan companies to the table for planning, engineering and sustainable energy expertise and products has been vital - but we have more work to do."
Bill Kimble, President and CEO of the Lansing, Michigan based firm C2AE, said this project will be important to many Michigan companies.
Fay Beydoun, Executive Director of the American Arab Chamber of Commerce, said the MICH Development project will help show the people of Iraq that American companies are ready to invest in their nation. "American Iraqis are eager to assist in this project, to help our nation and state as well as their homeland," she said.
McRae said the fully developed project is planned to cover 15-20 square miles at a site approximately 10 miles from the center of Baghdad. The project will include housing, schools, commercial, recreational and civic components as well as other amenities for Iraqi families.
Copies of statements and additional information are available at www.michdevelopment.us.
Mr. Webster said Prima Civitas:
"Leverages relationships with educational institutions, economic and workforce developers, and other key partners to form knowledge-based strategies to quickly and effectively address specific needs of communities, private sector businesses, and residents.
"Our work focuses on three "drivers" that we believe are critical to Michigan's economy: collaboration, innovation, and talent.
###
---
"The BUZZ" - Read Feedback From Readers!
ul.helska Says: On March 31, 2012 at 04:21 PM

What a very informative site, I have found alot of very useful information here and still have a lot more to read. Thank you very much for the time and effort you have put in....
bestdigitalcamerasreview.net
---

Dave Rogers




Dave Rogers is a former editorial writer for the Bay City Times and a widely read,
respected journalist/writer in and around Bay City.
(Contact Dave Via Email at carraroe@aol.com)

More from Dave Rogers
---
Send This Story to a Friend!
Letter to the editor
Link to this Story
Printer-Friendly Story View
---
--- Advertisments ---