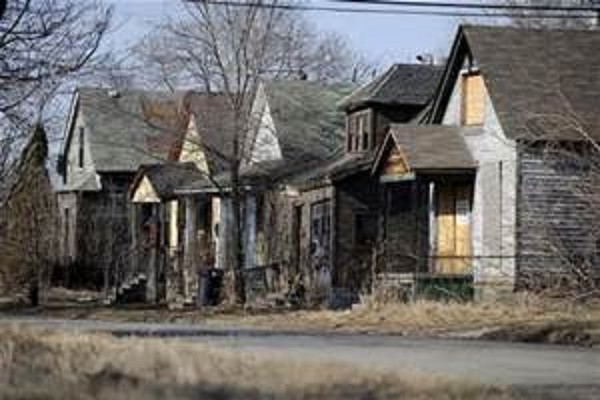 Michigan's financial problems are personified by this row of dilapidated homes in Detroit.
---
TRICKLE DOWN? Another Look at the Effects of Misguided Economics Today
Michigan Leads Nation in Fund Cuts to Cities; "Perfect Storm" Predicted
June 3, 2016 3 Comments
By: Dave Rogers
"Once you realize that trickle-down economics does not work, you will see the excessive tax cuts for the rich as what they are -- a simple upward redistribution of income, rather than a way to make us all richer, as we were told." -- Ha Joon Chang, Faculty of Economics, University of Cambridge.
-0-
The philosophy of trickle-down economics, as first put forth by Ronald (Hi, Elect Me Because I Was a Film Star) Reagan, is that by helping the rich become richer the bounty lavished on them will trickle down to the poor, thus, in the favorite analogy of the rich and their enablers in Congress and the so-called think tanks, "lifting all boats."
The abject fraud inherent in this concept is perhaps more evident in Michigan than other states. Not only are all boats not lifted, some are sinking.
The destruction of Michigan's cities by our own government is largely unseen, incremental, a creeping plague caused by misguided "conservative" philosophies of narrow-minded plutocrats and their legislative minions.
"It should surprise no one that many Michigan cities are in fiscal distress, and it should come as no surprise when more issues arise in years to come, wrote Mitch Bean, former director of the Michigan House Fiscal Agency, in Bridge Magazine of the Center for Michigan.
"Why? Because state funding for municipalities have deteriorated to the point many cities cannot adequately fund basic services.
"Since 2002 Michigan has led the nation in cuts to municipalities. The Census of Governments published every five years by the U.S. Census Bureau reported that from 2002 to 2012, municipal revenue from state sources increased in forty-five states and the average increase was 48.1 percent.
"In Michigan, municipal revenue from state sources declined 56.9 percent from 2002 to 2012."
The cuts have amounted to $5.5 billion since 1998, according to Bean, who commented:
"No other state cut funding for local governments between 2002 and 2012 as much as Michigan -- and it's not even close. On average, state spending for cities, townships and villages increased nationwide nearly 50 percent. But in Michigan, state funding of local governments fell by nearly 60 percent.
"Saginaw has managed to avoid emergency management, but the city is barely recognizable from what it was decades ago, losing more than $30 million in revenue sharing from 2003 to 2014. Its police and fire departments have less than half the staff of 15 years ago.
"A 2013 report by Michigan State University on municipal legacy debt found that Saginaw's unfunded retiree health care debt in 2011 was about $200 million. It spent more than $8 million -- a fourth of the general fund budget -- on retiree health care in 2013, leaving much less to pay for basic services for residents."
When state revenue sharing dries up like it has in Saginaw, who picks up the slack financially? YOU! the taxpayers -- if you have any money left to pay more taxes. Bean expands:
"Without revenue-sharing, cities trying to recover are caught in a vicious cycle that results in ongoing serious financial problems as demonstrated by the fact that, over the years, Michigan has had more communities under state control than any other state."
Not only did the totally needless water crisis in Flint reap a perfect storm of horrendous headlines worldwide, skewering the blundering fools in charge, it may presage other, more devastating storms, said Bean:
"One could use a number of euphemisms to describe Flint: The canary in the coal mine, the tip of the iceberg or a preview of coming attractions. But unless and until Michigan has a stable and sufficient system of municipal finance, I fear that the Flint crisis is only the beginning."
And, the effects of underfunding are quickly seen throughout the state in deteriorating infrastructure, streets, bridges, parks, public safety, etc.
What is not seen are the effects on humanity, the citizenry living where the trickle-down was supposed to stop.
Jobs are harder to find, and to get, and the jobs available pay penuriously and/or are limited in the number of hours per week. Older children move back home, stressing the families to accommodate them.
Good, reasonably-priced housing becomes more and more scarce; the cost of transportation also becomes an issue.
Crime rises in this scenario. Desperation causes Junior to rob a store or a home and he goes to jail; tax costs to keep junior behind bars go up, he or she can't get a job when they get out because few companies will hire a felon, and the cycle is perpetuated -- not a pretty picture.
More people are turning to food pantries in desperate attempts to keep up; more panhandlers appear on street corners, waving cardboard pleas for handouts.
We have noted in this column previously the effects of the hollowing out of the financial structure on the basic necessities of neighborhoods, churches, stores, public services.
The congregation of one historic Bay City Catholic church, Visitation, unable to keep up maintenance of the crumbling structure, will soon see it fall to wrecking balls. The mound of red brick it will become will be a monument to the ignorance causing hollowing out of local society.
The empty lot that will result won't provide the inspiration of the soaring steeples that generations of Bay City's working class citizens built. It will just mark a forgotten era in another little corner of civilization as Margaret Mitchell observed in 1939: "gone with the wind."
###
---
"The BUZZ" - Read Feedback From Readers!
radams Says: On June 03, 2016 at 06:14 PM

Hi Dave, I always read your comments and enjoy them.. I usually agree with most of thoughts. However today you blame Pres. Reagan and his "Trickle Down Economics". You seem to blame him for the problems in our larger cities in Michigan , when in fact same cities have been run by Democrats for over the last 40 years..go figure... Rod
tennis1960 Says: On June 03, 2016 at 07:47 PM

The decline of the automotive "BOOM" of the 50's/60's/70's and even the 80's did'nt help remeber NAFTA ????? Hello movie stars !!!. Good read
Dave Rogers says: On June 05, 2016 at 10:56 AM

Hey Rod, thanks for your thoughts. I always appreciate feedback, pro or con. Trickle-down is not something any party can control. It affects Republicans as well as Dems. It is a state of mind, a deep philosophy that the 1% have fostered, thinking "we know better than you people and your politicians what to do with your money." If all the money flowing into government is funneled away in tax cuts for corporations, little is left to run the basics of government like police, fire, roads, etc. Then to top it off the corporations move their companies and their money offshore so it cannot be taxed for the good of the country. It really doesn't matter which party is in power, if the big money is gone, they -- and we -- are screwed. That's what is going on in Michigan now -- worst in the nation. The GOP is in charge but they can't run the state with no money because of a philosophy that started with Reagan. Worse than that, they don't, or refuse, to recognize why!

Dave Rogers
carraroe@aol.com
---

Dave Rogers




Dave Rogers is a former editorial writer for the Bay City Times and a widely read,
respected journalist/writer in and around Bay City.
(Contact Dave Via Email at carraroe@aol.com)

More from Dave Rogers
---
Send This Story to a Friend!
Letter to the editor
Link to this Story
Printer-Friendly Story View
---
--- Advertisments ---