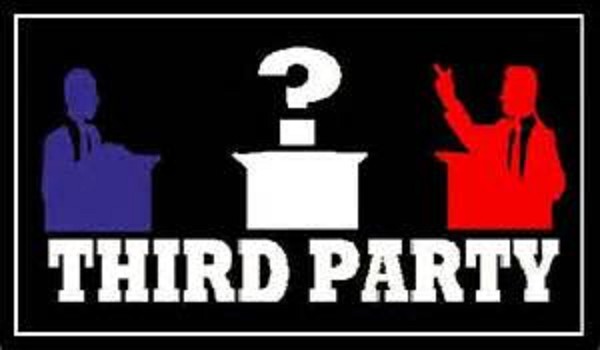 Third Part Could Be Spoiler
---
THIRD PARTY: Gary Johnson May Trip Up Trump at White House Door
Is Bay Cityan James Birney's 1844 Upset of Clay a Foreboding for GOP?
We all know that history has a strange was of repeating itself.
One of the top issues in 1844, as well as today, in 2016, was immigration.
National pundits and political types are all in a twit about a possible third party candidate that may throw the 2016 Presidential election into a tailspin.
Well, the third party is already in action with its candidate, Gary Johnson, former governor of New Mexico. His party is the Libertarian Party and, who knows, his effort may have as much success as a virtually unknown candidate from Bay City, Michigan, who was the spoiler in 1844.
While Donald Trump wants to bar immigrants, especially Mexicans and Muslims, Johnson is for open borders, stating that the Mexicans who may pour across will boost the economy.
He quips: "A 10-foot wall just requires an 11-foot ladder."
You probably are asking: What happened in 1844?
Well, the front-runner and expected winner Henry Clay, of the Whig Party, instead lost, surprisingly. It was his third Presidential election defeat and his supporters were so upset they purged the upstart third party candidate's name from the newspapers and history books wherever they could.
Even today, hardly anybody knows much about the wild card candidate who ended up determining the winner of the Presidency.
Bay City pioneer James G. Birney was the rogue upstart who ran for President on the third party Liberty Party ticket in 1844. Without his candidacy, and his 62,103 votes, Sen. Henry Clay would have been in the White House.
The 15,000 votes in New York Bay Cityan Birney got, supposedly mainly from abolitionists, flipped the election from Clay to James K. Polk.
The end result today may be the same: Donald Trump may be bumped from the White House by the foremost third party candidate, Gary Johnson, who is already polling at 10 percent (compared to the 1 percent of the vote he got in 2012.)
Johnson was a Republican in the New Mexico governorship, so presumably he will draw most votes from the GOP candidate, Trump. "And if Trump's the Republican nominee, really a large number of people will want an alternative," said Johnson.
My 2011 book, "Apostles of Equality: The Birneys, the Republicans and the Civil War," published by Michigan State University Press, addresses the impact of the third party 172 years ago. The parallels of Birney to Johnson are startling.
Start with the party names: Birney's Liberty Party and Johnson's Libertarian Party.
Birney was a hemp farmer while Johnson advocates legalization of marijuana, a close cousin to hemp. The difference is in its use. Hemp and Marijuana both come from the same plant - Cannabis Sativa L.
Both Birney and Johnson were making their second attempts at gaining the Presidency.
Much like Trump, Clay and the Whig Party complained about immigrants, especially the so-called "anchor babies" declared citizens although born in this country of immigrant mothers.
Like Johnson, Birney caused scarcely a ripple in the political ocean on his first run for President, gaining just 7,453 votes.
In his second run, while living in Bay City, Birney, however, opened the door ever so slightly for the anti-slavery forces with his daring run that kept slaveholder Clay out of the White House.
And, his courageous writing and speaking defining the essence of liberty were incorporated into the 14th Amendment to the U.S. Constitution. That amendment provided citizenship for blacks previously in slavery and for the children of immigrants if they were born in the U.S.
That is the amendment that is being challenged by right-wing ideologues today. Would they really deny citizenship to children born in this country?
Ten years after the 1844 election a new party rose up, embracing abolitionists of all stripes as well as marshaling working men who feared the South was planning to enslave whites as well as blacks.
That party took the name Republican.
Clay's Whig Party died and was swept into the dustbin of history in 1852.
If Johnson trips up Trump, is there a chance the Republican Party will fade away in 2018?
Some pundits are making that prediction.
"He (Clay) was the favorite leader of the Whigs and downcast over his defeat and their hatred of the abolitionists was more intense than ever," wrote one observer.
Influential New York newspaper publisher Horace Greeley reportedly ordered that Birney's name never again appear in his paper.
In my opinion, that snub and others later by no less than Theodore Roosevelt, have kept Birney from receiving proper recognition as the leader who first took the anti-slavery stand into politics. In my book I have a chart of the succession of anti-slavery Presidential candidates who followed Birney:
1848, Martin Van Buren - Free Soil Party;
1852, John P. Hale, Free Soil;
1856, John C. Fremont, Republican;
1860, Abraham Lincoln, Republican.
In my opinion, that proves Birney's credentials as a leader who changed history by his courageous stand against the worst plague that ever befell the people of the United States of America, slavery!
It also proves that the reputation of Bay City, Michigan, as the fountainhead of Progressive thought, should be honored across the globe as the place where the political movement that ended slavery in the U.S. started 172 years ago.
###
---
---

Dave Rogers




Dave Rogers is a former editorial writer for the Bay City Times and a widely read,
respected journalist/writer in and around Bay City.
(Contact Dave Via Email at carraroe@aol.com)

More from Dave Rogers
---
Send This Story to a Friend!
Letter to the editor
Link to this Story
Printer-Friendly Story View
---
--- Advertisments ---