ALADDIN HISTORY: Austin Village, England, Bay City's Readi-Cut WWI Triumph
U-Boat Sinking of First Shipment Adds to Local World War I Connection
September 29, 2016 1 Comments
By: Dave Rogers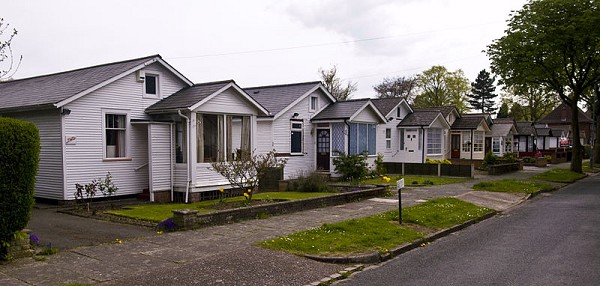 Austin Village near Birmingham, England, provided 200 homes for war industries workers.
What are 200 mid-western bungalows doing in the middle of England?
In 2017, the people of the village the bungalows anchor will celebrate their centennial, notes Dennis Skupinski, of Ann Arbor, the main proponent of a World War I Centennial event in Michigan.
Why should the people of Michigan, especially Bay City, join in the celebration?
A forgotten contribution of Bay City industry to World War I was Austin Village, a housing estate of 200 Aladdin workers' homes between Longbridge and Northfield, Birmingham, England.
These homes still stand in Birmingham, an isolated island of midwestern American architecture dropped into the British countryside. The homes narrowly survived German bombs during World War II. Today they are listed on the British Historic Register.
The Austin Motor Company was less than a decade old when the Great War broke out in Europe. Shifting from autos to war vehicles, Austin soon found a need for housing for its workers. With British firms absorbed in war production, Herbert Austin's answer was a firm in Bay City, Michigan, that made ready-cut homes that could be shipped en masse overseas.
Local history needs to include the fact that a shipload of the homes was sunk by German submarines. German Unter zee boots (u-boats) were active in the Atlantic during the time the homes were shipped. The report is confirmed in an Aladdin history posted online by the Clarke Historical Library in Mt. Pleasant, repository of Aladdin archives:
"Perhaps the most storied of Aladdin's group sales was made by the Austin Motor Company in Birmingham, England. In November 1916 Austin purchased two hundred modified "Chester" houses. The houses were loaded on the SS Headley, but were lost when the ship was sunk by a German submarine." All crew members were rescued.
The SS Headley was a 4,953 ton defensively-armed British Merchant ship built in 1914 by Craig, Taylor & Co., Stockton, England for the Mitre Shipping Co. Ltd. (Houlder, Middleton), London. On the 19th February 1917 when 35 miles SSW from Bishop Rock, Isles of Scilly, England when she was torpedoed without warning and sunk by German submarine U-67. The vessel was en route from Portland, Maine to London.
The Clarke history continues: "In March 1917 the second shipment of two hundred homes was sent from New York, this time arriving safely in England. By June 1917 all two hundred homes had been erected."
Bay City's Sovereign brothers, Otto and William, had started the Aladdin Readi-Cut Homes firm in 1895, as Otto described in his book, "Fifty Million Dollars on a Shoestring."
If you want to know more, Michigan's WW1 Centennial News Report for September on YouTube is about Bay City and Austin Village, Birmingham, U.K.
Herbert Austin, who created the Austin Motor Company at Longbridge in 1905, had to take on more workers during the First World War when his factory became involved in making tanks and aircraft.
In 1917, he built a new estate for his employees in Turves Green on land bought for £7,750.
He imported 200 red cedar wood pre-fabricated bungalows from the Aladdin Company, Bay City, Michigan, USA. The $115,000 contract was agreed on 20 December 1916 with a down payment of $28,750.
These were erected with twenty-five conventional brick-built semi-detached houses at intervals to create firebreaks. They were fitted with coke-fired central heating, gas cooker, gas water boiler, sink, and drainer, and a bathroom with bath.
The village was completed in eleven months and rented to Austin workers with seven in each bungalow and twelve in each house.
After the war, the requirement for workers was reduced and the bungalows were sold. The estate is now occupied and surrounded by conventional suburban housing. It forms the Austin Village Conservation Area.
During World War I Aladdin realized that its assembly techniques were well suited to standardized military housing. The Aladdin Company erected a camp at Fort Snelling, just outside St. Paul, Minnesota, for 9,000 soldiers. The firm erected the camp in twenty-six days and completed the job three weeks before a contract for it was signed.
Besides Austin Village and the military camps, Bay City is loaded with historical events and connections with World War I that surely deserve more official recognition and organization of a celebration.
In 1992, Hurricane Andrew, a Category 5 hurricane with 165 mph winds, destroyed all remaining structures in Aladdin City. Much of the land originally platted by the Sovereigns is now used for farming. Some of the streets are still there, and most have been renamed."
These same plans for group housing seemed to have been dusted off during the 1930's when Aladdin marketed military-style housing facilities to the Civilian Conservation Corp, which was establishing military-like camps across rural America.
###
---
"The BUZZ" - Read Feedback From Readers!
lara Says: On August 15, 2019 at 12:59 PM

The text on Aladdin City was plagarized directly from my website, Sears Homes of Chicagoland. Please remove it.

Lara Solonickne
---

Dave Rogers




Dave Rogers is a former editorial writer for the Bay City Times and a widely read,
respected journalist/writer in and around Bay City.
(Contact Dave Via Email at carraroe@aol.com)

More from Dave Rogers
---
Send This Story to a Friend!
Letter to the editor
Link to this Story
Printer-Friendly Story View
---
--- Advertisments ---