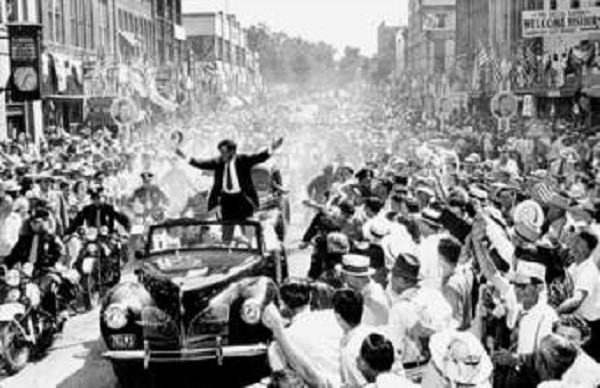 Wendell Willkie waves from a car in a campaign scene from 1940 that could have been photographed in Bay City.
---
BAY CITY LINK: Historic Willkie Visit Here Part of Utility Firm History
Republican Nominee Wanted to End Public Ownership, Failed
November 4, 2016 Leave a Comment
By: Dave Rogers
It seems as if Bay City's parts in history, especially political history, are endless and notable.
For instance, the last time a political candidate with no previous experience in public office -- like Donald Trump this time around -- was nominated by a major party was in 1940 when businessman and lawyer Wendell Willkie was the Republican nominee.
Ultra-conservative Bay City tycoon James E. Davidson, a member of the Republican National Committee, helped promote the visit of Willkie here just before the 1940 Presidential election to dedicate the John C. Weadock power plant of Consumers Power Company at the mouth of the river. Of course, Willkie was the logical choice to dedicate the plant since he then was the president of then Consumers Power Company.
The ideological landscape around public ownership of utilities was treacherous, as the following analysis reveals:
"Progressive Era conservatives worried that as the number of municipally owned utilities grew, so too would the number of municipal employees. Eventually, municipal employees would come to dominate local politics. "One day," prophesied Robert Porter, the 'unconsidered trifles who cluster round the local authority' would grow into a political 'Frankenstein,' a collective monster 'so huge' that its creators would not be able to control it," wrote Werner Troesken in a 2006 treatise entitled "Regime Change and Corruption: A History of Public Utility Regulation."
There were among the national issues that made the appearance of Willkie here more than just a plant dedication. And, as with many facets of national history, Bay City played an important -- though today forgotten -- role.
In the 2015 book "Mysteries of Skull Island and the Alkali," I recount how a private company, the North American Chemical Company, rival to Dow Chemical Company, that had produced chemicals for explosives for the British Army in World War I, had produced electric power for the City of Bay City under a contract.
The city's aging generating equipment had failed, so a deal was struck with North American, owned by the United Alkali Company of Liverpool, England.
After a decade of successful operation during which the city built up a comfortable $500,000 surplus, in 1929 Consumers Power purchased the British-owned firm located at Skull Island, (south of 44th Street on the river) for a reported $375,000 and tore down its massive plant.
Somehow the city regrouped and continued to produce power on its own, as it does today with a diesel peaking plant although it purchases bulk power from Consumers at favorable rates and resells to local consumers.
As the ruins that were never cleared from the site continue to molder; so does the question: Was it Dow, Consumers or other business giants which wiped out a thriving firm employing about 250 Bay Cityans. And was the reason simply because it was a municipality that contracted for and distributed the power generated and provided employment?
The Bay City experience with a publicly owned power company provides a template for the struggle that was going on across the nation.
The history of Consumers Energy states: "The utility industry was increasingly becoming consolidated in the hands of fewer and fewer large holding companies, and the newly elected Democratic government was determined to diminish the power of these corporate giants. The battle over utility monopolies came to a head when (President Franklin D.) Roosevelt signed a bill granting control over electric power production and distribution to the publicly owned Tennessee Valley Authority.
"This placed a publicly owned utility in direct competition with Commonwealth and Southern's Tennessee Electric Power Company, and it brought Consumers Power's president, Wendell Willkie, into direct confrontation with the Roosevelt administration. After a long, drawn-out battle and several trips to the U.S. Supreme Court, Willkie admitted defeat and sold Tennessee Electric to the TVA.
"The war over utilities, however, had just begun. Willkie's campaign to halt public ownership of utilities had been very public and very vocal, prompting high-level Republicans to recruit the longtime Democrat to run against Roosevelt in the 1940 presidential race. Willkie's electoral defeat by the immensely popular incumbent set the final stage for the dissolution of the giant privately owned utilities.
"The Public Utility Act of 1935 had called for the dissolution of all utility holding companies that could not show that they controlled a regionally distinct and internally integrated system of operating companies. Commonwealth and Southern argued that the management of Consumers Power and its other operating companies was internally consistent and compact and that the holding company met the requirements of the law. "Interpretation of the Public Utility Act was fraught with difficulties, however, and it would take six years--and Willkie's defeat--before the Securities and Exchange Commission reached a final decision as to the fate of Commonwealth and Southern.
"In 1941 the ax finally fell and the holding company was ordered to divest itself of either Consumers Power or its southern operations. World War II would delay the enforcement of this decision, but in 1946 Commonwealth and Southern was dissolved and Consumers Power, under the direction of Justin R. Whiting, was left as an independent gas and electric utility company."
The business campaign against public power ownership never really ended. For example, in the 1960s business interests were campaigning here to close the Bay City Electric Light and Power Company and turn over its customers to private firms like Consumers. Thankfully, those efforts failed and we still have a very competitive locally-owned electric utility that is connected to a statewide system.
Bay City Electric Light & Power has served the Bay City area since 1868 when it was known as the Bay City Gas Light Company. Today it serves over 20,000 customers in a service area which includes Bay City and the surrounding townships of Bangor, Frankenlust, Hampton, Monitor, and Portsmouth. The utility is one of 2,000 community-owned electric utilities serving more than 42 million Americans.
But there was an earlier Bay City notable historic link, with the 1896 Presidential election.
The Washington Examiner observes:
"What sets Trump apart from all major party nominees going back more than a century is that he executed a hostile takeover of one of our two political parties. Against the wishes of most party panjandrums and officeholders, repudiating policies of the party's past presidents and congressional delegations, Trump was as alien and hostile to the Republican Party's leaders as the populist William Jennings Bryan was to the leaders of his Democratic Party when he seized its presidential nomination in 1896."
How was Bay City historically involved? That was the year the Republican nominee William McKinley came here on the train to campaign against Bryan. Then it was the Democrat who stirred the emotions of the public with populist rhetoric.
"Not since a 19th-Century populist named William Jennings Bryan led Democrats into the political wilderness has a major party's presidential nominee so relentlessly cultivated a neglected constituency's resentment," wrote Detroit Free Press Columnist Brian Dickerson today. His column was entitled: "Confessions of An Angry White Male for Hillary Clinton."
To Civil War buffs, the visit was doubly notable in that the Battle of Gettysburg's controversial figure Maj. Gen. Daniel Sickles, who had lost a leg to a cannon ball there, was aboard the McKinley train. The candidate made note of Sickles' presence, although the old veteran was too infirm and could not come to the platform.
I noted in my 2011 book, "Apostles of Equality: The Birneys, the Republicans and the Civil War," that Maj. Gen. David Bell Birney, who had lived here and traded with the Indians representing a Philadelphia mercantile firm, replaced Sickles after the cannon ball took off his leg.
While Sickles was being attended to, Birney's Third Corps troops heroically held the Devil's Den, the Wheatfield and the Peach Orchard. "Despite all that went wrong, in the end, the III Corps contributed to a Union victory," wrote Eric A. Campbell, Gettysburg Battlefield Park historian in 2009.
Perhaps only those interested in the most esoteric aspects of the Civil War, and political history, will take notice of these cross currents, these intersecting events, and people, but to me, they are --- like Bay City history -- endless and notable.
###
---
---

Dave Rogers




Dave Rogers is a former editorial writer for the Bay City Times and a widely read,
respected journalist/writer in and around Bay City.
(Contact Dave Via Email at carraroe@aol.com)

More from Dave Rogers
---
Send This Story to a Friend!
Letter to the editor
Link to this Story
Printer-Friendly Story View
---
--- Advertisments ---