NON-GRADS DILEMMA: Did Chopping Adult Education Gut Michigan's Workforce?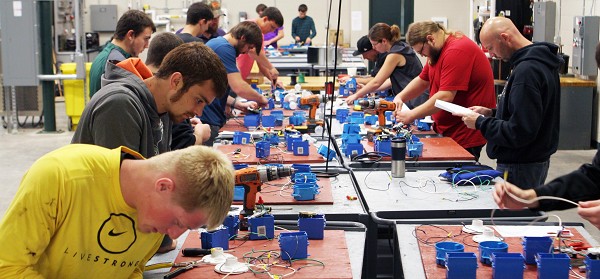 Electrical training and apprenticeships for non-graduates is one way to address Michigan's workforce gap.
(Mid-Michigan Community College)
Why are an estimated 93,000 jobs in Michigan going unfilled for lack of qualified candidates?
Why are many communities, especially rural, shrinking -- apparently dying?
Why is the number of K-12 students falling by about 15% every 5 years?
Is one reason because 25 years ago Michigan stopped the process of helping young people to complete their educations?
-- by writing off the 20 percent who don't finish high school on time for a variety of reasons? Poverty, family problems, illness, social dysfunction among them?
Are Michigan's workforce problems the result of the nearly total abandonment of adult education? Of throwing one of every five students under the proverbial bus, apparently preferring to spend $25,000 to $30,000 per person a year in prison -- or more on welfare -- rather than $7,500 a year on education.
If so, and with an in-depth study I think that premise can be proven, Michigan has created the greatest educational travesty ever perpetrated on any state in the Union.
Has this monumental blunder taken us back the dark ages-- threatening the state economy and social structure so carefully built over 180 years?
Peter Ruark of the Michigan League for Public Policy reports: "In any given year, only 7% of prime working age adults without a high school diploma and only 5% of adults who have trouble speaking English are enrolled in adult education.
"At least 60 percent of Michigan community college students per year need to take remedial education classes at an additional cost due to not having mastered one or more skill areas needed for postsecondary education or training."
Rather than providing adequate funding for adult education in order to reach these individuals and help them succeed, Michigan policymakers have cut funding. In 1996, Michigan funded adult education at $185 million per year, but in the past several years, it has been funded it at $22 million or less."
Adult Education programs helped support K-12 districts from the 1930s until 1992: 60 years
--Adult Ed began in Bay City in the 1930s as "night school" for factory & other workers who needed high school diplomas and more workplace skills.
--Pinconning, Bay City, Whittemore-Prescott, Saginaw & St. Charles were among highly successful Adult Education programs in northeastern Michigan area.
In 1989 the Michigan Department of Human Services granted to Bay City Public Schools, $2 million for computers, furniture, curriculum materials, instructional and support costs for EDGE Program at McKinley School
--This grant required computer operations training for 100 students, 75% completion rate; 75% job placement --Transportation provided (showed need for school service workers)
DHS recognized the need to upgrade Michigan citizens from welfare to jobs. But in the intervening quarter century, the Legislature has greatly under-funded Adult Ed, cut public K-12 school funding, enabled Wall Street firms to tap the School Aid Fund through suspect online programs and transferred about a quarter billion a year to community colleges.
Jack Minzey, the retired Eastern Michigan University professor, recently summarized what happened to Adult & Community Education in Michigan:
"In 1991, John Engler was elected governor of the State of Michigan. One of his early actions was to address the (practice of school districts using Adult Ed as revenue enhancement.) "He could have rewritten some of the rules and regulations and created stricter enforcement of the entire adult education program. Instead, he solved the problem by eliminating all reimbursement related to adult education except for the actual, documented costs of the program itself. (Bay-Arenac ISD Adult Ed funding currently is less than $90,000 a year, according to the state adult education director.)
"This eliminated the full student reimbursement, the money earned from the uniqueness of the formula, and all the community education programs.
"There were a few districts that continued their programs on the basis that they still philosophically supported the concept of adult education. Most districts, however, reverted back to the old philosophy that "education is for kids" and the programs disappeared.
"The biggest losers were the adults who needed a high school diploma as a minimum requirement for most jobs in the state. And as a corollary of that, Michigan now had a less trained work force than when the adult education program was active."
Is there a chance to right this egregious wrong? Perhaps, if a pilot program can be started and prove that education for dropouts is one big part of the answer to Michigan's workforce gap and shrinking, impoverished rural communities.
###
---
---

Dave Rogers




Dave Rogers is a former editorial writer for the Bay City Times and a widely read,
respected journalist/writer in and around Bay City.
(Contact Dave Via Email at carraroe@aol.com)

More from Dave Rogers
---
Send This Story to a Friend!
Letter to the editor
Link to this Story
Printer-Friendly Story View
---
--- Advertisments ---