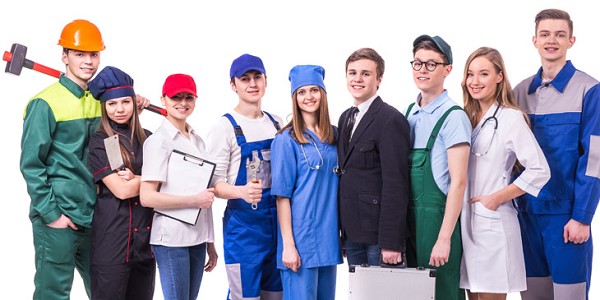 Vocational training takes many forms, but in Michigan inequities in offering are great.
---
JOBS GOING BEGGING: State Says 100K Jobs Open, Few Takers; WHY?
Our Remedies: Beef Up Vocational, Restore High School Completion Programs
August 31, 2017 Leave a Comment
By: Dave Rogers
The gap between the skills that job seekers have and the open jobs that exist has created a crisis that Bridge Magazine calls "Michigan's Incredible Shrinking Workforce."
The Michigan Talent Bank says about 100,000 jobs are unfilled. So why did total employment fall by 18,000 in a recent two-month period and another 24,000 drop out of the labor force.
Although the unemployment rate of 3.7 percent is a 17-year low point, for three straight months fewer people have been seeking jobs, reports Lindsay VanHulle for Bridge.
"Teenagers aren't working as much as their parents did, and many high school dropouts have left the labor pool," the publication of the Center for Michigan concludes.
Employers we hear from say there is a shortage of skilled workers, especially in healthcare, engineering, and advanced manufacturing. Employers in rural areas are hardest hit by this shortage.
The American Community Survey pinpoints people out of the workforce as mainly teenagers aged 16-19 and adults who don't have a bachelor's degree. We must point out that it's hard -- read nearly impossible -- to get a BA if you have no high school diploma.
Michigan's high school completion rate is only 79 percent, meaning one of every five students don't finish and get a diploma on time. Let's consider an analogy everybody can appreciate: if one car of every five coming off the assembly line doesn't run, the auto company would be quickly out of business. And having enough qualified workers, as we can see, is crucial to our economy.
Our remedy, restoring high school completion programs, is like a voice crying in the wilderness. The Michigan Association of Adult & Community Education (MACAE) declined even to hear potential remedies for this crisis, rejecting a proposal for a presentation on the subject at its fall conference. And this is the organization that supposedly represents adult and community educators whose job it is to promote such programs! At least it was that way when I was a MACAE member and director of Bay City Adult & Community Education back in the 1990s.
Our contention -- and you may have heard it here before so please bear with me -- is that for 20 years the defunding of high school completion programs, so called adult education, has decimated not only the workforce but strangled much of the vitality that normally was inherent in young people finishing school, getting jobs, forming families and having children.
Is this why the K-12 student population base is dropping about 15 percent every five years -- hamstringing public school districts who depend on growth in student numbers to sustain their structures -- and community colleges are having trouble finding enough qualified students to continue upward trends of enrollment growth?
Gov. Rick Snyder's calls for developing young talent for the jobs of tomorrow has gotten a little leverage, but certainly not enough, according to Ted Roelofs, a frequent writer on talent and education for Bridge.
The almost total lack of career technical education in some Intermediate School Districts is "the greatest inequity we have in Michigan public education," says Joe Powers, superintendent of the Crawford-AuSable School District.
That opinion is shared in spades by William Miller, executive director of the Michigan Association of Intermediate School Administrators. "The stakes are high, given an increasingly specialized economy that demands more than a basic high school degree if workers are to to earn a decent, family-supporting wage in Michigan," Miller told Bridge.
Among the 56 ISDs in the state, Allegan generates $292 per pupil for vocational education; Alpena-Montmorency-Alcona, $0 (one of 23 ISDs that have no tax support for vocational education); Bay-Arenac $377; Branch, $918; Charlevoix-Emmet, $417; just to name a few.
Kent ISD raises $24 million annually for vocational education while the State of Michigan devotes only $26 million to support vocational teachers in local districts. By contrast, Ohio spends $290 million per year. Something doesn't figure in this picture. Michigan is supposed to be the beating heart of national industry but we seem to have lost our way.
Crawford-AuSable pays $500 per student to send its vocational students to the Wexford-Missaukee CTE Center in Cadillac, that has a 2.5 mill tax for vocational programs.
We like the idea of Bill Rustem, former Snyder strategy director, for a statewide property tax to be spread among all ISDs in the state. A two-thirds vote in the Legislature and ratification by voters statewide would be necessary to put that into effect. What we're doing now isn't working, so if you care about the future for your kids and grandkids, give that idea your support if it surfaces.
---
---

Dave Rogers




Dave Rogers is a former editorial writer for the Bay City Times and a widely read,
respected journalist/writer in and around Bay City.
(Contact Dave Via Email at carraroe@aol.com)

More from Dave Rogers
---
Send This Story to a Friend!
Letter to the editor
Link to this Story
Printer-Friendly Story View
---
--- Advertisments ---