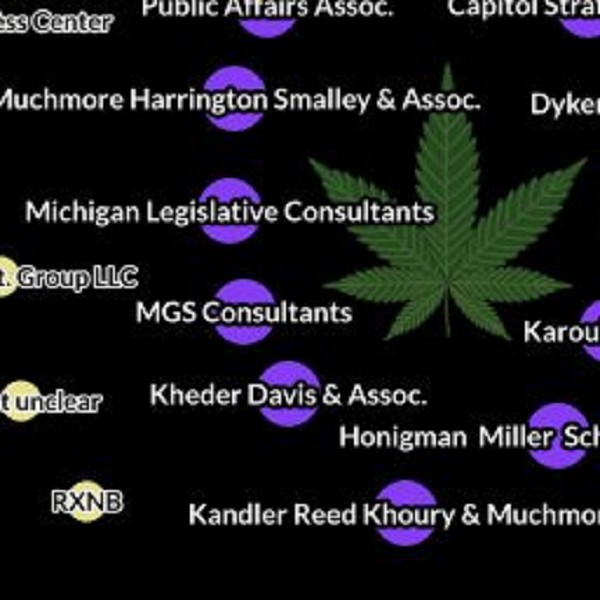 Graphic shows plethora of marijuana lobbying interest in Michigan's marijuana legalization runup.
---
LEGAL POT VOTE: Coalition Hits Signature Goal, to File Soon for Nov. 2018
October 27, 2017 Leave a Comment
By: Dave Rogers
You can almost smell the pot smoke.
The Coalition to Regulate Marijuana Like Alcohol (CRMLA) has enough signatures and expects to wrap up its campaign in the next two weeks and deliver the signatures to the Michigan Secretary of State, according to Josh Hovey of the coalition, speaking exclusively to MyBayCity.com.
The Coalition officially submitted ballot language to the state of Michigan Oct. 24 that would legalize adult consumption of marijuana in Michigan and establish a system in which marijuana is regulated and taxed similarly to alcohol.
However, medical marijuana is on a separate legislative track. Retail medical marijuana provisioning centers are expected to open in 2018. State regulatory officials are currently laying the foundation for the licensure and regulation of medical marijuana businesses. Current medical marijuana growers have to shut down by Dec. 15 and reapply for licenses.
The state Bureau of Medical Marihuana Regulation suggests that recipients of Class C grower licenses (up to 1,500 plants) will have to have $500,000 on hand. Class B licenses (1,000 plants) come in at $300,000, and Class A licenses (500 plants) come in at $150,000. Provisioning centers will be required to maintain $300,000.
By comparison, the state requires $50,000 of liquor store owners, critics of the new rules complain.
The Coalition to Regulate Marijuana Like Alcohol's initiative would create six categories of licensed marijuana businesses that would be regulated by the state and also be subject to local control. This includes cultivators, processors, testing facilities, secure transporters, retailers, and microbusinesses.
Additionally, the initiative would legalize the cultivation of industrial hemp, which can be used to produce foods, textiles, paper, plastics, and biofuels. Possession for adults 21 and over would also be limited to 2.5 ounces, which is similar to the state?s medical marijuana law. Adults 21 and over could also grow up to 12 marijuana plants in their residences.
To place the initiative on the November 2018 ballot, the coalition must submit a petition with at least 252,523 valid signatures of registered Michigan voters.
If approved by voters in November 2018, Michigan would follow Alaska, California, Colorado, Maine, Massachusetts, Nevada, Oregon, and Washington in legalizing marijuana.
For updates and announcements, please follow the Michigan Coalition to Regulate Marijuana Like Alcohol Facebook page and visit the website at RegulateMI.org.
The Michigan Medical Marihuana Program
In 2008, 63% of voters approved a medical marijuana measure spearheaded by MPP. Like other medical marijuana laws that passed prior to Pres. Barack Obama's election (which led to the federal government adopting a hands-off approach on well regulated medical marijuana programs), Michigan?s original law provided clear protections for patients and caregivers but did not establish regulations for the businesses that made medical marijuana available to them.
As the population of patients in Michigan grew from thousands to tens of thousands, to over 200,000, the business community serving them also grew. Unfortunately, Michigan's lack of regulations led to years of harm.
Earlier this year, lawmakers passed three bills that together overhaul the state's medical marijuana program. While an improvement in many ways, it is not without its controversies, particularly for those businesses that have been operating since voters approved MPP's medical marijuana initiative in 2008.
With the passage of the new regulatory system, changes are ahead, particularly for those cultivating or providing medical marijuana. While much of the framework created by the new law is similar to that of other states, it represents big change for Michigan?s program, which has been evolving since 2008.
While the new law is now technically in effect, it will take about a year before changes will be in effect. During that time, state regulators will consider, propose, and ultimately adopt the rules under which the new system will operate.
Current marijuana laws in Michigan:
Medical marijuana is permitted. An individual may register as a medical marijuana patient if his or her doctor certifies that the individual suffers from one or more of the following conditions:
Cancer
Glaucoma
Positive status for human immunodeficiency virus
Acquired immune deficiency syndrome (AIDS)
Hepatitis C
Amyotrophic lateral sclerosis (ALS -- Lou Gehrig?s Disease)
Crohn's disease
Agitation of Alzheimer's disease
Nail Patella
Cachexia or wasting syndrome
Chronic or debilitating nausea
Severe pain and chronic pain
Seizures (including epilepsy)
Persistent muscle spasms (including multiple sclerosis)
Patients can obtain medical marijuana from their registered designated primary caregiver or grow their own.
###
---
---

Dave Rogers




Dave Rogers is a former editorial writer for the Bay City Times and a widely read,
respected journalist/writer in and around Bay City.
(Contact Dave Via Email at carraroe@aol.com)

More from Dave Rogers
---
Send This Story to a Friend!
Letter to the editor
Link to this Story
Printer-Friendly Story View
---
--- Advertisments ---