POISON ON TWO FRONTS: German Boycott of U.S. Chemicals Foiled
November 5, 2017 Leave a Comment
By: Dave Rogers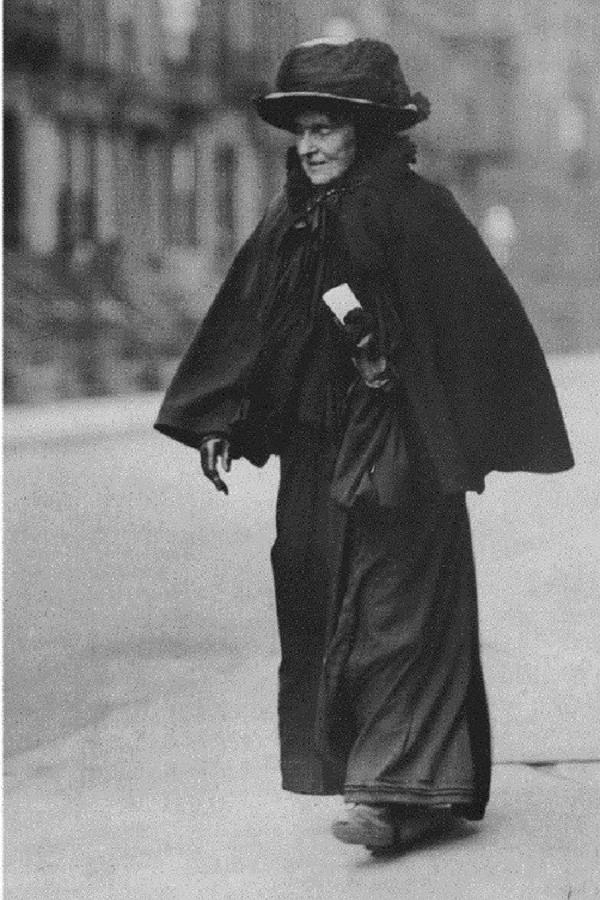 Hetty Green, so-called "Witch of Wall Street." the richest woman in America, as she may have looked striding Main Street in Midland in the early 1900s
(This is the fifth in a series of articles dramatizing the days of World War I, both here and abroad. It is based on factual events but since this is a semi-fictional account, the names and some of the details have been changed.)
Purchasing an old grist mill and a salt well with funds from risk-taking investors in Cleveland, Barnes hired a few college pals, rigged up a 50-kilowatt generator in the flour mill and, presto, used electrolysis to turn brine to bromine. Townsfolk called him "Crazy Barnes," but barbers, bakers, grocers and others who took stock in trade had the last laugh, eventually becoming wealthy as the firm grew exponentially.
Shipping U.S. bromine to world markets infuriated the German Bromkonvention, a monopolistic combination of Teutonic chemical firms, the Chief said. American firms, certain the Boche would quickly prevail in the war, shied away from "buying American" under threat of being cut off by their German suppliers.
Barnes one-upped the Germans by buying up their product, priced at a cut-rate 10 cents a pound to flood the American market, and repackaging it for secret sale at normal prices in Europe. That broke the monopoly even as war clouds rose over Europe. So there was no love lost between the shrewd rural upstart chemist and the blustering Germans.
A high-handed Herr Jacobson, representing the German chemical firms, summoned Mr. Barnes by telegram to New York, I suppose to dress him down about his repackaging trick that broke the boycott. Barnes, who was in St. Louis at the time, telegraphed back that Jacobson could come to St. Louis if he wished to see him. They met briefly at a St. Louis hotel, exchanged polite insults, but finally shook hands; the bromine "war" cooled down and prices went back up.
Dozens of other products including synthetic indigo, which the Germans had monopolized for years, aspirin, chloroform, bleach, chlorine, and carbon tetrachloride were spun out of the same brine wells and the firm expanded and prospered. "Crazy" Barnes was crazy like a fox, folks began to say.
The Chief told me another story: he was in the general store near the rail station one day a few years after the firm was launched. A Detroit & Mackinac train heading north stopped at Brinewell and a dowdy older woman in high button shoes clutching an umbrella descended to look about. While in the general store she saw Mr. Barnes go whizzing by in a horse-drawn buggy: Seeing his high collar, string tie, frock coat and glasses, obviously not your ordinary Brinewell lumberjack or farmer, she asked: "Who's that?" Jeb Jones, the storekeeper, replied: "Oh, that's Mr. Barnes, they call him "Crazy Barnes" because of his chemical experiments, some of which have exploded and caused fires. He has set up a chemical plant in the old Evans Mill and is using brine from the wells to make all kinds of products nobody ever thought of before."
The Chief knew her from the papers --she was one of the world's richest and shrewdest investors, tight-fisted Quaker Hetty Green from New York City. Newspapers called her "the Witch of Wall Street" but some witch she was; her loans saved the City of New York in a world financial panic. Somehow she held a mortgage on the town's biggest lumber mill. She was a bank and finance company all by herself.
A strange intersection of money and genius took place by chance, as the notorious Mrs. Green had been en route to check on her mill mortgage plus reports her trees were being stolen from her vast timber holdings farther north. Questioning Mr. Barnes about his infant enterprise convinced Mrs. Green to invest $1,000 in stock in Woodland Chemical Company. By the time of the first World War, her investment in Woodland stock had multiplied 4,000 times when it was inherited by her son, one-legged profligate "Colonel" Ned Green.
"That's right, her Woodland stock was listed in her will as a $4 million value. That all happened after dozens of stock splits, big profits in government work leading up to the war, and the rising market," exclaimed the Chief. "Imagine that!"
As a $12 a week $624 a year helper in the plant, I couldn't imagine it. So I figured it out: at my pay, I would have to work 6,410 years to make that much.
The Chief told me that conflict between tiny Woodland Chemical and German chemical giants was nothing new: it had begun about the turn of the 20th century after Woodland had been operating for about a decade in the middle of the woods. "Crazy" Barnes had dared flaunt his genius and his firm's crude production processes before the world of chemistry that was dominated from Berlin. Carl Bosch's Badische Anilin und Soda Fabrik (BASF), Bayer, and IG Farbenindustrie AG, were the world leaders.
The brilliant Fritz Haber, Ph.D., was head of the chemicals department of the Prussian War Ministry and a director of the Kaiser Wilhelm Institute for Chemistry and Electrochemistry.
The contrast between Berlin and Brinewell was stark; Berlin was populated by 170,000 opera-loving sophisticates in silks and ruffles, black suits and bowlers promenading the world-renowned Unter den Linden downtown boulevard. Meanwhile, Brinewell was a village of 2,500 farmers, lumberjacks and miners in checkered shirts and their gingham-frocked wives whose main thoroughfare was a cedar block paved Main Street.
Berlin had soaring cathedrals, the prestigious Humboldt University, the model for the academic world, and the Kaiser's Institute for Chemistry and Electrochemistry. Brinewell had a handful of churches, a Knights of Pythias fraternal hall, a 100-pupil elementary and tiny high school graduating about a dozen students yearly.
While Berlin was an industrial giant Brinewell's industry consisted of one coal mine, a tannery and a lumber mill next to Mr. Barnes's Woodland Chemical, housed in an old grist mill with cobbled together electrical power and a rough "old mill" laboratory on shabby wooden benches.
I started reading the Detroit, Chicago and New York papers at the library to find out more. Effects of the war soon were apparent in Berlin: The British naval blockade of Germany beginning in 1914 caused widespread shortages and hunger. American social worker Jane Addams sympathized with starving Germans by establishing a Berlin Settlement House program, much as she had in Chicago. Ironically, the blockade cut off supplies of German chemicals to the U.S. and allowed business to boom at the Woodland Chemical Company.
(To be continued) ###
---
---

Dave Rogers




Dave Rogers is a former editorial writer for the Bay City Times and a widely read,
respected journalist/writer in and around Bay City.
(Contact Dave Via Email at carraroe@aol.com)

More from Dave Rogers
---
Send This Story to a Friend!
Letter to the editor
Link to this Story
Printer-Friendly Story View
---
--- Advertisments ---