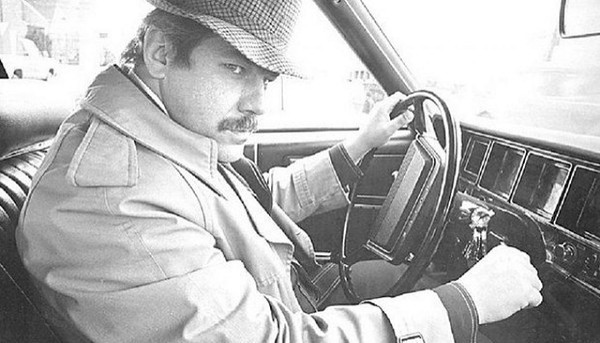 Called by fellow journalists "the quintessential newspaperman," Tim Younkman looked the part down to the Peter Falk type raincoat and porkpie hat.
---
TIM YOUNKMAN: Part Detective, Part Historian, All Newspaperman
November 17, 2017 1 Comments
By: Dave Rogers
As I sat listening to the minister at Tim Younkman's funeral, I couldn't help lamenting about the myriad stories and books he might have written had the Lord given him another 10-15 years or more.
We, the Bay City community, lost a real treasure trove of information Tim had gathered over the years with his death recently at age 71.
His interaction with the various police departments over the years is reflected in personal comments from his contacts who had a deep respect for him. Obviously, he had earned the trust of some hard-bitten folks who had seen just about everything in the proverbial "naked city."
Leaders of the journalistic enterprise Tim served weighed in:
"Tim Younkman was the quintessential newspaper reporter -- from the trench coat to the gruff exterior. Underneath was a nuts-and-bolts journalist who cared about his community, and about getting things right," said John Hiner, former editor of The Bay City Times and current vice president of content for MLive Media Group.
"Tim never lost his interest in the news currents of Bay City -- even in retirement -- and was a trove of history and anecdotes that helped a generation of new reporters. Tim lived through many big stories in Bay City and saw many huge changes in the news business. He will be missed in the newsroom, and around town."
Wrote Andrew Dodson of The Times: "Younkman's first newspaper byline came in 1970 for a weekly paper in Clinton County. His journalism career continued in St. Johns and in Muskegon at The Muskegon Chronicle, until he came to The Bay City Times in 1976. He would retire 30 years later as The Times' most senior reporter, the last link to the paper's day of typewriters, Linotype machines and wire tickers.
"It's a noble profession, and as important now as it was then," Younkman said in December 2006, when he retired from the business. "A newspaper is a vital element to the community; it's the common element in their community, and they have a voice in it."
Although Tim wrote several books about his hero, detective Jonathon Raines of Detroit, he also did considerable research and travel on Capt. James G. Birney IV, son of the pioneer abolitionist and one of the founders of Bay City, and on Adolf Hitler's niece, Geli Rabaul. Tracking the allegations Hitler had murdered Geli or had someone else kill her, Tim went to Berlin and found her former apartment.
Tim made several trips to Fort Davis, Texas, running down the sad last days of young Birney, who died there at age 25 in 1870. He told the 7th Michigan Cavalry Civil War Roundtable (that, by the way, will have its last meeting in December) that Birney was buried at Fort Davis, leading to updates of the eventual removal of his remains to a cemetery in Brooklyn, New York, where his wife hailed from.
Such due diligence may have been documented in his writings somewhere, but we may never know. Relentless pursuit of a cracking good story was always Tim's forte, from crimes in Bay City and the vast one-time Times coverage area that stretched to the Straits of Mackinac in the old days.
A good example of his interest in history was a yarn he wrote on his blog timyounkman.com about an aged Frenchman who ended up in Bay City after fighting against the troops of Napoleon Bonaparte as a youth.
Tim wrote: "West Bay City resident Louis Reip, who was most likely the oldest man in the Saginaw Bay region at 105 years, who passed away May 3, 1903. We mark the 113th anniversary of his passing.
"As a centenarian, Reip may have had any number of life stories and adventures to tell, but the one that might be the most interesting was as a teenage soldier he fought against French Emperor Napoleon Bonaparte at the Battle of Waterloo.
"And he carried the scars to prove it."
Some of the stories in Tim's blog revealed a deep sense of righteousness that would not have fit in the newspaper, but he was unafraid to call it like he saw it.
Tim wrote an intriguing piece about the 1896 "Church War" that split the parishioners of St. Stanislaus and caused the Pope to close the church for two years. Tales like that are what makes Bay City history so unique, and reporters who will follow the example of Tim Younkman so important to a community.
Thanks, Tim, for all you did, and all you stood for, and God bless....
###
---
"The BUZZ" - Read Feedback From Readers!
xmcmarshal Says: On November 18, 2017 at 05:57 PM

Dave:
Excellent story and article on Tim and his career as a reporter. I got to know Tim through my years of service on the fire department and his coverage of same. He had a rare style when gathering details on fire related incidents, with his quite, unassuming manner,and when the story ran, it was accurate to a T.
They don't make em like Tim anymore.

Gary T. McPhee
---

Dave Rogers




Dave Rogers is a former editorial writer for the Bay City Times and a widely read,
respected journalist/writer in and around Bay City.
(Contact Dave Via Email at carraroe@aol.com)

More from Dave Rogers
---
Send This Story to a Friend!
Letter to the editor
Link to this Story
Printer-Friendly Story View
---
--- Advertisments ---