TENNIS PARK NAMED: New Facility Named for Educator Dr. Janet Jopke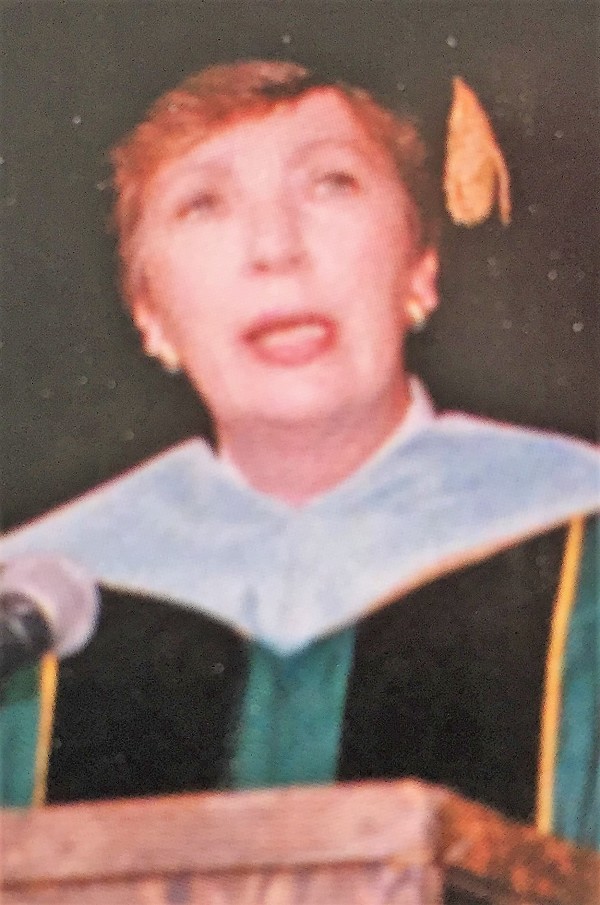 Dr. Janet Jopke, longtime Michigan educator, memorialized at tennis facility in Bay City.
Bay City's new tennis park will honor the memory of a local woman who dedicated her life to education.
The Janet H. Jopke, Ed.D, Bay Community Tennis Facility is currently under construction on the East Side property that once housed Jefferson Elementary School.
The Bay Community Tennis Association (BCTA) is developing Jopke Tennis Facility under the terms of a usage agreement with Bay City Public Schools, owner of the property.
She began teaching with Bay City Public Schools in 1965 and also taught in West Bloomfield and in Norwalk, California. She went on to a variety of administrative posts in the Utica Community Schools and also taught in West Bloomfield and Norwalk, California. She was superintendent of the St. Clair Shores Lakeview Schools before becoming serving 12 years as superintendent of Troy School District. Jopke's death in 2005 was received with sadness across Michigan.
"It is very fitting that our facility honor someone who made such a difference in the lives of so many students and families," said BCTA President Joe Ricard. "Jopke Tennis Facility will be a community jewel, a place where families will be able to spend quality time together, where children will be able to grow healthy, happy, and self-confident."
The BCTA board finalized the naming of the facility at its meeting May 9, and also authorized the final construction agreements needed to complete the project. The date of completion will depend on weather and other factors.
Jopke Tennis Facility, at the corner of Park and Boehringer just south of Center Avenue, will feature eight courts, ample parking, and a utility building. The BCTA is raising money for construction as well as a permanent fund administered by the Bay Area Community Foundation to ensure that the facility remains in top shape for many decades to come.
Janet was born in Bay City, Michigan, the daughter of Jerome H. Jopke and Florence E. (Weber) Jopke. She was a member of the Bay City Central High School Class of 1961 and was inducted into the Bay City Central "Hall of Fame" in 1995. Her college degrees include a Bachelor of Arts from Michigan State University, a Master of Arts from Oakland University and an Education Specialist and Doctorate from Wayne State University.
In its 50 year history, Dr. Jopke was the Troy School District's longest-serving superintendent, having begun her career there in 1993.
Under her leadership, Troy gained a national reputation as a premier school district. Honors awarded the district under her leadership included all schools achieving Michigan Exemplary status, all schools accredited by North Central Association and both Athens and Troy high schools being named one of the 98 top high schools by the U.S. News and World Report.
Her professional activities include executive board member of the Metropolitan Bureau of School Studies, executive board member of the Tri-County Alliance, past national delegate of the American Association of School Administrators, a member of the Dean's Advisory Board and Alumni Association Board Member for the College of Education at Michigan State University, member of the Dean's Advisory Board at Oakland University and a past officer of Alpha Delta Kappa Honorary Educator's Sorority.
Her community involvement includes past member of the board of directors of Henry Ford Hospital, Northeast, past chairperson of the Downtown Development Authority in Troy, Michigan, and past member of the board of directors of the Boys' and Girls' Club. She was selected for the Michigan State University College of Education Alumni Award for Outstanding K-12 Administrator and was given the "Distinguished Educator" award by Wayne State University College of Education Alumni Association in May 2005.
She enjoyed spending leisure time at her home in Elk Rapids, Michigan. In 2005, she passed away peacefully at the University of Michigan Medical Center in Ann Arbor, Michigan, of a heart-related illness. She is survived by her brother, Jerry Jopke; a goddaughter, Mrs. Brian (Stacie) Santhany; and a godson, Geoffrey Schwartz, all of Bay City, Mich.; as well as several cousins.
"On the first day of school each year, Troy Schools Superintendent Janet H. Jopke would ride alongside a busload of kindergarteners to experience anew the nervousness and excitement of the milestone event. "She loved to see the kindergarteners and their parents with cameras and video cameras," said her brother, Jerry Jopke. "She loved her job and she never lost that sense of fun. She always put the children first."
Ms. Jopke died of a heart attack at the University of Michigan hospital in Ann Arbor in 2005 after a month-long battle with heart-related problems.
During her tenure, all 19 of the district's elementary, middle and high schools earned accreditation from the North Central Association and both Troy and Athens high schools landed on a list of the top 98 high schools in America by U.S. News & World Report. Ms. Jopke was particularly proud that Troy voters approved a bond issue to pay for school upgrades, according to her brother. "She was very pleased with that."
"She was very happy to be in a community that supported schools and education," Jerry Jopke said. The daughter of a teacher, Ms. Jopke earned her undergraduate degree from Michigan State University and her doctorate from Wayne State University.
She worked in Utica until 1989, when she was named superintendent of the Lakeview Public Schools in St. Clair Shores. She moved to Troy in 1993. At the Utica schools, Ms. Jopke served as assistant to Don Bemis during his tenure as superintendent of the Utica district. Dr. Jopke's generous and kind nature made her a good friend, Bemis said. "She was a charismatic personality (with) lots of natural leadership abilities," he said. "She had that unique ability to be charismatic and also serious about academic structure."
###
---
---

Dave Rogers




Dave Rogers is a former editorial writer for the Bay City Times and a widely read,
respected journalist/writer in and around Bay City.
(Contact Dave Via Email at carraroe@aol.com)

More from Dave Rogers
---
Send This Story to a Friend!
Letter to the editor
Link to this Story
Printer-Friendly Story View
---
--- Advertisments ---