Bald Eagles Becoming More Populous in Saginaw Bay Watershed
New Nest built on Consumers Energy Property Near Saginaw River Mouth
November 9, 2008 2 Comments
By: Dave Rogers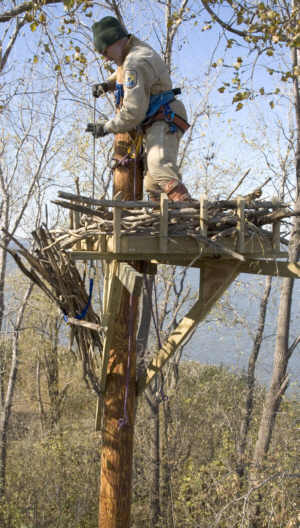 Dave Best of the U.S. Fish and Wildlife Service atop the 60-foot high eagle's nest he built at the Consumers Energy Karn/Weadock complex at the mouth of the river.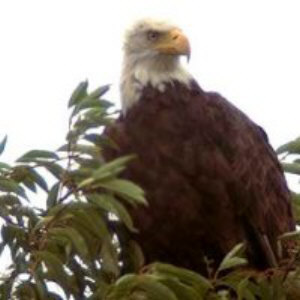 Bald eagle sightings, nests, more common in northeastern Michigan area.
Bald eagles are becoming a fairly common sight in the northeastern Michigan area.
In fact, 26 nests have been identified in the 22-county Saginaw Bay Watershed.
And, 44 bald eagle sightings were reported last spring in Saginaw County alone by Michiganbirds.org.
Consumers Energy and the U.S. Fish and Wildlife Service hope to make the stately birds, symbol of the nation, even more populous.
Volunteers from Consumers, the Utility Workers Union of America Local 144, and the U.S. Fish and Wildlife Service recently erected a bald eagle nesting platform at the utility'[s Karn/Weadock Generating Complex in Hampton Township in a joint effort to protect and enhance bald eagle habitat.
Dave Best, a wildlife biologist with the U.S. Fish and Wildlife Service in East Lansing, climbed a utility pole placed at the north end of the 2,400-acre Karn/Weadock site. The pole has a bald eagle nesting platform built by Best attached to the top. He placed several 3-4 foot sticks on the platform to start the nest itself and make the platform attractive to eagles.
Local Audubon Society volunteers have spotted bald eagles wintering on the Karn/Weadock site in recent years, according to Consumers officials. It is hoped that the platform will encourage them to nest at the site by next spring.
The Karn/Weadock Generating Complex is located on the eastern side of the mouth of the Saginaw River. The nesting platform site is known locally as Windy Point.
Bald eagles have made an amazing recovery throughout the United States, including in the 22-county Saginaw Bay Watershed. At least 26 active bald eagle nests are known to exist in the watershed, an 8,700-square mile area that extends from Iosco and Ogemaw counties in the north, west to Mecosta County, south to Livingston and Oakland counties and east to Sanilac County.
On June 28, 2007 the bald eagle was removed from the federal list of threatened and endangered species in the United States.
"The bald eagle has made a remarkable recovery," said State Rep. Jeff Mayes, D-Bay City. "I am proud that we are enhancing its habitat within the Saginaw Bay Watershed. This new platform will provide a hospitable location for bald eagles to nest near the river mouth, close to an abundant source of the fish that they feed upon."
COMPANY INFORMATION
The Karn/Weadock Generating Complex is Consumers Energy's largest power production complex and consists of three separate plants: the 310-megawatt coal-fueled Weadock plant; the 511-megawatt coal-fueled Karn 1&2 plant; and the 1276-megawatt natural gas- and oil-fueled Karn 3&4 plant. Together, Karn/Weadock and associated combustion turbines can generate up to 2,097 megawatts, enough to meet the electric needs of Bay City, Saginaw, Midland and Flint combined. Consumers Energy, the principal subsidiary of CMS Energy (NYSE: CMS), provides natural gas and electricity to nearly 6.5 million of Michigan's 10 million residents in all 68 Lower Peninsula counties. # # # For more information about Consumers Energy, visit the website www.consumersenergy.com
Media Contacts: Karn/Weadock Generating Complex, Kelly Farr, 989-891-3451; U.S. Fish & Wildlife Service, Dave Best, 517-351-6263; Audubon Society, Joe Soehnel, 989-895-2169. ###
---
"The BUZZ" - Read Feedback From Readers!
colleen4351 Says: On January 02, 2013 at 11:28 AM

A family member who lives in West Branch Mi saw 3 or 4 bald eagles in her back yard yesterday, Jan 1 2013. Can you give me any information on if or how she can report the sighting.
Thank you
Colleen
jeh9861 Says: On January 03, 2013 at 09:45 AM

I see 10 to 30 Bald Eagles daily. If you were to drive down Gordonville road between Posseyville and river road in midland county, you will see them perched in the trees along the road. Beautiful sight. There are about twenty this morning. 01/03/2013.
---

Dave Rogers




Dave Rogers is a former editorial writer for the Bay City Times and a widely read,
respected journalist/writer in and around Bay City.
(Contact Dave Via Email at carraroe@aol.com)

More from Dave Rogers
---
Send This Story to a Friend!
Letter to the editor
Link to this Story
Printer-Friendly Story View
---
--- Advertisments ---