Spectacular Fire Destroyed First Holy Rosary Academy in Essexville in 1904
Early Saginaw Valley Folk Got Character from Missions of Dominican Sisters
March 4, 2012 2 Comments
By: Dave Rogers

Dominican Mother General Sister Euphasia Sullivan, pictured here wearing a shamrock on St. Patrick's Day 1946, entered her novitiate at Holy Rosary Academy in Bay City in 1908.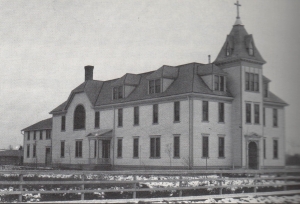 The first Holy Rosary Academy in Essexville was replaced by a stone structure on Lincoln Avenue in Bay City that still stands.
The Dominican Sisters of Grand Rapids will celebrate their sesquicentennial next year and one point of pride no doubt will be the missionary work done in the Saginaw Valley.
The Sisters of the Order of St. Dominic operated about three dozen missions in the northeastern Michigan area, according to Sister Mona Schwind, OP, author of "Period Pieces: An Account of the Grand Rapids Dominicans, 1853-1966."
Hundreds of Bay Cityans were educated at their schools here, including an early girls' boarding school in Essexville, Holy Rosary Academy. The school burned in 1904 and was replaced by a more elaborate structure at 512 N. Lincoln Ave., an imposing three story monument to religious education today serving as an office building.
Holy Rosary was long a boarding school for girls and later for boys, with dormitories on the third floor. While boys were boarders, girls were educated as day students in co-ed classrooms.
A boarding school for young ladies under the same name was built in Essexville in 1895 on property donated by St. John Parish. The three-story frame building was destroyed by fire near midnight Mar. 8, 1904, displacing fifty boarders and the dozen Dominicans who taught them headed by Mother Superior Villana Carmody.
"Men returning from their Saturday night gathering at the local bar had caught sign of the flames and given the alarm" by ringing the doorbell of the academy, wrote Sr. Schwind. "A tongue of fire extending the entire length of the building was already emerging from the front window, blocking the chance of crossing the hall or even reaching the stairway."
"The youngest child broke from Mother's hold and scampered back up the stairs and into bed," wrote Sister Schwind, quoting the last surviving eyewitness, Sister Gonzaga Udell who had received her veil early that year. A male volunteer tried to find the child but was blocked by smoke and flames. The young girl and the male volunteer eventually jumped to safety into a net held by the firefighters of the tiny community.
Men joined the still dazed group of sisters and girls as they watched their Academy go up in flames.
All the students and nuns escaped and were sent to other convents and homes; however, an invalid, Sister Alexia Flynn, broke her leg and jaw jumping from a window on an upper floor. She died several days later at Mercy Hospital.
Ontario, Canada born Sister Euphrasia Sullivan was an example of the nuns who served the order in this area. Her parents had moved to a farm east of Mt. Pleasant and she was graduated from Sacred Heart Academy there in 1900.
Sister Sullivan entered her novitiate at Holy Rosary Academy in Bay City and taught continuously in Dominican schools from 1908 to until elected Mother General in 1936.
Her teaching posts included Sacred Heart Academy, Grand Rapids, St. Joseph School, Saginaw 1910-1914 and 1915-1927; Holy Rosary Academy, Bay City, 1914-1915; and St. Mary School, Muskegon, 1927-1933. She taught Latin, English grammar and Literature and was superior of the St. Mary convent, Saginaw, in 1936.
Another sister recalled: "When she is head of a high school she seems to see nothing, but the children simply do not think of doing anything out of the way." She "kept a perfect house," another remembered.
She then became the fifth Mother General of the order, serving until her death in 1970.
Roots of the Dominicans in the United States came from a missionary endeavor of four German nuns who immigrated in 1853 from the Convent of the Holy Cross, Regensburg, Germany, a 600-year-old cloistered community.
From their first base in New York City, the order sent six members to "the peninsula of promise," landing in Traverse City in 1877. They wore the white habit of the Order of Preachers of St. Dominic de Guzman (1170-1221) of Prouille, France.
The founder of the order of cloistered life for consecrated women established similar convents in Madrid, Spain, Rome, Italy, and Ratisbon, Bavaria. The order survived the 16th century Lutheran Reformation when much of Europe became Protestant. Napoleon's rule led to a newly-appointed ecclesiastical superior, Prince-Bishop Karl Theodore von Dahlberg. The Prince-Bishop ordered the nuns to provide elementary public schools, a form of civil service new to them. Teaching ended up being their longtime calling.
The needs of German Catholics in the U.S. led to the journey of four choir nuns and two lay sisters to establish a mission. Other Ratisbon nuns followed, establishing a congregation at Racine, Wisconsin, as well as in New York.
In the Traverse City area, the nuns worked among the Indians and then established an orphan asylum, mother-house and apostalate in Grand Rapids and missions in Saginaw and at St. Joseph Parish, Bay City.
Among missions established in this area were those at Onaway and Alpena, 1911; East Tawas, 1916; Tawas City, 1957; Essexville, 1889; Bay City, 1881; Munger, 1925; Port Austin, 1879; Ruth and Gagetown, 1888; Carrollton, 1913; Saginaw, 1885; St. Charles, 1909; Chesaning, 1906; Maple Grove, 1902; Merrill, 1907' Auburn, 1915; Fisherville, 1914; West Branch, 1917; Prudenville, 1954; Grayling, 1962.
Dominican missions were also extended to Melville, Saskatchewan, Canada, 1929; Rancho de Taos, New Mexico, two locations in southern California, and Austin, Texas, in 1990. The nuns also went to Chimbote, Peru, in 1963.
In 1881, Mother Aguinata Fiegler and four sisters took over a school of 150 children at St. Boniface, soon opening another school at Bay City St. Joseph. "The old church of St. Joseph, Bay City, (first Catholic church in the Saginaw Valley, dating from 1852) was the site of the sisters' annual retreats until 1886; the parish was often the summer residence of those sisters who did not return to the East during the long vacation," wrote Sr. Schwind.
---
"The BUZZ" - Read Feedback From Readers!
amoss53 Says: On July 03, 2014 at 11:44 AM

I was a student at the Bay City HRA from 1956-1964. Needless to say, I have many memories. I have been back a couple of times with my grown children over the past few years to walk through the building and reminisce, and to show my kids where I went to school. Last week, there was a quite nasty man, lots of tattoos, long grey beard, apparently working on construction there, who wanted to know what we were doing there--I explained, and he replied: "we don't allow that any more--this is private property now". It appears just to be independent office suites--anyway, it was very disappointing. This building has historic interest for the Bay area as well as personal interest for me and my family.
elsmy3suns Says: On August 29, 2014 at 07:25 PM

My brother and I lived at H.R.A.1941-47 I've mostly fond memories. We would draw circles on the ground & play 'marbles' football in fall/baseball in spring. The local Fire Dept would flood the field for ice skating. Christmas was always extra special. Starting from the dorms we would walk down the stairways single file with candles & singing carols and then have a special dinner. Once we had venison - a hunter had donated to us. In the basement was the laundry - bakery and a craft room for our hobbies including Boy Scout meetings. Every fall we would hike out to the B.C. State Park. During teacher conventions we stayed at Roy Crete's parents cottage on the Bay. About once a month we'd get to stay up later to watch a movie in our pajamas - with the old-fashioned projector (that always seem to break down at least once!).
Sister Mary Giles was in charge of senior boys gr.5-8
I could go on & on....hope this was interesting to you. I'm 81,just reminiscing.And hoping someone might see this and recognize me or these experiences. August 29,2014



---

Dave Rogers




Dave Rogers is a former editorial writer for the Bay City Times and a widely read,
respected journalist/writer in and around Bay City.
(Contact Dave Via Email at carraroe@aol.com)

More from Dave Rogers
---
Send This Story to a Friend!
Letter to the editor
Link to this Story
Printer-Friendly Story View
---
--- Advertisments ---