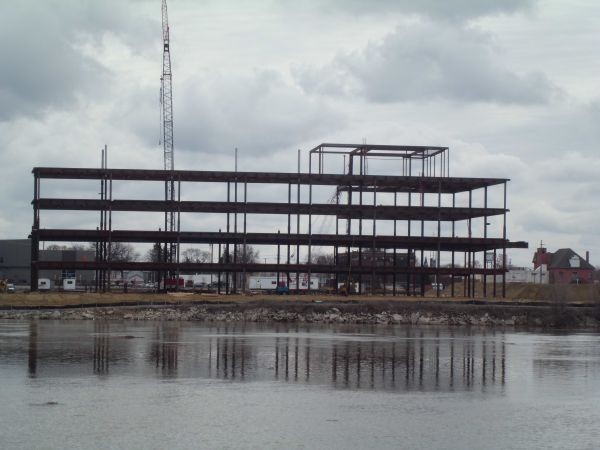 Four stories of structural steel rise at Uptown in a photo taken from the west bank of the Saginaw River in Veterans Park. (MyBayCity.com photo by Dave Rogers)
---
UPTOWN UPSWING: Green Energy Focus of Dow Corning Facility Rising on River?
McLaren Surgical Center, Chemical Bank Headquarters Also Uptown Focus
April 14, 2013 1 Comments
By: Dave Rogers
From a four-story 100,000 square foot building on the Saginaw River in Bay City, Dow Corning will try to change the world.
The projected use of the new building, the main anchor of the much heralded Uptown at Rivers Edge project in Bay City, is now said to be marketing.
And "green energy" is the goal of much of the company's products and marketing impetus.
The projected $50 million investment at the 43-acre site is expected to swell if developer Dr. Samuel Shaheen and his firm, SSP Associates, proceeds with rumored plans to construct physicians' offices there. According to unconfirmed reports, the Allen Medical Building, built in 1940, is overflowing and newer, larger quarters are in demand by the medical community.
Chemical Bank will relocate its local headquarters at the Uptown site, with the future of the huge former Bay City Bank building at Center and Washington Avenue in doubt. And McLaren Regional Medical Center is said to be planning a focus on advanced surgery at its new building.
An estimated 500 Dow Corning employees will populate the new building, strategically located to provide nearby access to recreation facilities at the Dow Bay Area Family Y.
A Dow Corning official last week made a presentation in Beijing, China, that may provide some insight into the company's future and Bay City's potential growth.
Dow Corning Si-based specialty chemicals are proven to play an important role in building materials by enabling technologies to improve building sustainability, energy efficiency and durability, the company says.
Today, energy consumption in buildings account for approximately 40 percent of global carbon emission, and against the backdrop of tightening regulations and greater public awareness, the development of near-zero carbon emission buildings is expected to become an industry norm.
"Today, our solutions and expertise are applied to a number of global landmarks as well as retrofitted historic buildings with architectural and space constraints," said Steve Zhou, Dow Corning Building Envelope Application & Development Specialist.
"We recently renovated the University of Birmingham in the United Kingdom by applying our Silicone Structural Glazing Sealant and Vacuum Insulation Panels (VIPs) systems that met various challenges presented by the building's new facade and helped increase thermal insulation, manage physical space constraints and enable higher vision share."

Artist's conception of completed Uptown buildings with Dow Corning Center at left.
Photo by O. J. Cunningham
© MyBayCity.com
Zhou's comments came ahead of the biggest event in the China green building industry, the Ninth International Conference on Green and Energy-Efficient Building & New Technologies and Products Expo (IGEBC), where he delivered a keynote speech on the contribution of silicone technology to energy efficient retrofits. Dow Corning was also a sponsor of this event that took place at the Beijing International Convention Center from April 1-3.
Over the past few years, the performance of curtain walling has been progressing. However, a step change in insulation performance may offer further opportunities in a world that demands high performance buildings.
Dow Corning VIP features five to ten times lower thermal conductivity than conventional insulation materials. With a life expectancy in excess of 25 years, this technology provides new design possibilities for zero-energy buildings and high thermal performance in 'slim wall' construction.
At Dow Corning, its innovation and leadership in the field of silicon science has been globally recognized since it developed the world's first four-sided structural glazing systems in the 1960's.
Furthermore, the company's exclusive Quality Bond (tm) program as well as expert team play a crucial role in ensuring the construction of high-performance buildings by applying best practices and uplifting quality assurance. The Quality Bond also includes a know-how transfer concept that reflects as a unique platform to link the key players of the value chain from design to construction, from construction to completion, and from completion to warranty.
Customers can visit Dow Corning website for more information: www.dowcorning.com.cn.
---
"The BUZZ" - Read Feedback From Readers!
jbigarow Says: On April 22, 2013 at 09:22 AM

Future of Chemical Bank building downtown "in doubt"?? What does that mean? Wouldn't it be better said "in question"?

I think that it is so wonderful that with the addition of the "Uptown" site, and the movement of businesses there, the "downtown" will now potentially have three corners of its main intersection for sale, and the fourth a nonprofit.
---

Dave Rogers




Dave Rogers is a former editorial writer for the Bay City Times and a widely read,
respected journalist/writer in and around Bay City.
(Contact Dave Via Email at carraroe@aol.com)

More from Dave Rogers
---
Send This Story to a Friend!
Letter to the editor
Link to this Story
Printer-Friendly Story View
---
--- Advertisments ---