Two City Commissioners "Looking Into" Issues at Richard Finn's Last Job
Fate of Proposed Hiring of Richard Finn as City Mgr Remains Uncertain
January 24, 2014 2 Comments
By: Dave Rogers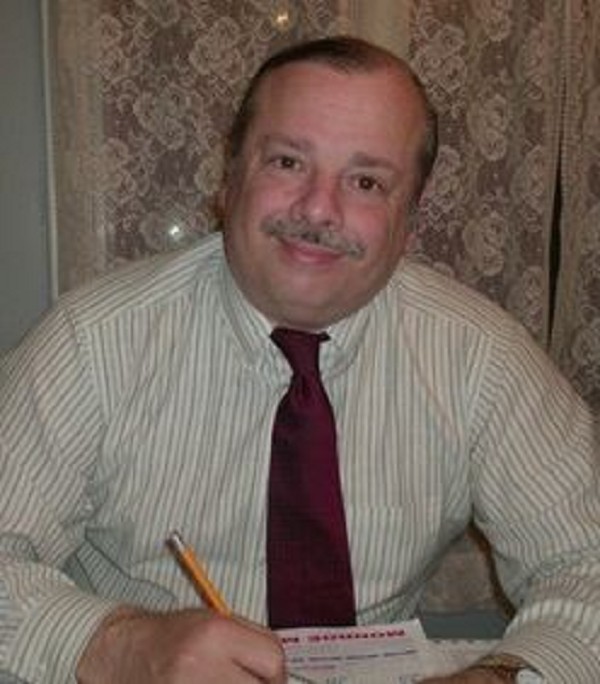 Richard Finn, candidate for city manager of Bay City. (Courtesy photo)
Jim Irving (Right), one of three members of the executive hiring committee and Commissioner Andrew Niedzinski (Left) who was one of the dissenters in the 7-2 vote to hire Richard Finn
The hiring of a city manager for Bay City is still up in the air, according to two city commissioners who voted for another candidate.
One dissenter in the 7-2 vote to hire Richard Finn was Commissioner Andrew Niedzinski, who said the questions raised as Finn left his previous $160,000 job "confirmed my belief that David White was a better candidate."
Jim Irving, one of three members of the executive committee handling the hiring process, said the issues raised by citizens in Peekskill, New York, where Richard Finn resigned under fire two years ago have not been dismissed from consideration.
Commissioner Irving said he has been gone for a couple of days and needs to catch up on the status of the hiring process, but commented: "We're still looking at this guy (Finn) and what he wants."
Irving asserted he is still gathering information about the reports that Finn was charged by some Peekskill residents with being unresponsive to employees and the public, to activist complaints of ignoring issues of racism in the government and making racist comments at a training session on human relations.
Finn has rejected the charges in statements to the news media in Westchester County, New York, and also said his comments regarding African Americans "were taken out of context."
Other members of the executive committee are Lori Dufresne, commission president, and Lynn Stamiris. Stamiris said he was talking to Ms. Dufresne regarding the process and wanted to hear first-hand reports from Peekskill city officials about Finn's performance.
Finn had been criticized by some Peekskill residents at a public hearing for being unresponsive to their phone calls and letters, according to the Peekskill Daily Voice online media (peekskill.dailyvoice.com).
Finn "has been harshly criticized by Peekskill area activist Darrell Davis of the Peekskill Committee for Justice for not taking complaints of racial discrimination seriously," the Dec. 4, 2011 report also stated.
Davis had called for Finn's resignation in May 2011 after two years on the job. "This is long overdue," Davis said of Finn's resignation.
Finn had been making a reported $160,000 a year in Peekskill and negotiations in Bay City were said to be starting at $105,000 plus benefits.
The starting salary at the six figure level, recommended by the consulting firm, would make Finn the highest paid manager in Bay City history, according to The Bay City Times. The average salary of city manager candidates placed by Slavin is reportedly $140,000 per year. It is not known whether Finn has countered the Bay City salary offer or the status of negotiations on benefits, moving expenses and other perks normally accruing to such positions.
City commissioners reportedly told The Times they were hopeful to have Finn on board by early February, barely several weeks hence, if salary and benefits negotiations went smoothly.
The search for a new manager has gone on for a year while City Clerk Dana Muscott has been in charge since former manager Robert Belleman left for a higher paying job in Saginaw County. Slavin Management Consultants of Norcross, Georgia, was hired by the city for a reported $20,000 to help with the manager search.
Stamiris said partial payment has been made to the consultants and full payment would not be made until Finn successfully completes his first year on the job.
One of the primary roles of the manager cited by city commissioners during extensive interviews was an ability to communicate with the public and informing the public about city issues. Commissioner Chris Girard has stressed communication skills for any new manager and need for more transparency was cited by Commissioner Chad Sibley.
The commission voted 7-2 to offer Finn the job, with Niedzinski and Irving favoring David White, of Boyne City, a native of Bay City.
It is not known whether Slavin raised any negative issues regarding performance in previous posts held by Mr. Finn in discussions with Bay City officials.
In the news report Davis said Finn has been part of a pattern of "bullying and retaliation" towards employees who complain about unfair treatment and said he felt vindicated by the resignation.
Davis also said comments made by Finn at a recorded employee training session were taken to be offensive and condescending towards African Americans.
Finn reportedly questioned whether African Americans "could understand" the issues raised at meetings.
Finn admitted he addressed issues of communication with African Americans at the training session but denied his comments were racist.
During a press conference held in May 2011, Finn stated that his comments were taken out of context from the training session in question.
Finn read from a prepared statement, explaining what he says happened during the training session:
"The trainer led the discussion by categorizing audiences as having four possible communication styles: Driver, Analytical, Amiable, or Creative. Here is the segment and the discussion on how to address an audience if, as the speaker, you are not sure which communication style is in the audience.
"
Trainer:
When we started this question, it was what is the best way to do this if you're not sure. The best way is to be sure and be all of these things. Of course. If you're just out there and you don't know what to do, and you don't know who they are, I'm suggesting err on the side of primarily being an Amiable. OK, with that, going to give each (Richard Finn raised his hand to ask a question) Rick?
Richard Finn:
Does this carry true for different races and cultures? What if this entire room was filled with African-Americans? Is that still true?
Trainer:
In my mind, that is a universal trait. These are universal. That's the neat thing about communication styles. They are universal."
Finn left the room after reading his statement.
"Rick Finn was put in charge of investigating it (racial discrimination) and instead he joined it," Davis charged.
"What he said wasn't racist, it was stupid," another resident commented.
A videotape was made at the training session but it was not known if it has been vetted by Bay City officials during the interview and consideration process.
"Your word means nothing -- nothing," one female citizen commented as Finn left the room during a news conference. A video of that news conference between Mr. Finn and Peekskill citizens is posted at --
http://hinterlandgazette.com/2011/05/peekskill-ny-city-manager-rick-finn.html
EDITOR'S NOTE: A poll taken by the Bay City Times regarding whether the hometown candidate is preferable or whether a fresh perspective from an outside candidate is more desirable has received 233 votes, with 59 percent favoring the hometown candidate and 37 percent seeking an outsider's perspective.
###
---
"The BUZZ" - Read Feedback From Readers!
roomforonemoore Says: On March 01, 2014 at 09:10 PM

I hope that the commission will continue seeking a new manager. We will never recover from the likes of Palenick and he is still jumping from city to city. I am sorry that some of their concerns are not regarding employees. They city is going through massive cuts. combining departments, eliminating positions. changing job desciptions, eliminating entire departments. The end of this contract with the unions will bring an exodus like the city has never known. We are in a death spiral and because of poor managment the odds city being farmed out are even greater. The City is still top heavy with having half the employees 10 years ago,This man is out for the money. Lets stick with White
---

Dave Rogers




Dave Rogers is a former editorial writer for the Bay City Times and a widely read,
respected journalist/writer in and around Bay City.
(Contact Dave Via Email at carraroe@aol.com)

More from Dave Rogers
---
Send This Story to a Friend!
Letter to the editor
Link to this Story
Printer-Friendly Story View
---
--- Advertisments ---