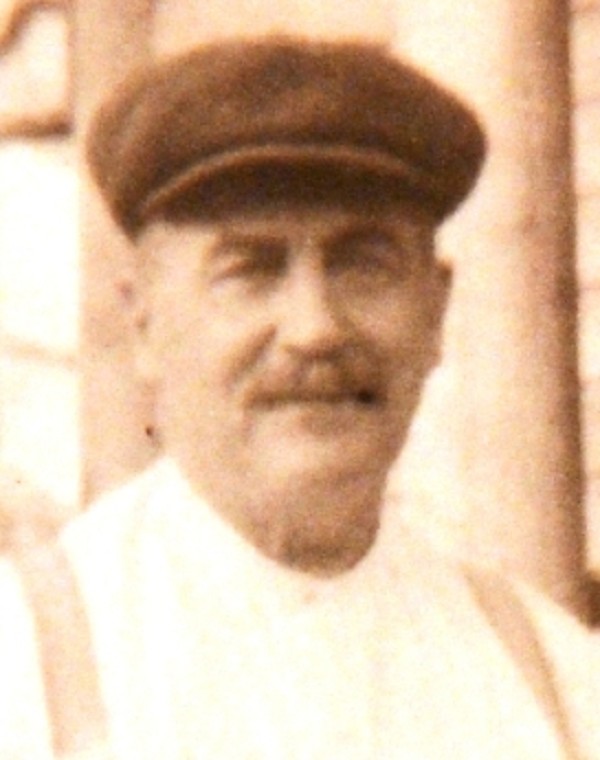 Only known photo of Fred Dustin in his younger days is part of collection of antique dealer and archaeologist Ray Nagy.
---
SAGINAW LEGEND: Fred Dustin Recalled as Archaeologist, Student of Custer
Condemned Custer as Showman Who Failed to Follow Orders in Montana Massacre
November 28, 2014 Leave a Comment
By: Dave Rogers
Fred Dustin was the Saginawian who rose from odd jobs in carpentry to become a recognized historical researcher and authority, especially on Indians in Michigan and Custer's Last Stand in Montana.
Among other historical writings, Mr. Dustin documented the Treaty of Saginaw in 1919, details summarized in a recent book, "Mysteries of Skull Island and the Alkali," published by Historical Press L.L.C. of Bay City.
Dustin devoted over 40 years to researching the events that led to the Custer battle at Little Bighorn in Montana as well as the battle itself. This culminated in his noted work: "The Custer Tragedy," (Ann Arbor, MI: Edwards Bros., 1939) one of the classics in Custeriana. He visited the battlefield in August, 1938.
This area memorializes the U.S. Army's 7th Cavalry and the Sioux and Cheyenne in one of the Indians last armed efforts to preserve their way of life. Here on June 25 and 26 of 1876, 263 soldiers, including Lt. Col. George A. Custer and attached personnel of the U.S. Army, died fighting several thousand Lakota, and Cheyenne warriors.
Custer had won fame for leading the Michigan Cavalry Brigade in foiling Confederate leader J.E.B. Stuart's attempt to hit the Union center from the rear as Gen. George Pickett's charge hit the front at Gettysburg. Many mid-Michigan soldiers, including Capt. James G. Birney IV, fought with Custer who ignited their charge with the cry "Come on you Wolverines!"
The startling Union cavalry victory at Gettysburg is summarized in "Apostles of Equality: The Birneys, the Republicans and the Civil War," published by Michigan State University Press in 2011.
Dustin was known for his staunch defense of Major Marcus Reno's actions during the battle at Little Big Horn in 1876 and disdain for Custer. He spent much of his time and research compiling evidence to support his views.
"The Custer Tragedy bears evidence of painstaking and exhaustive work and is one of the most valuable sources of information on the battle of the Little Big Horn available to the student," wrote historian Robert Taft for Kansas Historical Quarterly in 1946.
Dustin contended Custer was a showman who failed to follow the orders of a superior officer resulting in the massacre. Regarding Custer's leadership ability, Dustin claimed "few men in his regiment would have turned a hand to save Custer's life."
Fred Dustin was a native of Glen Falls, New York, where he was born on October 12, 1866, the son of James and Jennie E. (Green) O'Donnell. His mother died during his early childhood, and his care was transferred to his aunt Sara, wife of Ira Dustin, who raised him and changed his name to Dustin.
His education was hampered by the necessity to earn a living, and at the age of 15 he began working in a lumber yard. In 1887, he moved to Michigan and expanded his work involving carpentry and became a building contractor.
As a byproduct of his intense interest in history and native intelligence, Mr. Dustin began to receive commissions in 1929-1931 to perform archaeological surveys for the University of Michigan and the Cranbrook Institute of Science.
In 1929-30, Dustin was field agent for the U-M in an archaeological survey of Isle Royale. In 1931 he did a study and report on prehistoric Indian earthworks in Ogemaw County.
He personally investigated and studied about half of the more than 100 Indian camp sites and villages in Saginaw County, according to his biographical sketch for his induction into the Saginaw Hall of Fame. He also excavated approximately 35 Indian burial mounds in the county; his collection of Indian arrowheads, tools and pottery of about 6,000 pieces was presented to the U-M Museum.
In 1935 he received the University of Michigan Regents' Citation of Honor for his contributions in historical and archaeological research.
Mr. Dustin died on May 15, 1957 at the age of 90.
---
---

Dave Rogers




Dave Rogers is a former editorial writer for the Bay City Times and a widely read,
respected journalist/writer in and around Bay City.
(Contact Dave Via Email at carraroe@aol.com)

More from Dave Rogers
---
Send This Story to a Friend!
Letter to the editor
Link to this Story
Printer-Friendly Story View
---
--- Advertisments ---