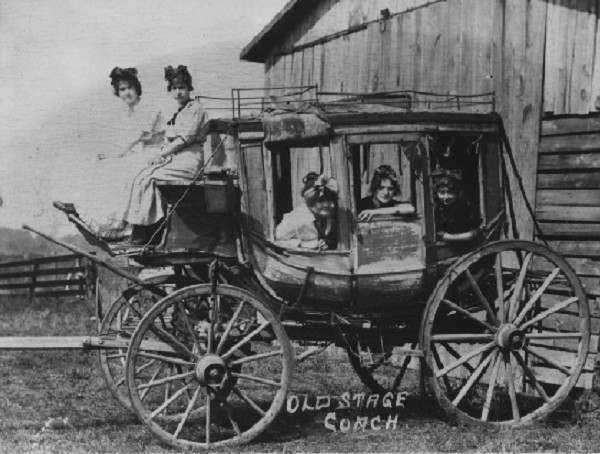 These young girls likely were enlisted by the photographer who had discovered an old stagecoach in a barn.
---
STAGECOACH COMING! Yup, Pardner, Michigan Had Stagecoaches, Robberies Too
April 10, 2015 Leave a Comment
By: Dave Rogers
As late as 1927 stagecoaches were still running in Michigan!
During my research on how Oscar W. Baker, who had lost a leg in a railroad accident in Bay City in 1886, got to law school in Ann Arbor, I was amazed to discover that fact.
STAGECOACHES!
MICHIGAN!
The two just seem incongruous in the Vehicle State, home of the Motor City.
However, historical authorities point out that stagecoaches played in important part in developing the Midwest as well as Michigan. They weren't just a Western phenomenon celebrated in cowboy movies.
Michigan's frontier "fever" peaked in the decade from 1830 to 1840 with a 600 percent population increase, notes Bob Garrett of the Archives of Michigan.
"Stagecoaches attempted to fill the demand for fast and relatively comfortable transportation. Early stagecoach travel was slow and rough but improved with better built roads. The inns and taverns on the stage routes were a welcome relief in Michigan."
A stepping stone, which once led to the famous Bay Port Hotel, is all that remains of the stagecoach era in Bay Port, an outpost on Lake Huron in the Thumb.
Christian Clemens established a weekly stagecoach route between Detroit and Mount Clemens (a town that Clemens founded) in 1822. In his article "On the Michigan Stage" (Michigan History magazine, Sept/Oct 2005), LeRoy Barnett cites Clemens' 1822 route as "the first concrete evidence of a stagecoach running in Michigan."
Detroit naturally became a hub for stagecoach lines. Several stagecoach routes began in 1826, connecting Detroit to Toledo, Ann Arbor and Pontiac. Service expanded to Niles around 1830 and to Chicago by 1833. A stage connected Detroit to Lansing (established as the capital in 1847) by 1852. Grand Rapids, a hub in the Western part of the state, first became accessible by stage in 1833. Afterwards, service to and from Grand Rapids greatly expanded. By 1856, the city could boast eleven regular stage lines.
Taverns tended to spring up along roads traveled by stagecoaches, or vice versa. Perhaps stage lines sought out places where taverns were located. After all, dust is not a recent development.
Tavern visitors could receive a bed and/or a meal, a forerunner of the now popular bed & breakfast.
In "Michigan: A History of the Wolverine State," noted historian Willis F. Dunbar notes that "accommodations were crude and often inadequate, but food was abundant and friendliness the rule."
The Walker Tavern, now part of the Michigan Historical Museum system, provides a connection to that era. Purchased by the Walker family in 1843, it proved a popular stop for stagecoach passengers traveling from Detroit to Chicago.
Don't think that all stagecoach travel in Michigan was peaceful. Zlati Meyer, writing in The Detroit Free Press in 2013, noted that Michigan's last stagecoach robbery, perpetrated by bandit Reimund Holzhey, occurred on Aug. 26, 1889, in the far western reaches of the Upper Peninsula.
Holzhey, 23, worked as a nature guide at a fishing resort in Gogebic County that was patronized by well-heeled Chicago and Milwaukee residents. Two gun Holzhey held up the wagon taking two bankers, Donald Macarcher of Minneapolis and Adolph Fleischbein of Belleville, Ill., from the train station to the hotel, saying flamboyantly, "I'm collecting. Donate!"
Macarcher, prepared for the unusual occasion, tried unsuccessfully to shoot the robber. Holzhey shot Macarcher in the roof of his mouth and Fleischbein in the stomach. The former lived and the latter died.
The brazen bandit made off with a $10 gold piece, a $5 bill, a pocketbook and a gold watch from Fleischbein and lit out.
Six months later Pinkerton detectives and a retired Marquette policeman tracked him down in Republic. The cop got a $3,000 reward; the bandito got life times two. Suffering from a brain tumor, he was paroled and committed suicide in Florida in 1952.
Stagecoach service declined as railroad service became more readily available. Contrary to popular belief, however, stagecoaches did not completely disappear until the age of the automobile. LeRoy Barnett notes that 37 stagecoach lines were listed in 1897 Michigan gazetteers and that four stagecoach lines were still running in Michigan as late as 1927.
Well I'll be dad gummed!
---
---

Dave Rogers




Dave Rogers is a former editorial writer for the Bay City Times and a widely read,
respected journalist/writer in and around Bay City.
(Contact Dave Via Email at carraroe@aol.com)

More from Dave Rogers
---
Send This Story to a Friend!
Letter to the editor
Link to this Story
Printer-Friendly Story View
---
--- Advertisments ---